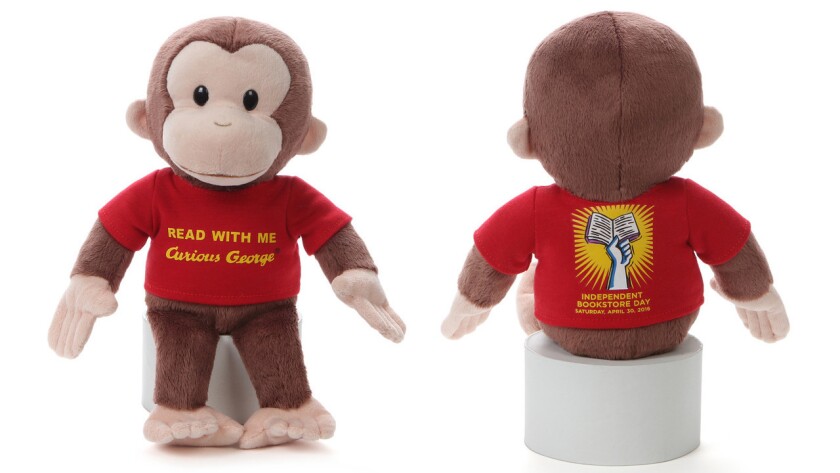 If you only do one thing this week, go to a bookstore on Saturday. The best part? It largely doesn't matter which one. Independent Bookstore Day is April 30, and bookstores throughout the L.A. area will be taking part in giveaways, contests, special events and book signings. Think Free Comic Book Day, or Record Store Day, but for book nerds.
No matter where you go -- there's a complete list of the participating Southern California bookstores below -- you can get a Neil Gaiman coloring book, a Curious George plush toy, a print of Anthony Bourdain's perfect burger, and more.
At Vroman's in Pasadena you'll also find Cameron Diaz signing "The Longevity Book" -- a celebrity book that has actual science in it, for a nice change of pace -- and Book Soup in West Hollywood will host a Golden Girls costume contest with Jim Colucci signing his book "Golden Girls Forever!"
The people who own and work at independent bookstores don't just care about books, they care about making sure that you get the right one. And when you see someone else in the store carrying a book you've already read and loved, it's like a book recommending a person. Plus, you can either be jealous of that one friend who got the Gaiman coloring book before they were all gone, or you can be that friend. I mean, really, are you going to miss that opportunity?
Here is a list of the bookstores participating in Independent Bookstore Day:
Book Alley
1252 E. Colorado Blvd.
Pasadena
Book Soup
8818 Sunset Blvd.

West Hollywood
Chevalier's Books
126 N. Larchmont Blvd.
Los Angeles
Children's Book World
10580 1/2 W. Pico Blvd.
Los Angeles
Diesel, A Bookstore
225 26th St.
Santa Monica
The Library Store
630 W. 5th St.
Los Angeles
Pages: A Bookstore
904 Manhattan Ave.
Manhattan Beach
Once Upon a Time
2207 Honolulu Ave.
Montrose
Skylight Books
1818 N. Vermont Ave.
Los Feliz
Small World Books
1407 Ocean Front Walk
Venice
Vroman's
695 E. Colorado Blvd.
Pasadena
Xach Fromson is a native Angeleno with an MFA in creative writing from UCR Palm Desert. He co-founded and co-hosts the Shades & Shadows reading series.
---