MacArthur Fellows include Alison Bechdel, Terrance Hayes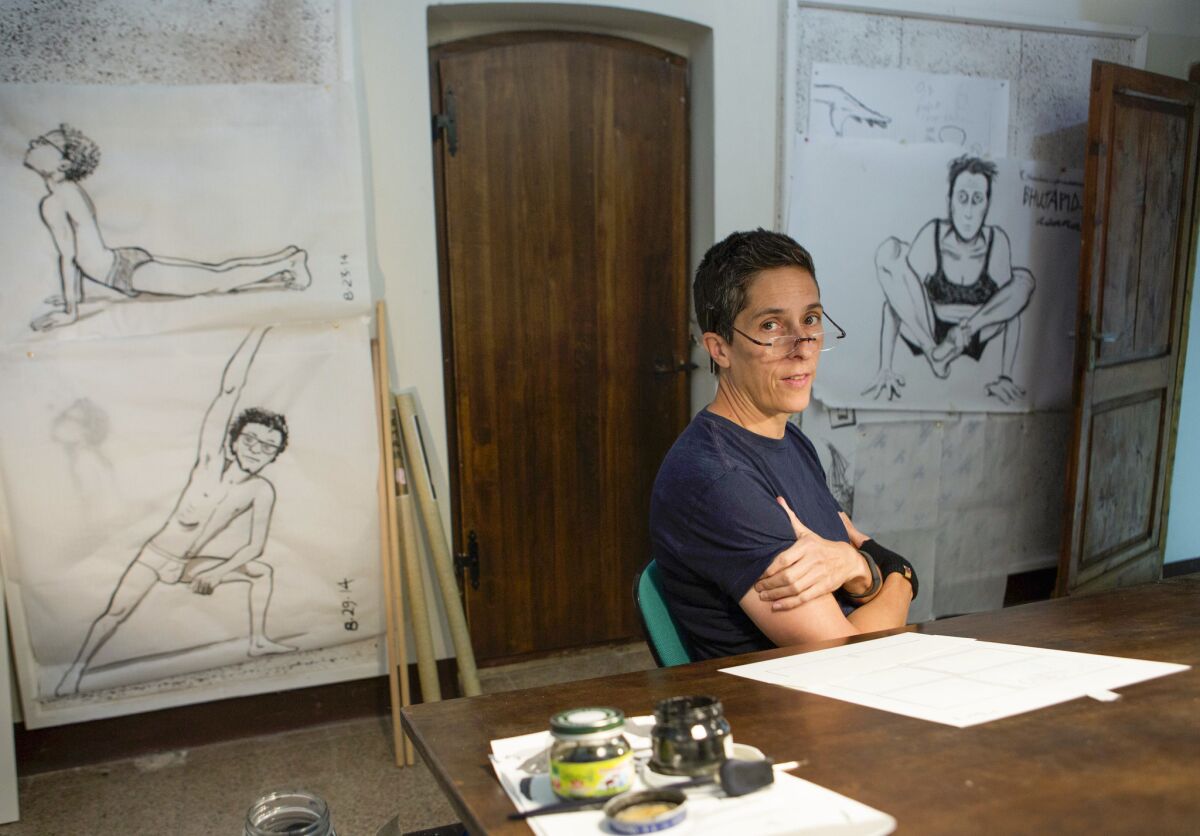 Alison Bechdel, the innovative comic artist known for the graphic memoirs "Fun Home: A Family Tragicomic" and "Are You My Mother," is one of 21 MacArthur Fellows named Wednesday.
At first Bechdel, currently at an artist residency in Italy, didn't pick up the phone. There was no message, and when it rang again, and she figured it must be important.
"It was crazy," she says. "It was a little garbled, then I heard the person on the other end say the words MacArthur Foundation and the world started spinning."
Commonly called the "genius" fellowships, the MacArthurs are awarded to exceptionally creative individuals working in the arts, humanities, public issues and the sciences. Bechdel is the second graphic novelist -- alongside 2000 fellow Ben Katchor -- to be presented with the award.
This year's recipients include National Book Award-winning poet Terrance Hayes, poet and translator Khaled Mattawa and two historians, Pamela O. Long and Tara Zahra. There are no novelists or short fiction writers in the 2014 class.
The fellows receive $625,000 over five years, with no strings attached. "It will give me a lot of security that I don't have. Pay off some debts, save for retirement -- really boring stuff," says Bechdel, who lives in Vermont. "I've been a cartoonist all my life!"
Of late, Bechdel has become a household name for popularizing the Bechdel Test, a three-part challenge testing whether a film or book a) has at least two women, who b) talk to each other d) about something other than a man. Originally considered "radical, feminist, lesbian" when she wrote it more than 25 years ago, Bechdel now says of its acceptance, "The mainstream has caught up to radical feminist thinking."
New MacArthur fellows are given the news a few days before the announcement and sworn to secrecy, a challenging task for poet Terrance Hayes, who describes himself as "the one that talks." Speaking from his home in Pittsburgh, he says, "I've avoided my mother, people I'd be inclined to tell."
He doesn't foresee making any big changes in his life because of the MacArthur Fellowship; he plans to continue teaching at the University of Pittsburgh, where he is an English professor. He explains, "I value teaching -- it's one of the places I get inspiration, engagement."
While he's being awarded the fellowship, Hayes is quick to turn his gaze outward. His first thought was of Cave Canem, a nonprofit organization he's involved with that supports African American poets. "It's the most tangible thing I could think of outside of my own work," he says.
He's taking the fellowship in stride. "I work every day," he says. "Whatever the circumstance, I will be writing."
Meanwhile, Bechdel envisions the MacArthur making a difference. It will, she says, allow her to "take some risks, do something new -- to really plunge into my work. It's an incredible gift."
Book news and more; I'm @paperhaus on Twitter
Get the latest news, events and more from the Los Angeles Times Book Club, and help us get L.A. reading and talking.
You may occasionally receive promotional content from the Los Angeles Times.