Marlon James' powerful mix of influences and cultures lands him the Man Booker Prize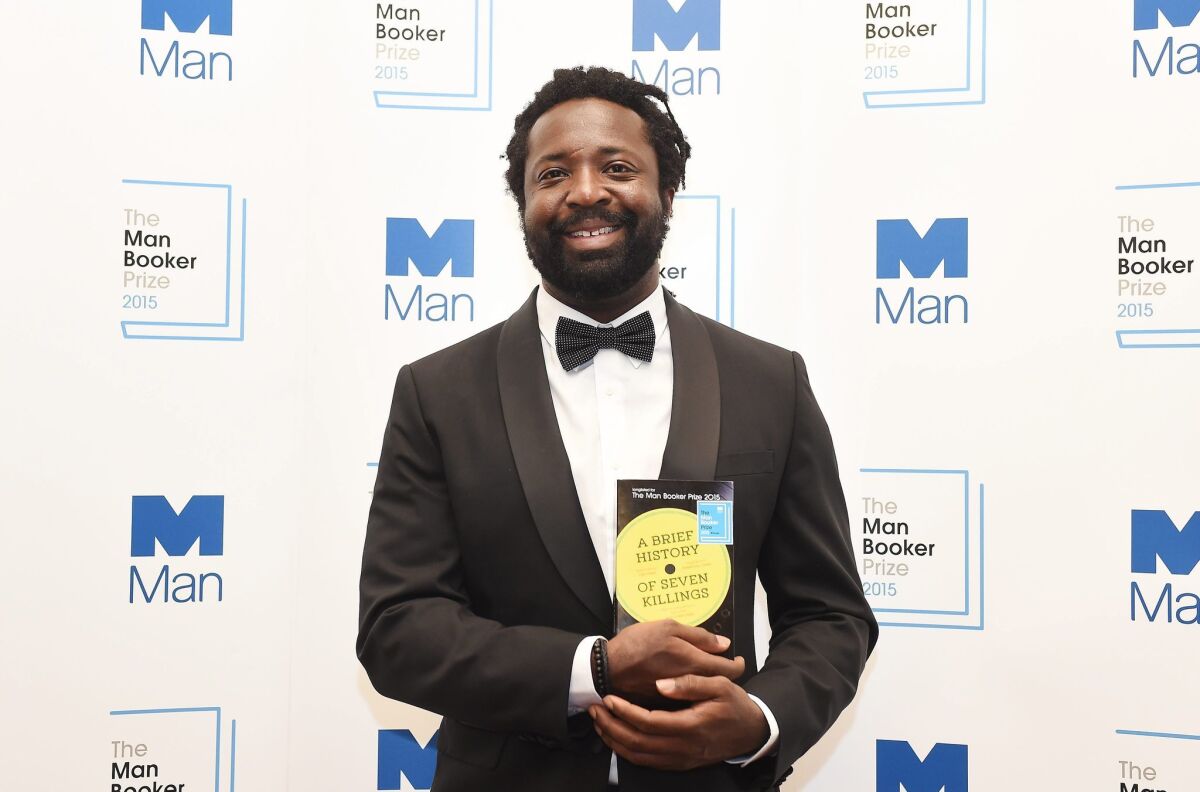 Marlon James, who won the 2015 Man Booker Prize for his novel "A Brief History of Seven Killings" on Tuesday night in London, is the first Jamaican novelist to receive the United Kingdom's most prestigious literary award.
That's only fitting -- because James, who lives in the United States and teaches at Macalester College in Minnesota, brings his own powerful mix of influences and cultures to the novel, which reimagines the 1976 attempted assassination of Bob Marley and is a deeply moving, powerfully rendered tour de force.
Told in a cacophony of voices, the book becomes an investigation of ethics and ambition, both personal and collective, with an eye toward the various ways in which public spectacle intersects with private lives. The turning point in its creation, James told the Los Angeles Times last year, came when he complained to a playwright friend, "I don't know whose novel this is; I can't figure out whose story it is," only to have her reply, "Why do you think it's one person's story?"
Interestingly, James does not portray Marley directly in the novel; rather, he defines him only as the Singer, a spectral presence, as much an allegory or a symbol as a human being. This is the point, of course, for James understands that the novel is most effective when it gets at layers, nuances, that mere facts resist. "At some point you gotta expand on a story," one character, a journalist, explains. "You can't just give it focus, you gotta give it scope."
That's especially true of a novel such as "A Brief History of Seven Killings," which is historical but also not. Certainly, much of what it describes is recognizable, but what sets it apart is James' ability to create a larger set of associations, a succession of overlapping frames. The Marley shooting may be at the center of the novel, but it is not the whole story, not by a long shot. Rather, James works in everything from organized crime to the CIA, all of it filtered through an understanding of history and an abiding sense of place.
In accepting the Man Booker on Tuesday night in London, James tied the whole thing back to reggae, which was for him, he explained, a key access point. "The reggae singers Bob Marley and Peter Tosh were the first to recognize that the voice coming out our mouths was a legitimate voice for fiction and for poetry," he declared.
This is an essential notion, not just in terms of what it tells us of the role of pop culture in determining sensibility, but also because of reggae's history of speaking up for the underclass. What James is saying is that not only did Marley and Tosh recognize the validity of those voices, of that language, but that in speaking out of it and from it, they gave permission to those who followed, James among them, to express themselves on their own terms.
That, in turn, brings us back to the importance, or the power, of the novel -- not to comfort, but to confront us, to allow or force us to see what we otherwise might not see.
Or as James told The Times after the publication of "A Brief History of Seven Killings": "I consider myself a moralistic writer. ... I got really interested in the motives of people: What is unchecked ambition? Who really suffers from violence? How by trying to escape it, you sometimes run right back into the middle of it."
Get the latest news, events and more from the Los Angeles Times Book Club, and help us get L.A. reading and talking.
You may occasionally receive promotional content from the Los Angeles Times.