USC's MPW program to close in 2016 - but students want to save it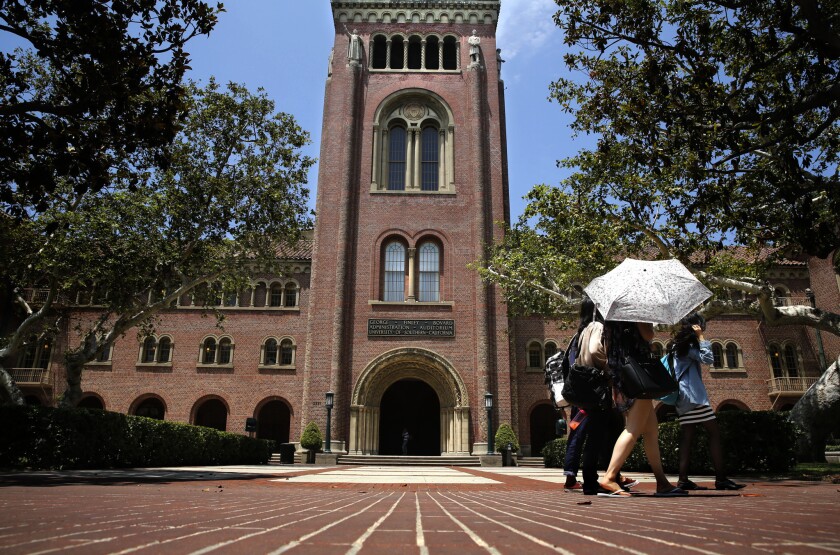 "For us, as writers, this is what we do: Use our voices. We want to be heard," says Kelly Rudnicki. She expects to get her masters in professional writing from USC in the spring of 2015 -- and if all goes as planned, she'll be one of the program's last graduates.
However, students and alumni are trying to disrupt the plan.
Faculty members and students learned last fall that the MPW program will be shuttered by 2016. Now students are rallying a letter-writing campaign appealing to Steve Kay, dean of USC's Dornsife College of Letters, Arts and Sciences, hoping to keep the MPW alive.
Rudnicki, one of its representatives, told The Times, "We want our program to be around for other writers that came in with the same dreams that we came in with."
The MPW program was founded in 1971. Although many MFA programs specialize in one discipline -- poetry, fiction -- the MPW program encourages students to work across genres. It includes nonfiction and screenwriting classes, emphasizing that writers can be working writers.
"I'm so proud of MPW and our remarkable students and faculty," MPW director Brighde Mullins told The Times.
The faculty is made up of working writers: New Yorker writer Dana Goodyear, novelist Janet Fitch, and the L.A. Times' David L. Ulin and Kenneth Turan. Faculty members Richard Rayner and Judith Freeman both write both fiction and nonfiction. Former National Endowment for the Arts chief Dana Goia teaches poetry, and the recently departed iconic Syd Field taught screenwriting there.
"There's nothing like this department anywhere, both in terms of faculty and in terms of the creativity in the offerings. We're mostly adjunct, working writers who teach a class or two," Fitch explained in an email.
"When I came to this program I was blown away because I had never seen anything like it. The community at USC is special. It's important. And it's especially important to Los Angeles," Rudnicki says. "I have grown to truly love and appreciate the core faculty, working writers in our community. It would be such a shame and a disadvantage to not only L.A. and the entertainment community but to USC to not have this program continue forward."
Although Dean Kay has not yet returned our request for comment, his rationale was explained in an email that alumnus Daniel Gardina posted on his blog. It reads, in part, "I recognize the excellent pedagogy of the MPW program, and have made this determination solely as a business decision."
Students enrolled full-time in USC's general graduate programs will pay more than $22,000 this semester. Rudnicki, who is taking slightly less than a full load, wrote a check for $15,000 last week.
Janet Fitch praised Mullins' leadership of the program. "My understanding was that USC told Brighde Mullins that they wanted real excellence from MPW when they brought her on, and that's what she created. They now have one of the best writing programs in the country."
Students hope they can speak to Dean Kay and persuade him to keep that program alive.
ALSO:
James Franco does Cormac McCarthy: The 'Child of God' trailer
Roger Ailes biography 'Loudest Voice' is reasonably fair and balanced
Former U.S. Poet Laureate Kay Ryan recovering after her bicycle was hit by a car
---
Get the latest news, events and more from the Los Angeles Times Book Club, and help us get L.A. reading and talking.
You may occasionally receive promotional content from the Los Angeles Times.