In Chris Pavone's thriller, a terrorist attack in Paris may not be what it seems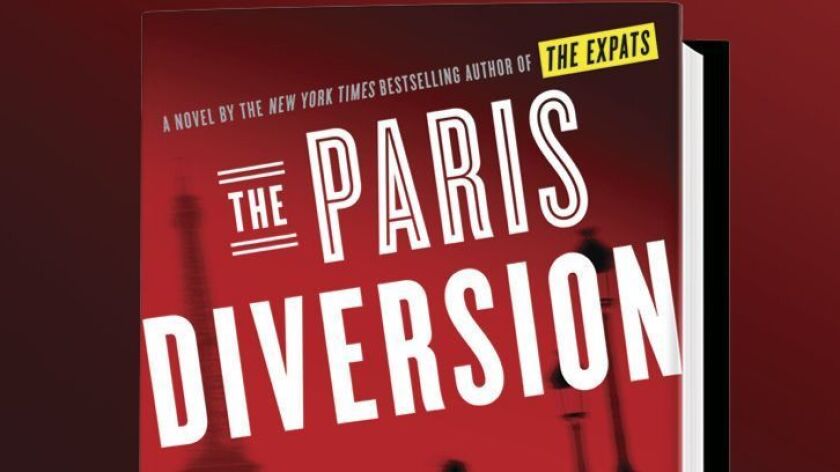 Chris Pavone has built a loyal following by writing thrillers that sneak in a whole lot more than just spycraft. In "The Expats," his propulsive Edgar Award-winning debut, heroine Kate Moore is an American spy living in Luxembourg whose job, with its secrets and subterfuge, is driving a wedge between her and her feckless husband, Dexter, a computer banking expert who harbors a few secrets of his own. Kate and her boss, Hayden Grey, make a cameo appearance in "The Accident," Pavone's second thriller ostensibly set in the world of publishing, but with financial and espionage undertones that spice up the action. The third, "The Travelers," involves a globe-trotting writer in a troubled marriage working for an eponymous travel magazine/agency that's not exactly what it seems.
In addition to characters with something to hide, a hallmark of Pavone's writing has been its increasingly frenetic pace, jumping around Europe, New York City and the world at a clip that keeps the thrills coming and the pages turning, sometimes at the expense of logic or character development. More than anything, a Pavone thriller can make a reader worry whether the heroes will be OK, even after the book is finished, an unsettling thought for genre fans.
One suspects that Pavone had the same concerns, because in "The Paris Diversion," he returns to the redoubtable expats Kate and Dexter, living in the city's 7th arrondissement since the disastrous events in Luxembourg strained their marriage and almost got them killed. Kate's feeling marginalized in her CIA job, and Dexter, now a day trader, has a tip that could rebuild the family's finances, which took a hit in Luxembourg. But while the venue has changed, old suspicions between the couple have not: "For the past couple of years she's been telling herself that she could trust Dexter again, that she should…. But once trust is destroyed, can it ever be entirely rebuilt?"
While marital distrust is another feature of Pavone's literary tradecraft, the stakes in "The Paris Diversion" are considerably higher — a jihadi named Mahmoud has been transported to a plaza in front of the Louvre, strapped into a vest full of explosives and carrying a suspicious satchel, the sight of which paralyzes the city. The chaos also threatens to derail a major acquisition to be announced by Hunter Forsyth, the American chief executive of 4Syte, a multinational conglomerate.
Echoing the 2015 attack on Charlie Hebdo magazine and the coordinated terrorist attacks on the city late that year, "The Paris Diversion" moves quickly, taking readers all over Paris, with a few side trips to Venice. In addition to Mahmoud, there's Wyatt, an American contractor abetting the suicide bomber for personal rather than ideological reasons, and others who are part of the conspiracy. Opposing them are the Paris police and Ibrahim Abid, a Muslim police sharpshooter "more Parisian than all those carpetbaggers, though not necessarily as French," stationed above the Louvre awaiting his orders. In addition to Forsyth, his thoughts shuttling between the billions he hopes to make and his romantic yearning for his French assistant, there is that State Department official who is not exactly who he appears to be, either.
Once Kate fully grasps that the nature of the threat to her, Dexter and their family is bigger and more personal than the crisis at hand, she springs into action to thwart the attack by tapping into her CIA network and Travelers International Booking Service. Some readers will recognize the New York conglomerate and its employees from Pavone's third novel. Suffice it to say that Travelers and Inez, who runs the company's Paris office, provide a unique off-the-books approach to espionage vital to catching those behind the conspiracy and saving the bacon of Kate and the hapless Dexter. But who exactly is behind the threat? Is it an Al Qaeda or Islamic State plot, home-grown terrorists or someone else? After all, as Kate's boss Hayden Gray once said, "a carefully orchestrated disaster can be the perfect diversion."
Diversion is Pavone's specialty, which he employs here with panache, clockwork precision and a great command of Paris locales, even if the underlying culprits and motives make fans of the Expats Universe feel it's "been there-done that." But the question for Kate — can one atone for past mistakes to become a better person? — might be answered by finding a smarter husband.
::
Chris Pavone
Crown: 384 pp., $27
Woods is a book critic, editor and author of several anthologies and crime novels.
---
Get the latest news, events and more from the Los Angeles Times Book Club, and help us get L.A. reading and talking.
You may occasionally receive promotional content from the Los Angeles Times.