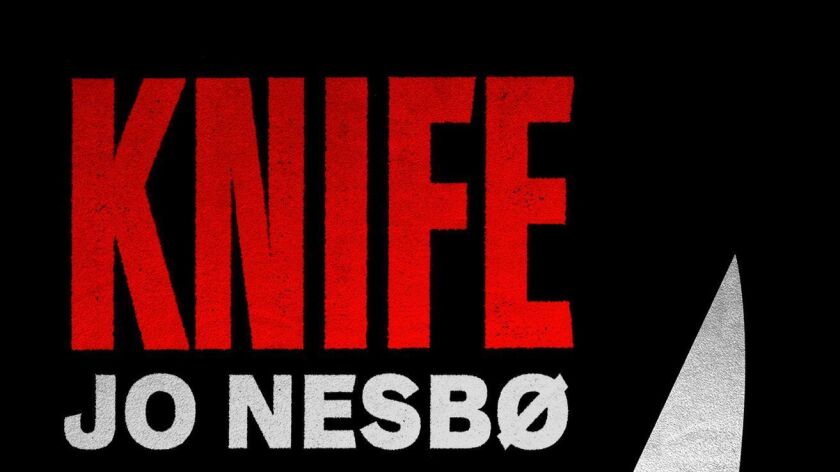 Detective Harry Hole takes on so much damage, physically and mentally, with each novel that it's a wonder there's anything left of him. In "Knife," Hole — the troubled, brilliant protagonist of 11 previous books by Norway's Jo Nesbø — is both a lady killer and a veritable human lie detector. (His surname is pronounced "hoo-leh.") He's someone who can, in Hole's own words, pick up "the single false note in a symphony orchestra." Sometimes, of course, it takes him a while. This is a long novel, heavy with characters, back story and Scandinavian angst, but never feels ponderous. It also manages to keep twisting until the last few pages.
As "Knife" begins, Hole — a legend in the Oslo police force but also notorious for his self-destructive tendencies — has slipped back into heavy drinking and been kicked out by his wife, Rakel. A longtime serial rapist and creepy ideologue named Svein Finne is on the loose at the same time Hole has been sidelined by the force for his own recklessness: He's powerless to stop a longtime antagonist. And then, things get worse: A woman close to Harry is found stabbed to death.
British and American readers woke up to Nordic noir with Stieg Larsson's "The Girl With the Dragon Tattoo," translated into English in 2008. With their concern for violence against women and sharp documentation of Scandinavia's racist Far Right, Larsson's books were in some ways typical of the genre. But Nesbø, still in his 50s, had been publishing novels a decade before the genre's grim emergence. And while there have been others working at a very high level — the poetic Norwegian Karin Fossum and the late Swedish master Henning Mankell among them — Nesbø has somehow managed to break out to an international readership in a big way. "Knife" is a reminder of why people read his books.
With opening scenes involving an addled old man at a hunting shop, a gruesome sexual assault, and Hole waking up with blood on his knuckle after a drunken bar fight he can't recall, Knife takes a while to get going. In fact, it takes nearly all of the novel's 451 pages to spell out how these three moments fit together. (The bar fight is classic Harry Hole: He started it because the owner played a David Gray record Harry can't stand not once but twice. The author, it's worth noting, is a longtime rock musician and songwriter who loves old country music.)
But once the novel focuses, about 50 pages in, it never loses its force; the images shift but never blur. Harry is drunk, despairing, lovesick and lost down blind alleys much of the time. ("I haven't lost everything," Hole says at one point. "I've still got the anger.") But the author knows exactly what he's doing.
The novel echoes one of Nesbø's early heroes – Jim Thompson, best known for his 1952 novel "The Killer Inside Me" – in both its sometimes graphic violence as well as its trips into the criminal mind. As Hole – not entirely admired or trusted by his crime-fighting colleagues – chases down the murderer, he sometimes reflects on the habits of mind that link an obsessive detective like him to the obsessive killers he pursues. His "post case-depression," Hole figures, "resembled a serial killer's frustration when the murder didn't provide any prolonged sense of satisfaction, just a feeling of anti-climax that drove him back out into the chase again."
Thicker and more complex than most of the earliest Nesbø novels– including his often-slender stand-alone books – "Knife" resembles in its heft and sweep "The Redbreast," the third Hole book and the first published in English. With its flashing between Norway's neo-Nazi movement and the original, German Nazis, "The Redbreast" was a masterpiece of historically informed crime fiction. "Knife" has some of the same dimension but keeps all the action in roughly the same time and place. These are both complex, layered novels that catch Hole well into his checkered career, so they're not natural places for a newcomer to start. But it's hard to steer someone away from the work of Jo Nesbø.
Book lovers! Sign up for the new L.A. Times Book Club for upcoming author events »
What may be most remarkable is that the alcoholic, sensitive Hole resembles a huge number of post-Raymond Chandler detectives, and Knife – with its wintry landscape and stylish Nordic neighborhoods – has a lot in common with other examples of the genre. And yet, the writing never feels rote, Hole's inner life is never simple, and the action never becomes predictable.
For all the energy and humor in the books, and what at first can seem like extraneous musical references (Hank Williams, The Ramones), Nesbo is actually as careful a writer as Hole is a detective.
The novel ends with a fascinating series of shifts and reframings both dramatically satisfying as fiction and – in the real, Norwegian world of crime-fighting in which the novel is set – ethically queasy. "It's up to you how much you want to know," Harry tells another character near the book's close." It also leaves Harry on what can only be called a knife's edge. The bad, or at least, ambiguous news for the novel's characters is good news for the rest of us: There will, it seems, be more of these.
::
Jo Nesbø, translated by Neil Smith
Knopf, 451 pps., $27.95
Timberg is an arts and culture writer in Los Angeles. He is writing a book with Richard Thompson, "Beeswing: Britain, Folk Rock and The End of the '60s."
---