Taschen editors pay tribute to 'the boat,' their office at the historic Crossroads of the World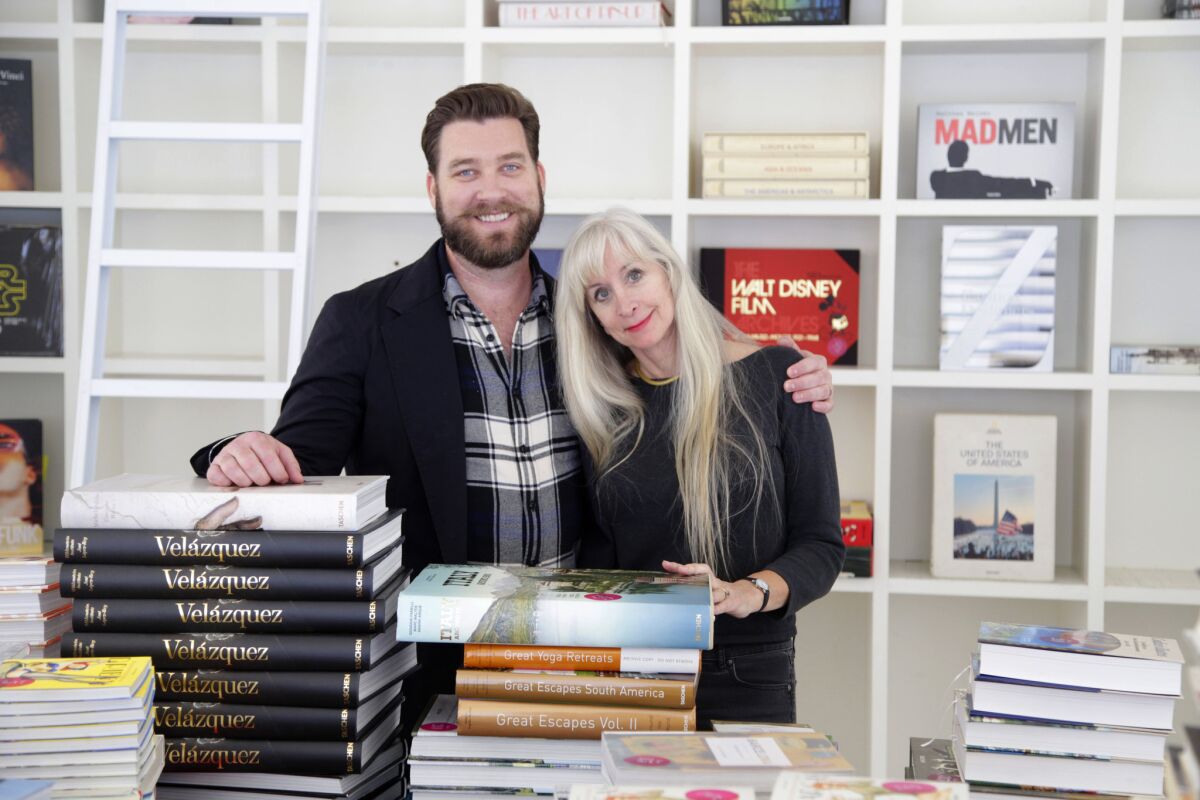 The champ had come to the boat. It was 2004, and Muhammad Ali was at the L.A. offices of German publisher Taschen to sign copies of "GOAT: A Tribute to Muhammad Ali," an extra-large format book — dubbed "sumo" — celebrating his legacy as the "Greatest of All Time." Taschen had recently moved into the Crossroads of the World, a quirky complex of buildings on Sunset Boulevard in Hollywood, the centerpiece of which was a long, Streamline Moderne building resembling an ocean liner.
"It was a big thrill for everyone," recalls Dian Hanson, Taschen's "sexy book editor" (yes, that's her real title). "He was throwing punches at all the men and embracing all the women."
Ali's Parkinson's disease was fairly advanced by that point, rendering him unable to communicate verbally. "He was still able to communicate so much, so simply. He could interact and have a conversation with you even though there were no words being exchanged," remembers Nina Wiener, Taschen's managing editor. "He had this incredible presence that even if you didn't know who he was, you would know that he was someone. I shook his hand, and he had these giant pillowy hands."
Ali was just one of several notable guests — from porn stars and photographers to celebrities, writers, and artists — who have passed through Crossroads of the World since Taschen set up its L.A. offices in "the boat" 15 years ago.
"We had Jackie Chan show up one day wearing clothes that all said 'Jackie Chan' on them, lest he not be recognized," said Hanson. "He was a fan, just came bouncing upstairs. Neil Diamond did the same thing. Taschen does inspire that sort of powerful fandom among people."
Hanson herself could be considered one of the many colorful characters associated with the publishing house. She's a veteran publisher of pornographic magazines, including Juggs, Big Butt and Puritan, but it was the mag Leg Show that brought her to Taschen.
"Benedikt Taschen was a big fan of the magazine, and he has a tradition of just tracking people down," Hanson said of the company's founder. "Since 1993 or '94, he was trying to get me to come work for him."
Yet Taschen's time in the historic building will come to an end next month, when it will vacate its offices at Crossroads, closing a chapter for the publishing house and for Hollywood. The site, along with several neighboring properties, is slated to be turned into a massive mixed-use development. Although Crossroads is safe from demolition since it has been designated as a city cultural-historic monument, it will undergo rehabilitation, according to a spokesperson for Harridge Development Group, which is behind the redevelopment.
"We're certainly not getting kicked out," said Creed Poulson, director at Taschen, "but we want to get ahead of the planning because it's going to be a construction zone."
Crossroads' colorful history originated with a bit of Hollywood Noir lore.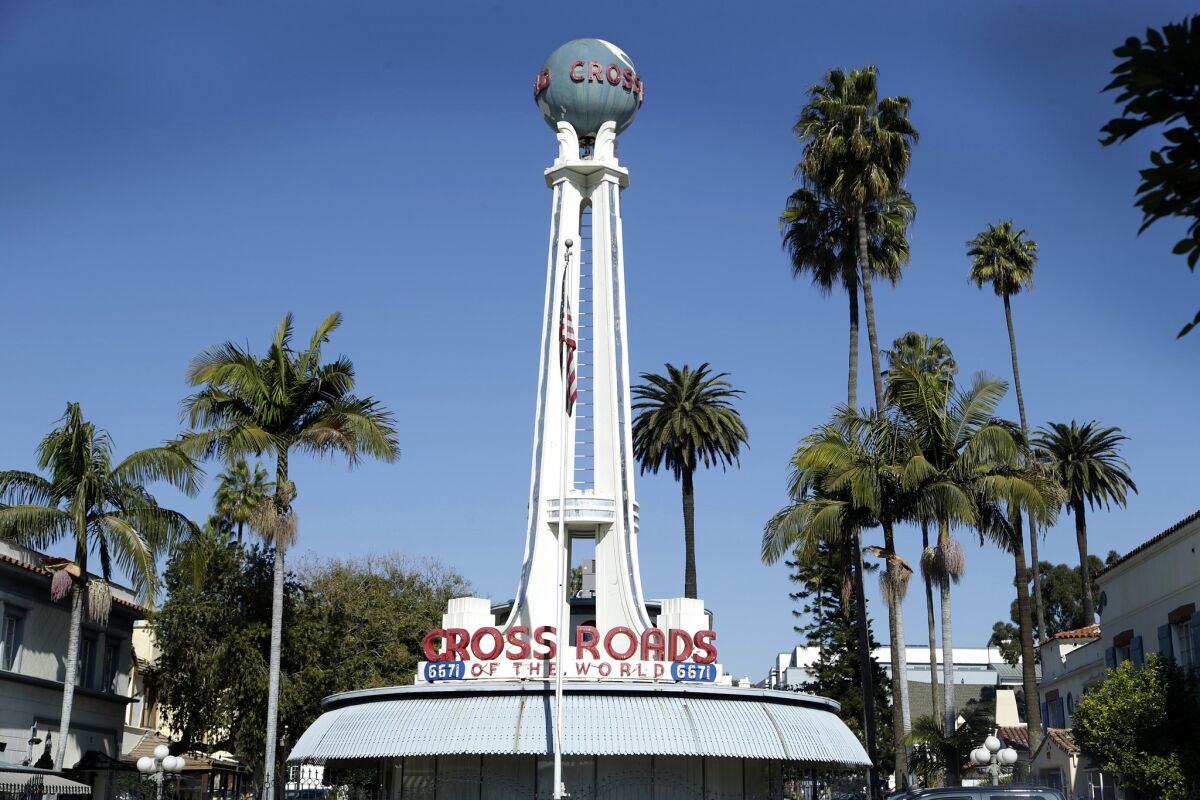 See you at the Crossroads
The site that Crossroads occupies was where Charlie Crawford, a well-connected political figure with mob ties known as the "Gray Wolf of Spring Street," was murdered in 1931. Five years later, to honor his memory, his widow commissioned Robert V. Darrah to build a quirky complex of cottages in international styles — Swiss, Moorish, Spanish Mediterranean — with the Streamline Moderne boat as the centerpiece.
"It's one of the earliest examples of Fantasy Architecture in Southern California," explained Jim Heimann, executive editor for Taschen America and a cultural historian who has written and edited numerous titles on design, architecture, photography and advertising for the publisher. Born and raised in L.A., Heimann had known about the structure for years but began seriously researching its history when he included it in one of his earliest books, "California Crazy," which focused on eccentric roadside architecture of the Golden State.
A pylon topped with a spinning globe lets visitors know where they are the Crossroads of the World. In recent years, the spinning sphere would need a little love. "We'll be in the front conference room, and there's this sound like a dying animal," says Wiener. "It turns out that they need to lubricate the globe."
Crossroads was originally intended as a series of retail shops, one of the first outdoor malls, before being turned into office spaces. (Harridge says it plans to restore it to its original function.) Over the years, it has had many lives: Alfred Hitchcock had his office here, and Crosby, Stills and Nash built a recording studio there in the 1970s. It was home to casting agencies and production companies for the early adult film industry and where infamous porn star John Holmes was discovered, according to Hanson. It has been the backdrop for several films, including "L.A. Confidential" and "Argo," as well as some niche titles.
"When I was doing 'The Big Penis Book,' I found a little set of photos, and we recognized that it was a gay photoset," recalls Hanson. "There was a little cafe in the back part of the boat, and they had the whole thing set in the cafe where the guys meet before it goes into the sex, which they shot somewhere else."
Crossroads also served as a more poignant locale for connections between men. In researching her book "My Buddy," about the World War II buddy system intended to bond male soldiers, she found that it was where servicemen could reconnect with their fellow soldiers after the war.
So how did Taschen, one of the biggest names in art book publishing, which puts out roughly a hundred titles per year, end up with an outpost in Hollywood?
The answer lies with the company's founder, Benedikt Taschen.
Benedikt Taschen's idiosyncratic sensibilities can be seen in the diverse range of sumptuously illustrated titles the company publishes, from "Sumo-size" books on photographers Helmut Newton and David LaChapelle, to Hanson's adult-themed works. There are also titles on Disney, "Star Wars" and Leonardo da Vinci and even a tome on Tibetan murals signed by the Dalai Lama.
The publisher's list of best-sellers reflects this diversity, including affordable titles like the mystical "Book of Symbols," a definitive book on the Bauhaus — updated for its centennial — and the New York Times "36 Hours" travel series, to massive books on the work of Jean-Michel Basquiat or David Hockney.
"Los Angeles: Portrait of a City" is naturally a hometown favorite. The 2009 launch party for it was one of the biggest Taschen events held at Crossroads, bringing together people from all walks of L.A. life, including author Bret Easton Ellis, model Peggy Moffitt, producer Jerry Bruckheimer, artist Kenneth Anger, and actors Gabrielle Union, Udo Kier and Diane Keaton. Hugh Hefner showed up with his Playboy Bunnies.
Taschen's wide-ranging output offers something for everyone, from the $10 foundational series on individual artists and architects, to a super-deluxe limited-edition of Norman Mailer's "Moonfire," which includes an actual moon rock. Prices vary based on the size of the rock, with the most expensive going for 575,000 euros. The deluxe edition of "GOAT" comes with a viewing stand designed by Jeff Koons, a sculpture incorporating a tire and inflatable dolphin, epitomizing the broad spectrum of Taschen's tastes.
At home in 'the boat'
Heimann says Taschen's headquarters at Crossroads reflected the quirkiness of its founder.
"It totally reflects Benedikt's personality; it's off the wall," he said.
"He was very unhappy in New York [where Taschen initially had its U.S. base]," Heimann said. "He told me he resented the publishing industry in New York. It had nothing to do with who he was and what he was doing. L.A. represented much more his taste."
For decades, the U.S. publishing industry has been centered in New York, and while many publishing houses have offices in Los Angeles, it is unusual for a major international publisher to have its U.S. headquarters here. Taschen has 20 employees at the L.A. office, compared with seven in New York and 150 in Cologne.
"I think it was a no-brainer to come to L.A.," says Wiener, "but it certainly shook things up a little bit in the publishing world. Not that he cares about that. He's gonna go where he wants to go."
In 2001, Benedikt Taschen purchased the Chemosphere, John Lautner's modernist, UFO-shaped house in the Hollywood Hills, where he often stays. Crossroads represents an earlier era of Hollywood eccentricity, another pole on the spectrum of L.A. fantasy.
"It was genius on Benedikt's part to avoid a very hipster kind of place, like an old factory or Midcentury Modern building, which would be seemingly more appropriate for a German publisher," says Heimann. Even in its Cologne headquarters, which is situated in an old factory, Taschen has brought an element of whimsy, installing door handles in the shape of Donald Duck's feet.
But now with the impending construction, it's time to leave Crossroads behind.
A new chapter
Taschen won't be going far. It's moving down the road to the NeueHouse in Hollywood, a members-only club for creatives that often hosts events. Located in the old CBS Radio Building, a restored historic Modernist structure designed in 1938 by Swiss-born architect William Lescaze, the NeueHouse will offer new opportunities for Taschen.
"In terms of our team interacting with other people who are creative, in terms of building what we do, and also from a cultural programming standpoint, I think it could be really great," Wiener said.
To prepare for the move, Taschen recently held a moving sale, parting with its U.S. archives (another archive is held in Germany) at massive discounts. More than 1,000 fans came by the boat to snatch up art, architecture and design titles stamped with "Archive only. Do Not Remove" as KCRW DJs spun records.
"We had never opened up it for retail before," Poulson said. "It was like returning to the old glory years of the '30s when it was a retail space. People wanted to see behind the curtain."
For some however, despite the celebrity guests coming and going, it's time for something new.
"It's run its course," says Heimann. The team is a bit smaller these days. Benedikt Taschen now works primarily from his home at the Chemosphere, while Wiener has relocated to New York.
But Heimann is still inspired by the time when the building was made. He's working on a new book tentatively titled "The Golden Age of Hollywood," focused on the city's nightlife and entertainment from about 1900 to 1960, coinciding with prime time for Crossroads.
Others, including Hanson, aren't looking forward to leaving behind the funky, quirky boat. She's already cleared out her overflowing office, boxing up her collection of toys, ephemera and archives, including hundreds of adult magazines and objects related to an upcoming title on Arnold Schwarzenegger. She won't miss the cold-water-only bathrooms but will miss the creatures — the nonfamous kind — that wander into the building.
"The historic nature means that you have to accept certain things like the wildlife. We have lizards in here all the time. I'll especially miss the mourning doves," she says, pointing to a bird's nest nestled into an air-conditioning unit.
She also remarks on some of the less savory characters who used to waltz through the courtyard, some in various states of undress.
"That probably won't happen at NeueHouse," she says.
As Taschen hands Crossroads to a new occupant, its time as stewards of the ship has come to a close. But like many Hollywood haunts, the history of a building isn't just the structure itself; it's the story of the people who inhabited it. And when the torch is passed, the flame — and the memory — stays alive. Crossroads of the World will endure, and the era of Taschen will be one more lively chapter in the ongoing story of Hollywood's beached boat.
Get the latest news, events and more from the Los Angeles Times Book Club, and help us get L.A. reading and talking.
You may occasionally receive promotional content from the Los Angeles Times.