William T. Vollmann turns his mammoth talents to climate change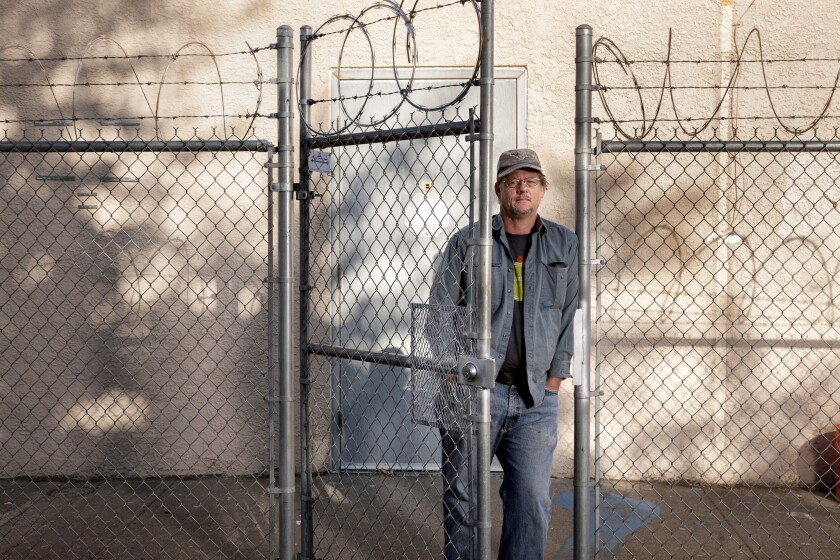 Reporting from Sacramento —
William T. Vollmann opened the multi-lock steel door to his "writing studio," a 3,000-square-foot former Mexican restaurant-turned-apartment hidden in a dicey outlier of Sacramento. It's surrounded by wrought iron and chain link fencing topped with razor wire "to prevent home invasion," he explained. Which has been attempted.
Although Vollmann and his radiation oncologist wife live in a two-story house in a tony neighborhood, the author spends days and sometimes a week at a time at this fortress of solitude when immersed in projects, which is always. He's juggling two novels right now, one a thriller set in the Sacramento Delta, the other with the working title of "The Lesbian."
Vollmann is a National Book Award winner (for the 2005 novel "Europe Central") and honoree of the National Book Critics Circle, PEN USA and the Whiting Foundation. His papers are stored at the Rare Books & Manuscripts Library at Ohio State University. The Washington Post calls him "the most ambitious, productive and important living author in the U.S." There is ongoing talk about an eventual Nobel Prize in literature, which he shrugs off.
His mostly nonfiction bibliography is profound (global poverty, the history of human violence, the settling of the North American continent), his résumé monumental — journalist, historian, novelist, war correspondent, short-story writer, essayist, moralist, photographer, painter, woodblock printer.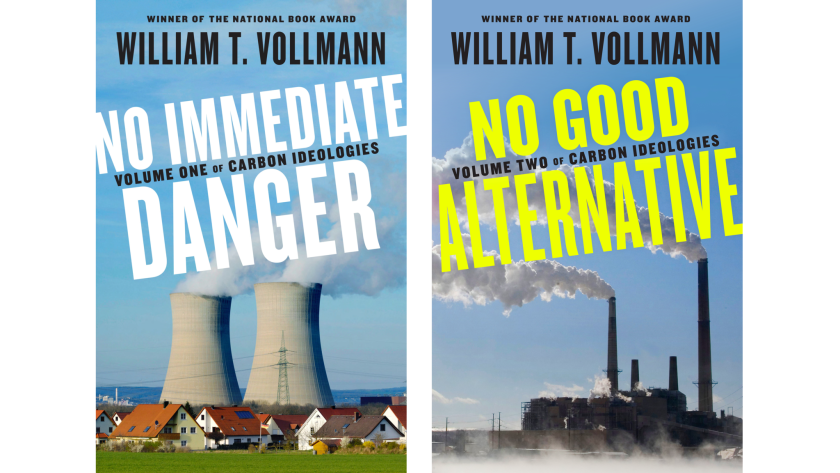 Although he is impeccably mannered and gracious, he prefers to live off the grid as much as possible. He's not connected to the internet (preferring to do research in libraries) and functions without a cellphone, e-mail, fax machine, TV or even a checking account. Nor does he drive, preferring to take public transit or walk.
Vollmann is all about the "freedom of the individual," he said. "I love being able to say what I want, even if it's unpopular, and to live as I wish, even if I'm a weirdo. It doesn't matter. But I do like people. As a journalist, I have to drop in on alien environments and make friends instantly or I'm in big trouble."
He added, "I try to be happy in my life and do what I can to make others happy. I don't try to be a saint, but I do step out of my comfort zone a little bit." Such as the time he rescued an adolescent girl from a brothel in Thailand and installed her in a boarding school in Bangkok, at huge personal risk.
Vollmann had just returned from an eight-city national tour for "No Immediate Danger" (Viking, 624 pages), the first volume of his latest mega-work, "Carbon Ideologies." Volume 2, an additional 688 pages, is "No Good Alternative," to be released by Viking on June 5. Together, the tomes explore the main causes of global warming (transportation, industrial chemicals, manufacturing and agriculture) and exhaustively examine how carbon-based fuels and nuclear power are steering the planet toward an inevitable "hot, dark future."
"Carbon Ideologies" was a labor of seven years, taking him to Japan, Mexico, Bangladesh and the United Arab Emirates — and also West Virginia, Kentucky and Colorado. He dedicates it to the coming generations, "the inhabitants of a hotter, more dangerous and biologically diminished planet than the one on which I lived."
Several walls and part of the ceiling in his writing studio are covered in his photographs and artwork, reflecting his world travels and eclectic interest. Vollmann sat on an old couch and leaned back, then jumped up and offered to make tea. "I would rather not do tours at all, but that's what I signed up for," he said.
"I was mostly preaching to the converted on this tour," he said of his discussions of global warming. "But it's too late to make a difference anyway. The situation we're in is like that of a young couple who buy a new house and can't afford the mortgage payment, so they just don't open the bills. That works for a while, but meanwhile the interest and penalties are accruing."
The sarcastically titled "No Immediate Danger" is grim reading; he makes it plain that corporations and politicians "deny or lie about the irreparable environmental and human damage" they have caused or condoned. But Vollmann's signature wit and sarcasm (and photos) add some relief and human context.
The first 218 pages are a scientific primer on the causes of climate change, a mix of tables, statistics and sidebars such as "Primary Greenhouse Gas Emissions From American Power Generation." Vollmann spent a year checking the primer materials with a legion of institutional experts from temples of knowledge such as the National Oceanic and Atmospheric Administration and the Massachusetts Institute of Technology.
This is interspersed with a first-person narrative on power, waste, disbelief and the like, with horrifying kernels such as, "If we stopped all of our emissions today, the seas would keep rising and the atmosphere would keep warming for at least 2,000 years."
"People can read the primer and say, 'How do I know the science is true? Are you telling me we have to bankrupt the economy just to avoid a sea level rise?''' Vollmann said. "Climatologists say climate is a long-term trend, at least 30 years. The average temperature next year could be colder, so people could say, 'See, that disproves global warming.' But it doesn't. If you look at it over a 30-year period, we see it's steadily going up."
The next 404 pages recount his five visits to the abandoned towns of the radioactive zones in Fukushima prefecture in Japan between 2011 and 2014.
In 2011 an earthquake caused a tsunami that wrecked the Daiichi Nuclear Power Plant. Three reactor cores melted down, releasing radionuclides into the air and, ultimately, the groundwater.
Hundreds of thousands of Fukushima residents were evacuated from the radioactive zones of the province, abandoning their homes and towns to the elements. As Vollmann ventured into those "deserted and extremely eerie" ghost towns on successive visits, he saw "streets, power lines and houses covered in swarming vines, with abandoned buildings occupied by radioactive wild boar," he said. "The affected areas won't approach normal for more than 300 years."
Although the horrific legacy of the bombs dropped on Hiroshima and Nagasaki still lingers in Japan's national psyche, Vollmann's travels brought him in contact with those who lacked that historical context. "Most Japanese don't really understand what radiation is," he said. "They'll ask, 'Is it a substance or is it invisible? Do you itch when you get it?' They don't know because no one tells them. It's quite heartbreaking."
The energy industry's "chemical and climatological harm" is happening in America too. "I talked with a man in Colorado whose family is sick from fracking," Vollmann said.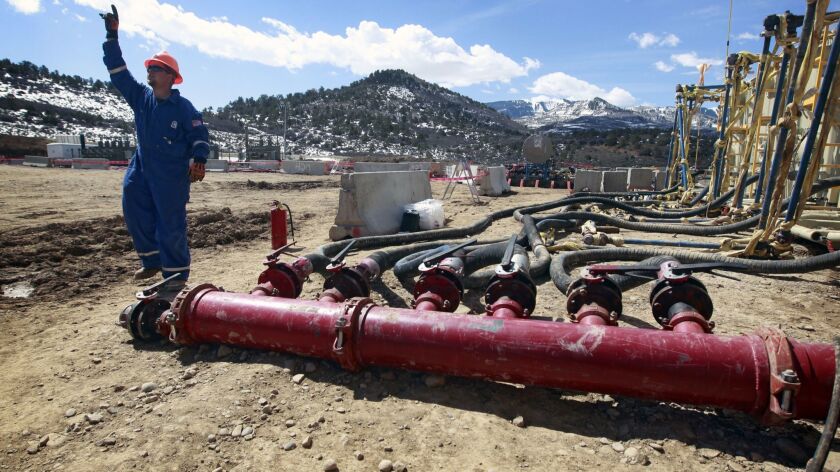 "The retired CEO of Conoco [the multinational energy corporation] is sure climate change doesn't exist. The people I met in West Virginia deny global warming, and the resources companies there are very bitter about the slightest oversight." The extraction industry's rationalization for mining fossil fuels is that there is "No Good Alternative," the second volume's title.
"But there is one," he said. "Reduce demand for almost all goods all over the world. The way to do it is reduce population. It's astounding not to support birth control and have future demand unborn. It won't be enough, but it's a step in the right direction."
Vollmann paused, then announced he had to get on with a deadline article he's writing for National Geographic magazine.
Back at the steel door, he said, somewhat wistfully, "I used to want to apologize to future generations for what we've done to them. But if they were in our shoes, they probably wouldn't do any better. That's kind of a comfort, in a way. Why beat ourselves up that we're not more noble?"
Pierleoni worked as a writer and editor at the Sacramento Bee for 30 years. He now freelances for a number of newspapers and magazines in California.
---
Get the latest news, events and more from the Los Angeles Times Book Club, and help us get L.A. reading and talking.
You may occasionally receive promotional content from the Los Angeles Times.