Chelsea Manning signs book deal for memoir that will tell her life story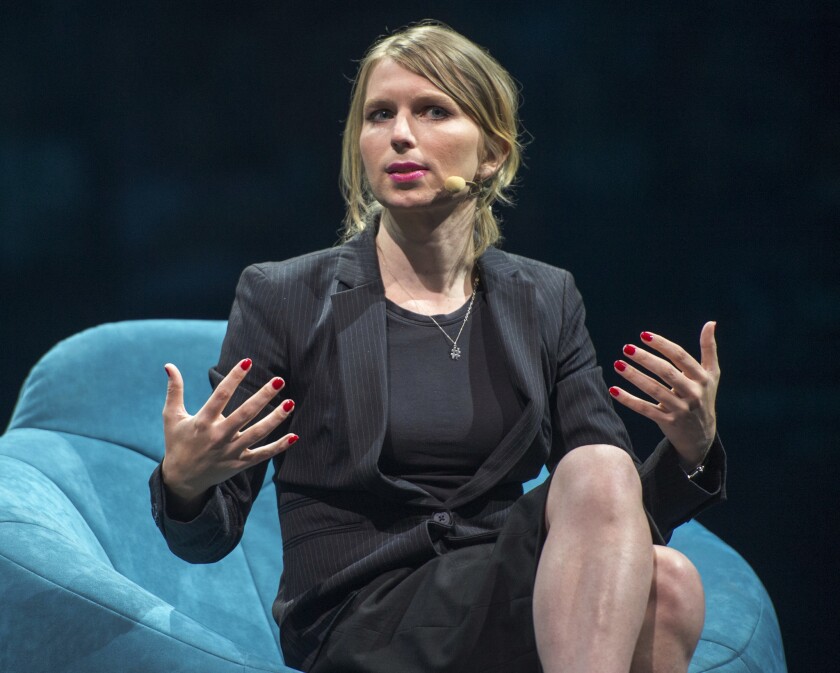 Activist and former soldier Chelsea Manning will tell her life story in a memoir set for release next year.
Manning, who spent seven years in prison for leaking thousands of documents related to the Iraq war to the website WikiLeaks, is writing the book for publisher Farrar, Straus and Giroux, the publisher told the New York Times.
Manning told the Times that the memoir is essentially a "coming-of-age story."
"It's basically my life story up until I got the commutation, from my birth to my time in school and going to the Army and going to prison and the court-martial process," she said. "It's a personal narrative of what was going on in my life surrounding that time and what led to the leaks, what led to prison, and how this whole ordeal has really shaped me and changed me."
Manning, then an Army intelligence analyst stationed in Iraq, was arrested in 2010 after sending more than 700,000 classified or sensitive documents about the wars in Iraq and Afghanistan to WikiLeaks.
She was court-martialed and, in 2013, was convicted of 17 charges including espionage. A judge sentenced her to 35 years in prison, and she was dishonorably discharged from the Army.
In 2017, President Obama commuted her sentence, and she left prison after serving seven years.
She returned to jail this year after being held in contempt for refusing to testify to a grand jury. She was released this month after the expiration of the grand jury's term but could return if she refuses to testify to the new grand jury.
Manning told the New York Times that there are some aspects of the trial that she won't be able to discuss in the book.
"I'm still under obligation under the court rules and the Classified Information Procedures Act of 1980 to not disclose closed court-martial testimony or verify evidence that was put in the record. Things like that," she said. "So I can't talk about that stuff and I'm not going to, and so I'm trying to keep this and maintain this as more of a personal story."
Manning indicated that the book would touch on her gender. In 2013, she came out as a transgender woman.
"I'm really opening myself up to some really intimate things in this book, some really very personal moments and much more intimate points of my life that I've never disclosed before," she said. "You're probably going to learn more about my love life than about the disclosures."
Manning's memoir, as yet untitled, is set for release in the winter of 2020.
---
Get the latest news, events and more from the Los Angeles Times Book Club, and help us get L.A. reading and talking.
You may occasionally receive promotional content from the Los Angeles Times.