Former Defense Secretary James Mattis to publish book this summer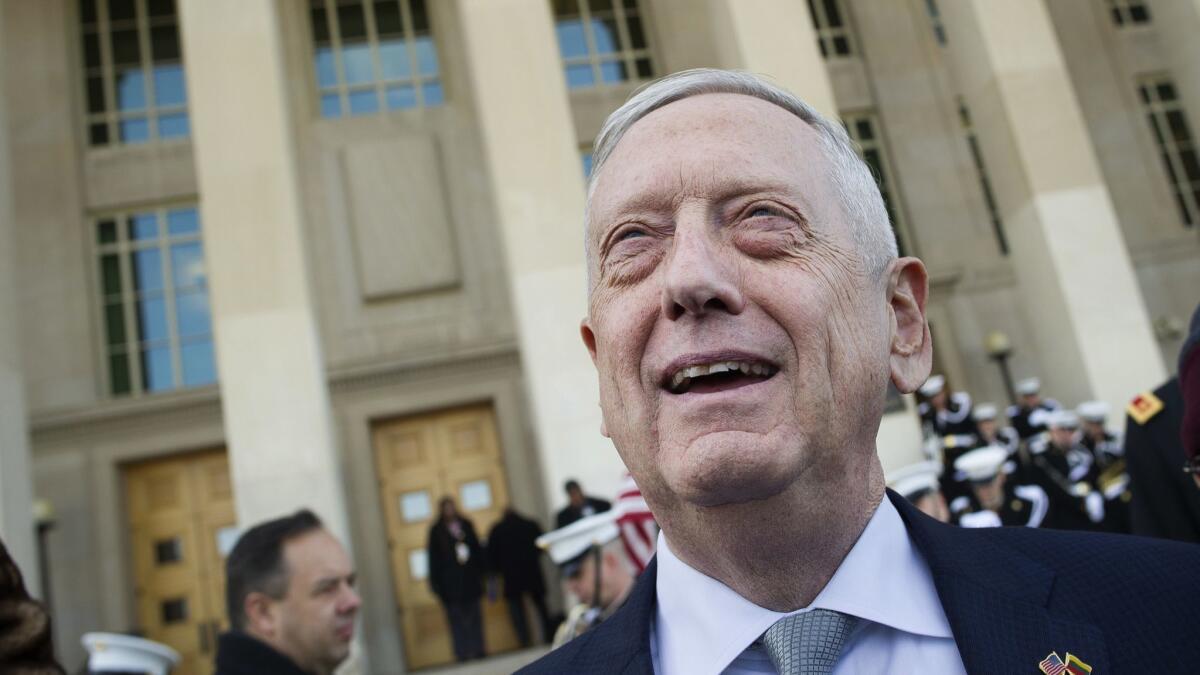 Retired Marine Corps Gen. and former Secretary of Defense James N. Mattis is releasing a book this summer, but it won't discuss his rocky relationship with President Trump.
Random House will publish "Call Sign Chaos: Learning to Lead" in July. The book will cover Mattis' decades-long career in the Marine Corps, including his tenures as commander of the United States Joint Forces Command and the United States Central Command, the Associated Press reports.
The book won't be a tell-all about the nearly two years he spent as Secretary of Defense, however.
"I'm old-fashioned: I don't write about sitting Presidents, so those looking for a tell-all will be disappointed," Mattis said in a statement to the AP. "I want to pass on the lessons and experiences that prepared me for challenges I could not anticipate, not take up the hot political rhetoric of our day."
The publisher's description on the book's Amazon page describes "Call Sign Chaos" as "the account of Jim Mattis' storied career, from wide-ranging leadership roles in three wars to ultimately commanding a quarter of a million troops across the Middle East."
"Along the way, Mattis recounts his foundational experiences as a leader, extracting the lessons he has learned about the nature of warfighting and peacemaking, the importance of allies, and the strategic dilemmas — and short-sighted thinking — now facing our nation," the description reads. "He makes it clear why America must return to a strategic footing so as not to continue winning battles but fighting inconclusive wars."
Trump nominated Mattis for the Defense secretary position shortly after his election in 2016. Mattis was confirmed by the Senate by a 98-1 vote, with only Sen. Kirsten Gillibrand, a Democrat from New York, voting against him.
Mattis and Trump had a contentious relationship throughout the retired general's tenure in the Cabinet. Mattis resigned last December, and his letter to Trump announcing his retirement was widely seen as a rebuke to the president.
"While the U.S. remains the indispensable nation in the free world, we cannot protect our interests or serve that role effectively without maintaining strong alliances and showing respect to those allies," Mattis wrote in the letter. "Because you have the right to have a Secretary of Defense whose views are better aligned with yours on these and other subjects, I believe it is right for me to step down from my position."
"Call Sign Chaos" is co-written with Bing West, a Marine Corps veteran who was an assistant Defense secretary under President Reagan. West is the author of several books, including "No True Glory: A Frontline Account of the Battle for Fallujah" and "The Wrong War: Grit, Strategy, and the Way Out of Afghanistan."
Random House will publish "Call Sign Chaos" on July 16.
Sign up for our Book Club newsletter
Get the latest news, events and more from the Los Angeles Times Book Club, and help us get L.A. reading and talking.
You may occasionally receive promotional content from the Los Angeles Times.