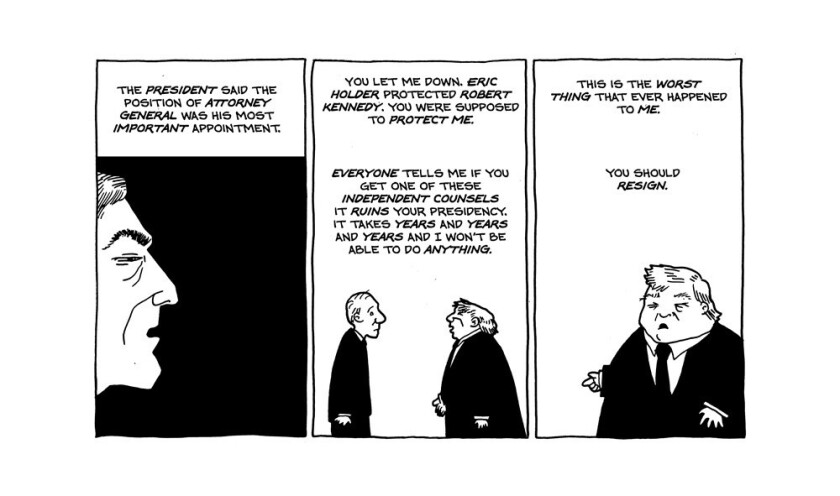 Special Counsel Robert S. Mueller III's report on Russian interference in the 2016 U.S. presidential election has become something of a publishing phenomenon, with several book versions of the report flying off bookstore shelves.
Now a San Diego publisher is planning to release a version of the report for those who might find the original a little too dry. IDW will publish a graphic-novel adaptation of the report next year, the press said in a news release.
"Fight the spin spewing forth from both parties and political pulpits and check out this graphic novel that brings a 400-page legal document down to size," the publisher said. "'The Mueller Report: Graphic Novel' borrows style from classic private detective yarns, complete with a villain's rogues' gallery, nail-biting cliffhangers, and a lone lawman standing proud against the wave of crime."
Book lovers! Sign up for the new L.A. Times Book Club for upcoming author events »
The book is adapted from the Mueller Report by Portland, Ore., writers Shannon Wheeler, the cartoonist best known for the comic strip "Too Much Coffee Man," and Steve Duin, a columnist for the Oregonian newspaper.
"Shannon and Steve have done an incredible job taking the rotten ingredients cataloged by Robert Mueller and turning them into a delicious satirical feast," said Justin Eisinger, an editorial director at IDW. "It's funny. It's maddening. But it's a great resource for anyone that wants to be informed about the findings of the most important law enforcement document created in our lifetime."
Eisinger told HuffPost that the graphic novel version "really is the easiest way to get people to actually read" the report.
The Mueller Report has been published in several (cartoon-free) versions since a redacted version was released to the public in April, with publishers racing to adapt the book for print.
Scribner released a version of the report featuring analysis from Washington Post journalists, and Skyhorse published the report with an introduction by Alan Dershowitz, an attorney who has criticized Mueller's handling of the investigation into charges of Russian interference in the U.S. election. Indie press Melville House also released a mass-market paperback version of the report.
The Mueller investigation seems likely to inspire a slew of books beyond the report itself. On Friday, CNN reported that Andrew Weissmann, a prosecutor on Mueller's team, is writing a book about his experience working on the investigation.
Random House, said to have won the rights to publish the book, did not respond to questions from CNN about the report.
There's no word on when Weissmann's book might be published. "'The Mueller Report: Graphic Novel," however, is slated for release in April 2020.
---