Roxane Gay and Randa Jarrar talk Twitter, 'Difficult Women' and kink in L.A.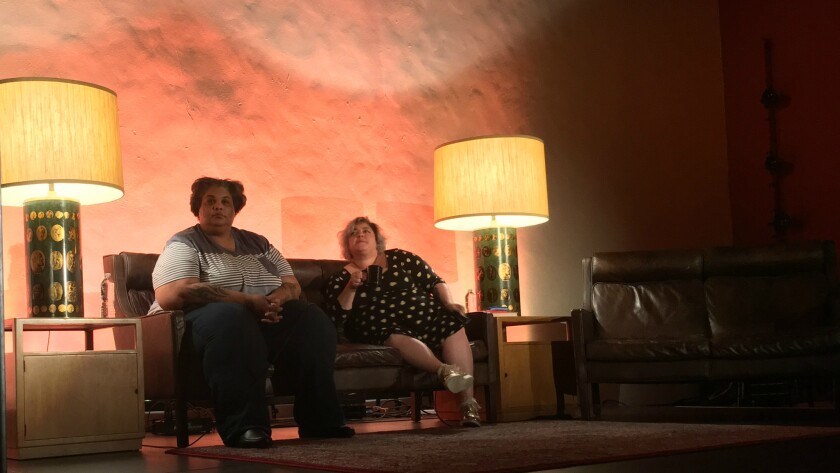 From the stage at the Masonic Lodge at the Hollywood Forever Cemetery on Tuesday night, Randa Jarrar revealed that both she and Roxane Gay worship "the same deity."
"Bey," said Gay, nodding, without hesitation.
In addition to a reverence for Beyoncé , Jarrar — Gay's IRL friend and her interviewer for the evening — rattled off a slew of other qualities that she and Gay share. They are both women, both writers. They both have fathers who are civil engineers. That last coincidence is uncanny enough to have elicited some murmurs of appreciation from the crowd, but as Jarrar continued, things grew increasingly interesting.
In a particularly open conversation that spanned topics from writing habits to Twitter to kink, the pair touched on moments of genuine intimacy, revelation and laughter over the course of the night — an exchange between two outspoken writers, thinkers and women palpably enjoying one another's company.
Gay, whose books include "Bad Feminist," "Difficult Women," and "Hunger" coming in June, and Jarrar, author of "A Map of Home" and "Him, Me, and Muhammad Ali," had sold out the house in an event for PEN Center USA. In an elegant anteroom decked out with DJ booth, black plastic cups and marigold balloons, I saw a young woman wearing a "Gender is a Drag" sweatshirt and another carrying a tote inscribed with the "Hamilton" lyric "young, scrappy & hungry." On a Tuesday night in a cemetery, the Roxane Gay crowd managed to span the crossover between musical theater and gender studies — an interesting Venn diagram for any event, literary or otherwise.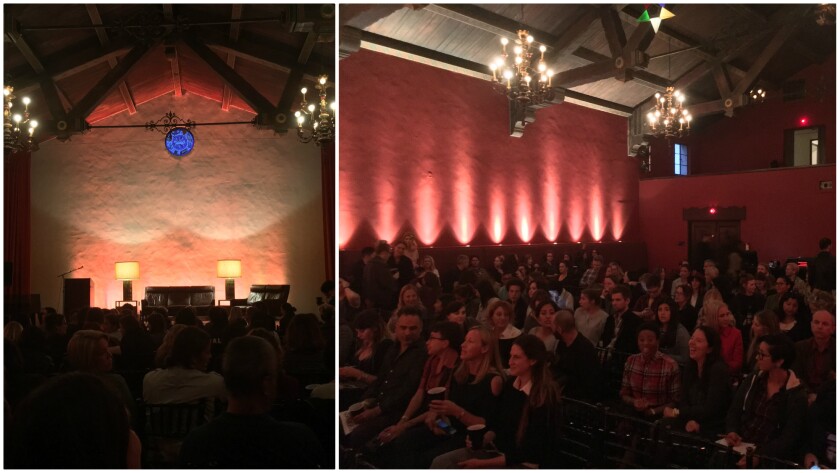 Gay and Jarrar made their entrance down the theater aisle rather than from behind the stage — a subtle, if perhaps unplanned, signal of the inclusivity that would mark the casual yet lively conversation to follow.
"We're both fat" said Jarrar from her end of a midcentury-style leather couch, "I'm the kind of fat that can shop at Lane Bryant."
"Yes," replied Gay. "I wrote a whole book about you."
"We're both into BDSM and kink," Jarrar said.
Seconds lapsed. "Yes," Gay managed to peep through laughter; she had covered her face with her hands. Throughout the night, the tension between Gay's shyness and self-possession was compelling, charming — even inspirational. (When Jarrar tossed off that she prefers "wearing a bra that's a little ill fitting," Gay quipped, "You like your cups to run over," and promptly covered her face again, her embarrassment as involuntary and endearing as her wit.) But Gay was not ashamed, or even reluctant, to get personal. "It's a community that's very embracing of different body types and different personalities," she said, and contextualized the conversation in terms of her work. "Writing is the ultimate control and the ultimate dominance," she said. "You get to hold someone's attention if you're good. … And I'm good."
The audience agreed — applause rang out when Jarrar asked who had already read "Difficult Women," Gay's most recently published title, a collection of short fiction that she noted was the first book she tried to sell. "Publishers were like 'Oh, it's too dark. It makes me want to die,'" she said. "And I was like, 'Yes, that's exactly what I'm going for.'" That the work is difficult is exactly the point. "What a privilege it is to be able to say it's hard to hear someone's story," Gay said. While working on "Hunger," a memoir coming up this June, Gay said she began to ask herself, "Who would I have been if I had not experienced that trauma at 12 years old? … Would I be a writer? Would I be as good a writer?"
Writing is the ultimate control and the ultimate dominance. You get to hold someone's attention if you're good… And I'm good.
Roxane Gay
Gay was equally — and refreshingly — forthcoming about her work habits. "I generally write lying on my couch and watching 'Law and Order SVU,'" she said, adding that she's "a fast writer because I'm a slow thinker," often living with her characters for weeks before bringing them to the page. She also pronounced (no doubt to the dismay of many an L.A.-dwelling aspiring writer in the room) that "a lot of my prolificness has come from living in the middle of nowhere — it's not a secret," and that writing takes solitude and discipline. "You have to treat it like a second job. A second job that doesn't pay and is very abusive," she said. "You have to take yourself seriously."
Like any good talk between friends, the conversation between Gay and Jarrar took a few unexpected turns. An investigation into the themes of twinning and duality in "Difficult Women" lead to an aside on the 1980s film "Mannequin," and the absurdity of Kim Cattrall playing an Egyptian woman, and more recently, Scarlett Johansson's casting in "Ghost in the Shell."
"What about Channing [Tatum]?" Jarrar asked. "Would you allow him to play any character?"
"As long as my body is any character," Gay said to a delighted crowd.
"You felt like you were listening to a conversation that you maybe shouldn't be listening to," said Franklin Leonard, founder of the Blacklist and a new PEN board member after the talk had concluded. "I've yet to see RG speak in public and not fall in love."
Abby Wowchuck, who had driven up from Long Beach bearing her copy of "Difficult Women" to be signed, said "it was the most natural conversation" she'd ever seen on stage, and that the openness and intimacy "tapped into everything we love about their writing."
In fact, the evening felt so much like sitting down with brilliant friends that when an audience member asked about how to deal with Internet trolls, and Gay revealed her growing impatience with Twitter — "I always said I would never leave but now I don't know" — you could sense the panic and dismay.
"Don't leave!" shouted a woman from the back of the room.
Gay immediately sat up a little straighter. "OK!" she called back, epitomizing the closeness and solidarity that she is able to cultivate and honor with her fans. The crowd headed into the afterparty — a kick-off for PEN's membership month — relieved to know that at least for now, Gay isn't going anywhere. Jarrar and Gay signed books, took pictures with readers, and mingled. And just when it looked like Gay might be leaving for the night, Beyoncé came on, and she stayed, shimmying, a few minutes longer.
---
Get the latest news, events and more from the Los Angeles Times Book Club, and help us get L.A. reading and talking.
You may occasionally receive promotional content from the Los Angeles Times.