Jonathan Lethem inspires songs at a Pasadena bookstore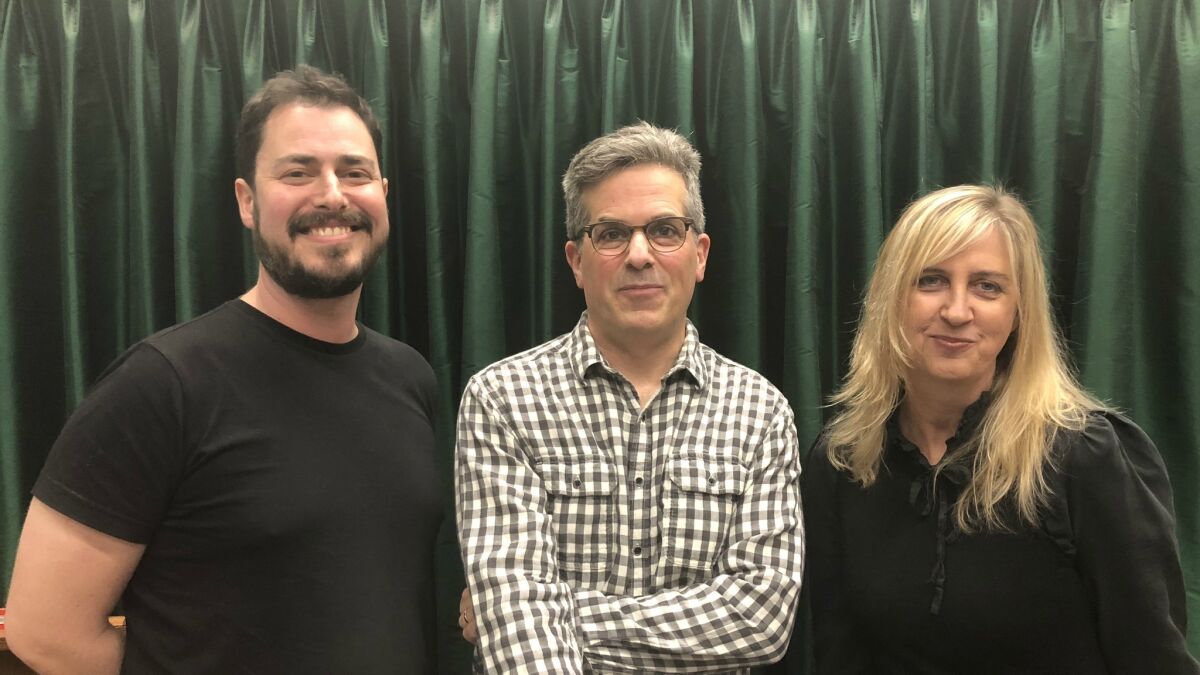 "I want to be in the audience," Jonathan Lethem said into a microphone at Vroman's Bookstore on Sunday afternoon. He slipped off stage and into a front row seat to watch musicians Cindy Lee Berryhill and Ben Arthur perform "answer songs" that they'd composed in response to a story from his collection "Men and Cartoons."
The performance was a kind of call and response, or ekphrasis, with lyrics and chords inspired by Lethem's prose.
Lethem read his short story "Vivian Relf," which traces a series of chance encounters between two people who are certain — at first — that they've met before. That certainty wanes, but the sense of thwarted fatefulness, and of a nagging missed opportunity, rises. The story unfolds over many years, with pauses between passages to mark the passage of time. "I'll mime that part for you — the breaks," Lethem said, stepping to the side of the microphone whenever the story was about to jump ahead.
"That was the most unnecessary dance," said Arthur after the reading, drawing a few chuckles of agreement from the two dozen attendees. "Completely clear, start to finish."
The event was an installment of Arthur's Words and Music series, which he recorded for a forthcoming podcast. Previous iterations include readings by Roxane Gay and Susan Orlean and performances by other musicians.
It was Berryhill's first time. The musician, who began her career in the anit-folk movement of the '90s, admitted that she thought "the end [of 'Vivian Relf'] was kind of a bummer" and one audience member described the plot as "boy meets girl and then nothing happens," but Lethem looked unfazed. He'd forgotten, he said, that the protagonist "was such a jerk."
"It's so old, I'm like a reader of that story" rather than its author, he said. In a way, the musicians read his work back to him.
Both Berryhill and Arthur had composed their songs before the event but had not yet performed them publicly. "It's my first time writing to a short story," Berryhill said. "It is a long song, and I apologize for that right up front." She composed her response in the tradition of Woody Guthrie's "Tom Joad," which summarizes John Steinbeck's "The Grapes of Wrath." Accompanied by her acoustic guitar, the lyrics to her own song were like musical Cliffs Notes, pulling salient lines and skipping the exposition.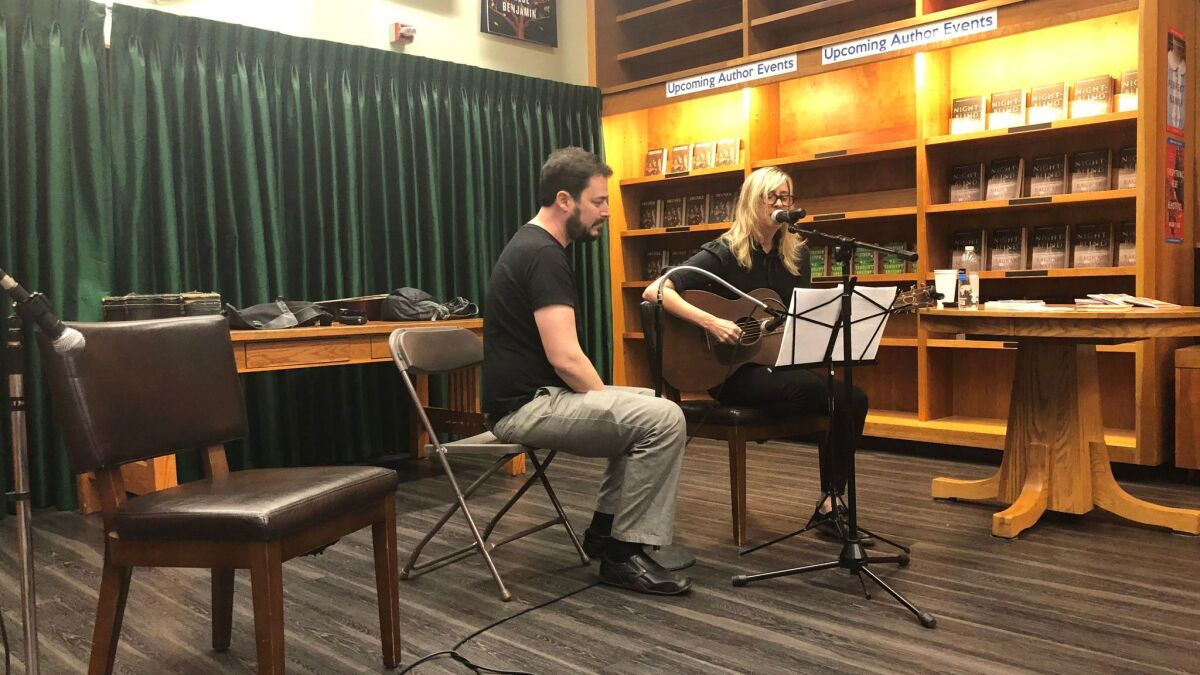 Arthur's response, which he wrote in collaboration with Lethem, was less faithful to the chronology of the story, and, by his own description, more "proto-punk" than Berryhill's folksy composition. (Arthur and Lethem have collaborated previously. Lethem, who was awarded a MacArthur "Genius" Fellowship in 2005 and is now the Roy Edward Disney Professor in Creative Writing at Pomona College, told Arthur in a Believer interview that "I started writing lyrics with my musician friends in high school. And never stopped.") If the characters could only connect, went Arthur's chorus, they wouldn't be all by themselves — a sense that Lethem is able to convey in "Vivian Relf" without ever explicitly saying.
The songwriting, in other words, cuts to the chase, where the prose takes its time to hint and intimate. The story morphed and conformed to the demands of various disciplines and the interpretations of different artists: In each instance, "Vivian Relf" became something new. But there's another reason, outside of artistic experimentation, for Words and Music, admitted Arthur.
As a writer of any discipline — songs, short stories, novels — "It's so much easier than starting with a blank page."
---
Get the latest news, events and more from the Los Angeles Times Book Club, and help us get L.A. reading and talking.
You may occasionally receive promotional content from the Los Angeles Times.