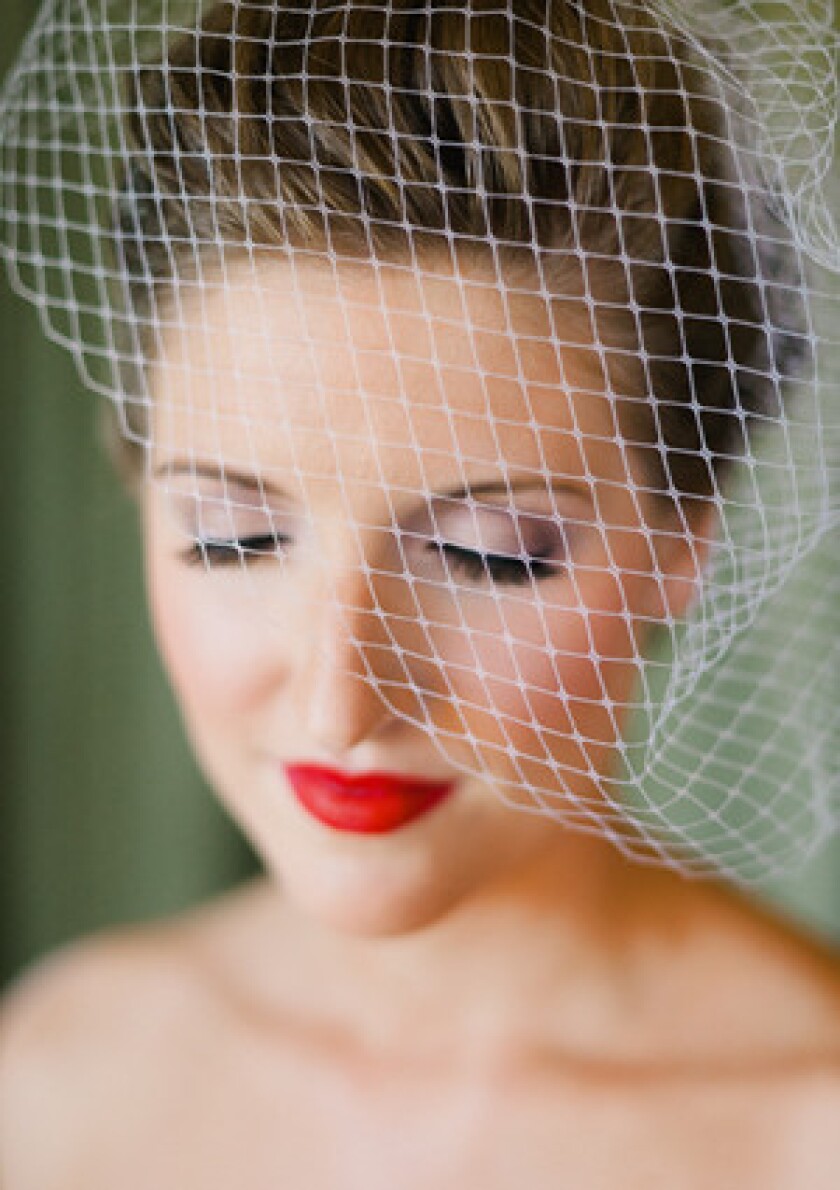 Considering wearing that froufrou fascinator on your wedding day just because it's so royally de rigueur? A look dominated by diamonds, feathers, glitzy hairpins and mega-watt belts can seriously detract from the beauty of an intricate gown — not to mention the vision of the couple as a whole. Dame Elizabeth Taylor stunned at her nuptials to Conrad Hilton Jr. wearing simple pearl earrings; she let her innate beauty do most of the dazzling.
"Where jewelry is concerned, less is usually better and infinitely more modern," said bridal designer Vera Wang in an email interview. "A delicate pair of earrings, a string of pearls, a simple pendant or an elegant bracelet always works best."
There is, however, ample room for statement-making pieces. Do accessorize. After all, it is the pair's prerogative to make their mark and incorporating jewelry and accessories is one surefire way for the couple to express themselves. Heirlooms or special cufflinks, for instance, can add delightful personal flourishes to a groom's ensemble.
The goal is to curate a look that keeps you in the spotlight without going over the top. Your snap-happy photographer will be thrilled you chose to stand out because the pictures will look better for it. With under-accessorizing, brides run the risk of looking washed out or dwarfed by the dress.
"If brides think of a gown as their canvas and use that to inspire the jewelry, they will be much more likely to choose the right pieces," said Abby Larson, founder and editor of the weddings website Style Me Pretty. She adds, "If your gown is simple and unfussy, you can add a wow factor with a gorgeous clunky necklace or stunning chandelier earrings." Larson counts big show-stopping necklaces, elaborate antique earrings and metallic and glitter-adorned heels as major current trends.
BEJEWELED BRIDE ON A BUDGET
Unless you're Kim Kardashian, dipping yourself in $10 million worth of Lorraine Schwartz diamond jewelry may be outside your realm of possibilities. Instead, opt for a single piece of jewelry to polish your look. Jeweler Sylvie Levine of Sylvie Collection advises all brides to wear earrings. "Having a beautiful drop earring or stud to brighten your face is essential," she said. Her bridal line, Something Hue, features pieces that glimmer in rock crystal priced from $1,500 to $3,000.
There are plenty more fanciful accessory lines with competitive price tags. White by Vera Wang, which sells exclusively at David's Bridal, boasts eye-catching items from glittery head pieces to dainty jeweled hair pins. The accessories in Wang's Spring 2012 collection complement whimsical gowns inspired by flowers. Statement heels with dramatic bows are also a centerpiece of the current line.
KITTED-OUT GROOM
For grooms, the formula seems simple: tux or suit, tie or bowtie, cufflinks and studs (that she's probably picked out) and he's set for his march down the aisle. If a groom is looking for more pizzazz, go the extra mile with splashy socks, unique cufflinks or a fancy pocket square. "A handkerchief or silk or linen pocket square adds a unique style and touch of class," Randy Reisman, a men's stylist and co-owner of the groom styling service Groom's Valet, said. "It has a little extra oomph."
FRUIT OF THE HEIRLOOM
Finding a family heirloom to wear on the wedding day not only satisfies the bride's deferential nod to something old, it helps to tell a unique story that can be captured magically in photos. That's why Reisman encourages his grooms to wear cufflinks or pocket watch heirlooms.
Jewelry designer Monica Rich Kosann, who crafts artful pieces that evoke the sacredness of family heirlooms, also remarked that "more and more men in general are wearing necklaces with charms on them that have special meanings." For brides, Kosann suggests tying a locket to the bouquet with a ribbon as a special place to house a photo of a loved one who has passed, an important family member who could not attend, or a meaningful note.
Style Me Pretty's Larson emphasizes the "something old" as the sine qua non of bridal accessorizing and agrees that there's room for creativity with placement of heirlooms. She suggests tucking an antique brooch into a sweetheart neckline or pinning it off-center on a belt.
At the end of the day, the bride is the one who shines. "You should always be the most sparkly part of your attire," Larson said. As for that froufrou fascinator, if it doesn't compete with the gown, go for it.
—Allison Kornberg Walch
Custom Publishing Writer
---