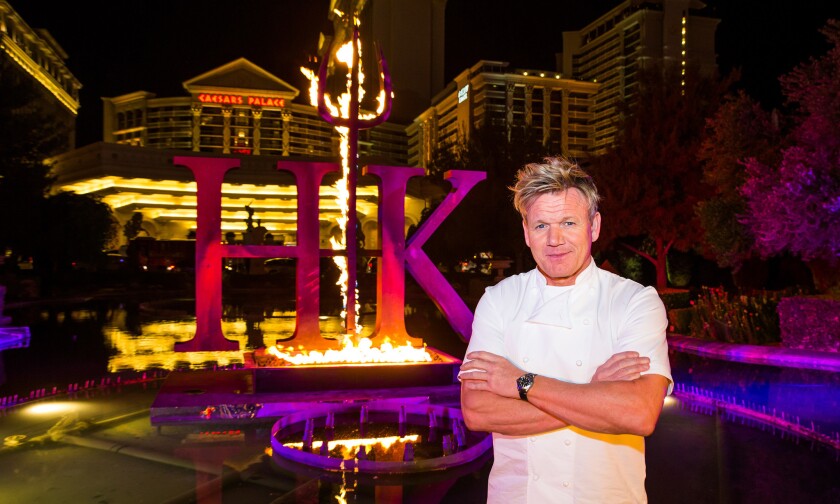 "Hell's Kitchen" restaurant has set Las Vegas ablaze!
Inspired by chef Gordon Ramsay's popular reality program, the restaurant marks the TV personality's fifth Vegas eatery.
"It's the perfect blend of entertainment and culinary in a modern contemporary setting," Ramsay told the Vegas Guide. "We've incorporated elements from the show into the dining experience, which will truly set Hell's Kitchen apart from anything you've ever experienced in Vegas and the center Strip location." Located at Caesars Palace, the restaurant was designed to make diners feel like they are on the studio set of the hit series, which wrapped its 17th season this year. A dynamic and bustling kitchen commands the center of "Hell's Kitchen," complete with red and blue teams who cook while you watch. Patrons even get a chance to judge whether they prefer the specials from the blue or red kitchen. "Guests will be able to hear the action in the kitchen like on the show," Ramsay said. "We want guests to feel like they've just seen their favorite television series come to life."
The menu features many of Ramsay's signature dishes like pan-seared scallops, lobster risotto with saffron, beef wellington and crispy skin salmon. Ramsay said he also plans to crank up the heat by inviting other well-known chefs for cook-offs. Needless to say, the spot is wildly popular, so book a reservation at gordonramsayrestaurants.com/hells-kitchen-caesars-palace.
-Genevieve Wong, Custom Publishing Writer
---