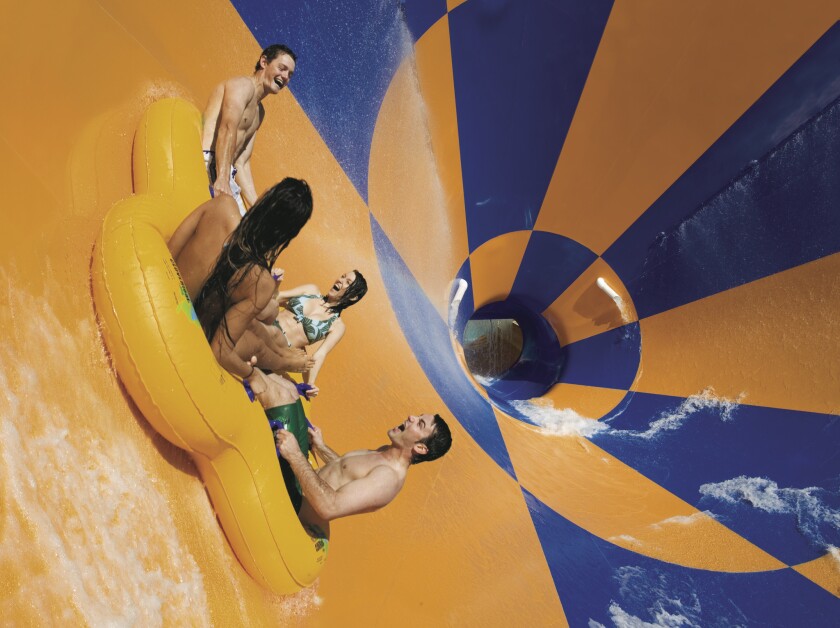 Water parks, classically defined, may conjure images of oddly murky water, long, sweaty lines and abrasion injuries. But like anything, Las Vegas does the water attraction bigger, better and much more energetically than a lazy river. Since it's guaranteed to be hot this summer (really, we swear it will be very, very hot) enjoy fun in the sun with the whole family at Las Vegas' two biggest water parks, Wet 'n' Wild and Cowabunga Bay.
"Wet 'n' Wild Las Vegas is truly unique because of the family-friendly events we host throughout the summer," marketing manager Lindy Frye said in a press release. "No matter the time of day, there is something exciting going on at the park." "Dive-In Movies" features family-friendly films screened from the Red Rock Bay wave pool. The series runs every Friday night and select Saturday nights at 8 p.m., from May 8 to August 11.
Children's Storytime takes place on Thursdays from June 7 to August 9 starting at 11:30 a.m. inside Paradise Falls. Every week, a special guest reader drops by to read a book themed around kindness.
Think of Saturday DJ Sessions as a family dayclub. Beginning at 2 p.m., guests can relax on the shore or ride the waves while the radio personalities and local DJs spin the summer's hottest hits from June 9 to August 18. wetnwildlasvegas.com
For a more nostalgic experience, visitors may also want to grab their aqua socks and head over to the beach-inspired Cowabunga Bay.
"Where I grew up, we always went to the beach," owner Shane Huish explained to the Vegas Guide. "When you're in the desert you can't go to the beach, so I created the next best thing."
At the top of Huish's favorite summer events is Spectacular Slide Night, which guests can only experience if they stay until closing on Fridays and Saturdays. Made up of night slides and Top 40 played by a live DJ, the park ends the evening with a 10-minute synchronized fireworks show at 9:45 p.m. on the dot.
But, if you're more of a daytime person, Huish suggests the park's signature rides and attractions: Wild Surf, a 50-foot tall, man-made wave; Surfin' USA, an uphill and downhill slide; as well as the Cowabunga Kids Cove, an area designed for younger guests. cowabungabay.com
-Genevieve Wong, Custom Publishing Writer
---