Strippers, drugs and sex at Banc of California, former executive alleges in lawsuit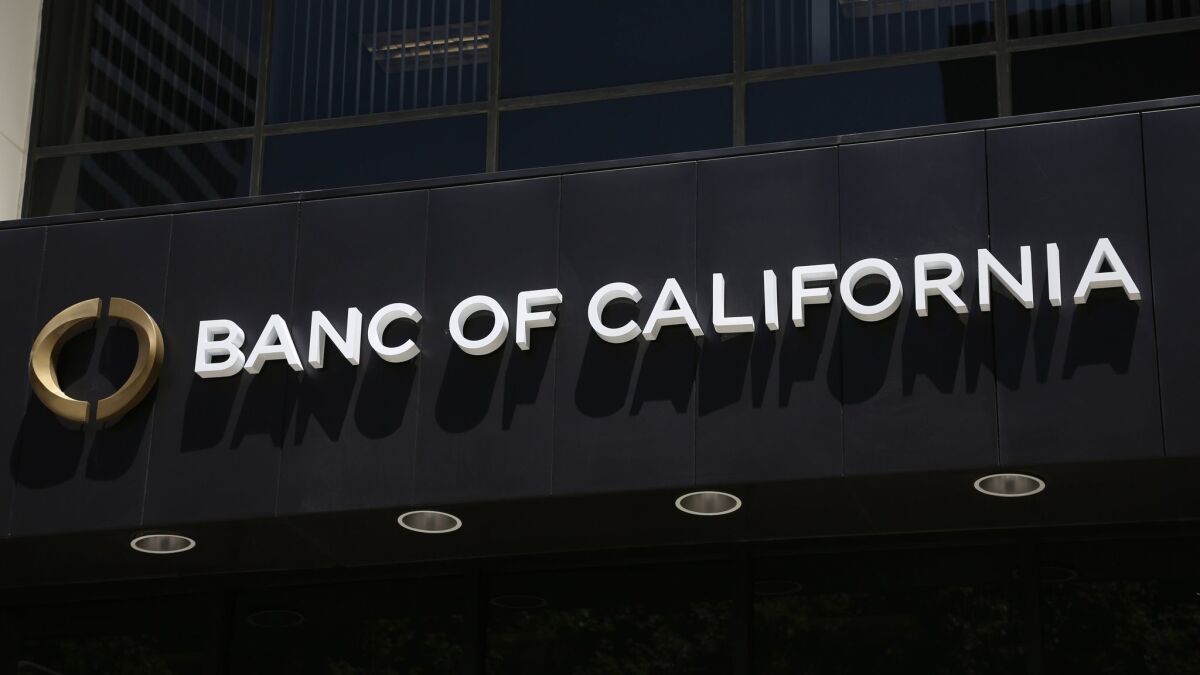 Troubled Banc of California was a den of iniquity featuring on-premises sex, drugs and strippers, according to a lawsuit filed this week by a former employee.
Heather Endresen, who was managing director of the bank's small-business loan department, has charged that the company terminated her without cause, days after she took her concerns about activity at the Irvine home office to a corporate whistleblower hotline.

For the record:
1:30 p.m. Dec. 9, 2017An earlier version of this article identified the law firm where Joe Hixson works as Abernethy MacGregor. The firm's name is Abernathy MacGregor.
Her complaints included "male employees having sex with woman in their work offices," "visiting strip clubs with employees" and "using company funds to pay for strippers."
Endresen's lawsuit, filed Thursday in Los Angeles Superior Court, further alleged "illegal drug use" by former Executive Vice President and interim CFO Francisco Turner, and accused him of "having sex with certain employees." Banc of California announced Turner's resignation in June.
Banc of California spokesperson Joe Hixson, of the firm Abernathy MacGregor, dismissed the suit as frivolous.
"We do not comment on specific claims in ongoing litigation nor do we discuss personnel matters. We believe the action has no merit and we intend to defend against the claims vigorously," the statement read.
"The record should be clear, however, that we treat all matters of compliance with the utmost seriousness and any suggestion otherwise is categorically wrong. We encourage all employees to raise any area of concern and we investigate all claims thoroughly."
The suit filed by Endresen, who worked at the bank from 2014 through May 2017, alleges serious breaches of financial propriety as well as rampant sex and drug use. Endresen has charged that company officers engaged in a "sham" effort to shift millions of dollars in corporate revenues from late 2016 into early 2017 — partly to avoid paying bonuses earned by Endresen and others.
The suit demands civil damages, general damages and special damages, plus restitution of unpaid monies.
A statement released by Berokim and Duel, a Beverly Hills law firm representing Endresen, said in part: "Ms. Endresen was a victim of Banc's retaliatory conduct for exposing SEC violations, fraud, sexual harassment, and rampant drug use. In the end, she lost her job, her confidence in Banc and its management, and the relationships she had worked so hard to build and maintain."
A spokesperson for ousted officer Turner issued a statement, published by Bloomberg, reading in part, "I vigorously dispute the allegations made about me and am confident that I will be vindicated once the legal process takes its course."
The Irvine-based lender has had a difficult year. Rated among the "Best Banks in California" in 2016 by Forbes, the company has seen its stock value crater after U.S. regulators convened an investigation into charges that company officers had ties to an imprisoned California financier.
Reports of that investigation resulted in the resignation of the bank's CEO, Steven Sugarman, in January.
Sugarman ultimately was replaced by current CEO Doug Bowers, said Hixson, who confirmed the SEC investigation is still active.
---
UPDATES:
1:30 p.m.: This article has been updated with a statement from a law firm representing Endresen.
This article was originally published at 12:55 p.m.
---