GM issues 4 more recalls, affecting 2.42 million vehicles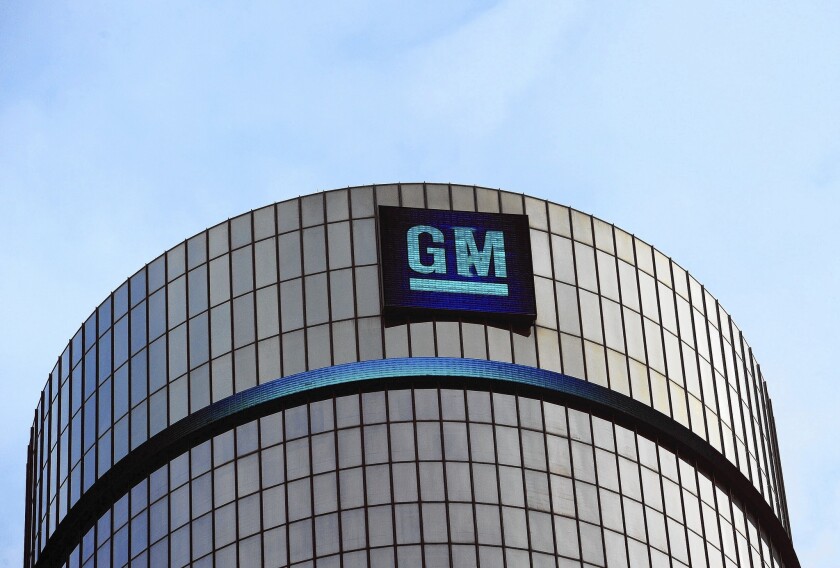 General Motors Co.'s recall saga continued Tuesday with the beleaguered automaker recalling another 2.42 million vehicles in the U.S. for four separate issues.
None of the four recalls is related to GM's faulty ignition switches. That issue, which has been linked to at least 13 deaths and recalls of 2.6 million vehicles, has prompted federal fines and several investigations into why GM neglected to issue the recalls for more than a decade.
Tuesday's recalls bring the total number of GM recalls in 2014 to 13.7 million vehicles in the U.S alone. It also means GM will take a $400-million charge against second-quarter earnings.
The continuing recalls stem from an internal review of the automaker's pending safety issues, announced by GM Chief Executive Mary Barra in the wake of the first ignition switch recalls. It represents a culture change at GM, said Dave Sullivan, manager of product analysis for consulting firm AutoPacific Inc.
"We never would have seen a lot of these issues addressed because they weren't being brought to the right level of management's attention," Sullivan said. "I don't think they're done yet."
The most serious issue in Tuesday's recalls involved 1,402 Cadillac Escalade and Escalade ESVs from the 2015 model year. The hulking luxury SUVs have front passenger air bags that were not properly attached to the instrument panel. As a result, they may only partially deploy in a crash.
Demonstrating the gravity of the problem, GM sent letters, emailed, and called owners of the vehicles and warned them not to drive with a passenger in the front seat until the vehicles can be fixed. No accidents or injuries have been reported as a result of this issue, GM said.
The automaker also recalled 1,339,355 of its new and used full-size crossover SUVs from the 2009-14 model years. These include the Buick Enclave, Chevrolet Traverse and GMC Acadia. The Saturn Outlook from 2000-10 is also included.
These vehicles have a cable in the front seat belt that can wear out prematurely and break. If this happens, the seat belt may not work as designed. GM has asked dealers not to sell new or used models of these vehicles until a fix can be made.
A third recall on Tuesday expands on an earlier recall from April 29. GM is now calling for fixes to 1,075,102 of its Chevy Malibu, Malibu Maxx and Pontiac G6 vehicles. The cars affected are from the 2004-08 model years.
A shift cable in the four-speed automatic transmission can break. If this happens, drivers may not be able to change gears, remove the key from the ignition or put the car in park. The issue has led to 18 crashes and one injury.
The fourth recall was of 58 Chevrolet Silverado HD and GMC Sierra HD heavy-duty pickup trucks from 2015. These trucks are at risk for fire if the clips that attach a fuse block to the trucks come loose and the block moves. GM is not aware of any accidents or injuries as a result of this issue.
The $400-million charge against earnings is a doubling of the $200-million figure GM announced last week. This brings the total cost of GM's recalls alone to $1.7 billion so far in 2014.
This latest round of recalls puts 2014 on track to be the busiest recall year ever for the auto industry. With nearly 23 million vehicles recalled already, the auto industry will almost certainly break the previous record of 30.8 million vehicles recalled in 2004.
GM accounts for by far the largest share of those recalls. In February, the automaker started recalling cars with the faulty ignition switches, which drivers can inadvertently turn off, disabling the air bags and steering. Internal documents show GM knew about the problem as early as 2001 but didn't issue a recall until 13 years later.
This has prompted a flurry of lawsuits by consumers and investigations by the National Highway Traffic Safety Administration, Congress and the Department of Justice. On Friday, NHTSA issued a $35-million penalty against GM for the delays, the maximum fine the safety agency could levy.
Critics dismissed the amount as no more than a slap on the wrist, though the fine probably is not the end of GM's financial woes. Just this year, Toyota was slapped with a $1.2-billion fine by the DOJ to settle a four-year criminal investigation into the company's handling of sudden-acceleration complaints and recalls.
GM also faces 79 lawsuits from customers seeking up to $10 billion in lost value of the 2.6 million cars with faulty ignition switches.
But the plaintiffs may have a hard time proving their vehicles have lost value. ALG, which tracks vehicle values, said Tuesday that while there was a small dip in short-term values of the affected cars, they probably wouldn't be affected in the long term.
"We expect GM's values to mimic what happened to Ford and Toyota after their mass recalls, with the affected vehicles hurting little more than GM's reputation for several years," Eric Lyman, ALG vice president, said in a statement.
Despite the high volume of recalls, many analysts don't expect all the negative attention to have a meaningful effect on GM's long-term fortunes.
Because many of the models tied to GM's more serious recalls aren't in production anymore, there's little risk of a particular model's reputation being tarnished. And since GM doesn't actually sell cars under its own nameplate, many potential buyers may not even be aware that a Chevy or Buick is made by GM.
GM's future is also helped by the fact that people don't buy new vehicles frequently. The average age of cars on the road today is about 11 years, which means many consumers will have forgotten about the GM recalls by the time they go to dealerships to buy their next car.
"Consumers are not buying a new car very often," Sullivan said. "It's not like we have a huge recall at McDonald's for poisonous meat in the food today, and everybody stops going there immediately."
david.undercoffler@latimes.com
Twitter: @latimes_driven
---
Your guide to our new economic reality.
Get our free business newsletter for insights and tips for getting by.
You may occasionally receive promotional content from the Los Angeles Times.