L.A. Auto Show 2017: Porsche strips down with the Carrera T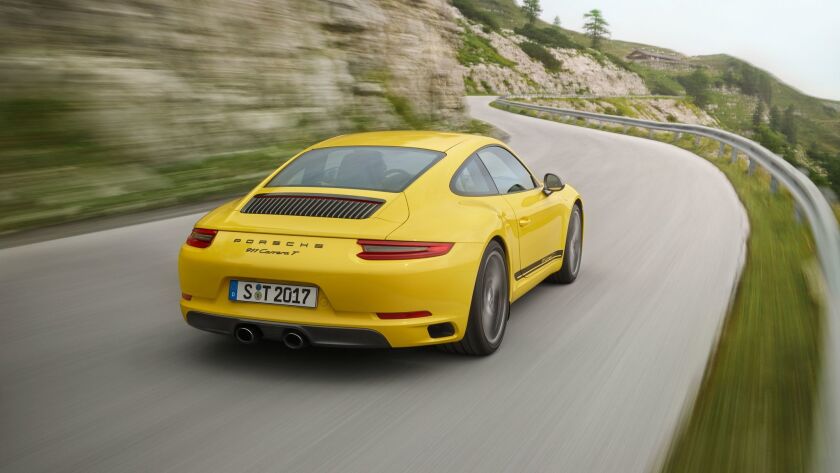 Porsche's bread-and-butter vehicles are the Macan and Cayenne SUVs, but the heart and soul of the German company is the 911 Carrera. To broaden the iconic sport car's appeal, Porsche currently offers 22 different Carreras, including turbo models, performance versions, hardtop and convertible variations, and high-priced GT and RS iterations. Keeping things fresh, the company is introducing a new "less weight, more performance" Carrera T.
What is it?
Porsche's engineers have crafted a new 911 model that slides in between the entry-level Carrera (retailing from about $92,000) and the spendier, more technologically advanced Carrera S (priced from about $106,000). The designers have shaved weight, cut comfort and increased driver engagement by taking out sound-deadening materials and removing things like inside door handles. (It's a fabric strap, instead of a metal pull, like on old-fashioned race cars.) The result is what Porsche calls "the lightest model in the 911 Carrera range," designed to heighten "purity and focus."
"The T is a car for the Porsche purist on a budget," said celebrity car podcaster and Porsche enthusiast Spike Feresten, who applauds the car's return to simple, stripped-down driving. "Your Saturday morning coffee blast is going to be a lot of fun."
Why it matters
The West Coast market is essential to Porsche's bottom line. Last year, more than a quarter of the 54,000 cars the German automaker sold in the U.S. were sold in California. Half of those went to buyers in L.A., who are also targeted by a constant parade of new products from Ferrari, McLaren, Lamborghini, Aston Martin, Jaguar and even Tesla. So Porsche always has a massive presence in the L.A. Convention Center's Petree Hall, and always brings cool stuff to the show.
What's new?
Porsche has kept many of the entry-level Carrera's sports car features, but has subtracted some technology and added some performance. The T comes stocked with a sport suspension and optional four-wheel steering system, neither of which is even offered on the base Carrera. The T also comes standard with 20-inch wheels and rear seat delete package, and can be fitted with the carbon fiber bucket seats ordinarily available only on higher-end Porsche products.
The competition
Porsche has plenty of company in the $100,000-sports-car category. Carrera customers could be cross-shopping the Audi 8, 6 series BMW, Mercedes-Benz AMG GT or even a Nissan GT-R. But this extra-light, almost entry-level 911 comes with bragging rights.
"Perhaps the GT3 and GT2 RS are out of range, but now you can afford the lightest 911 in the lineup," Feresten said.
The details
The new model T uses the Carrera's standard 3-liter flat-six engine, which cranks out 370 horsepower and 331 pound-feet of torque. But its lower weight (up to 40 pounds lighter than a comparably equipped stock Carrera) makes it quicker. The T gets from zero to 60 mph in 4 seconds, when fitted with the Porsche PDK automatic transmission, almost half a second faster than the stock model, on its way to a top speed of 180 mph with the PDK and 182 mph with the standard 7-speed manual gearbox. The other important number? Pricing will start from $103,150.
---
---
Your guide to our new economic reality.
Get our free business newsletter for insights and tips for getting by.
You may occasionally receive promotional content from the Los Angeles Times.