L.A. Drives: The writer of the 'Seinfeld' 'Soup Nazi' episode loves cruising Malibu Canyon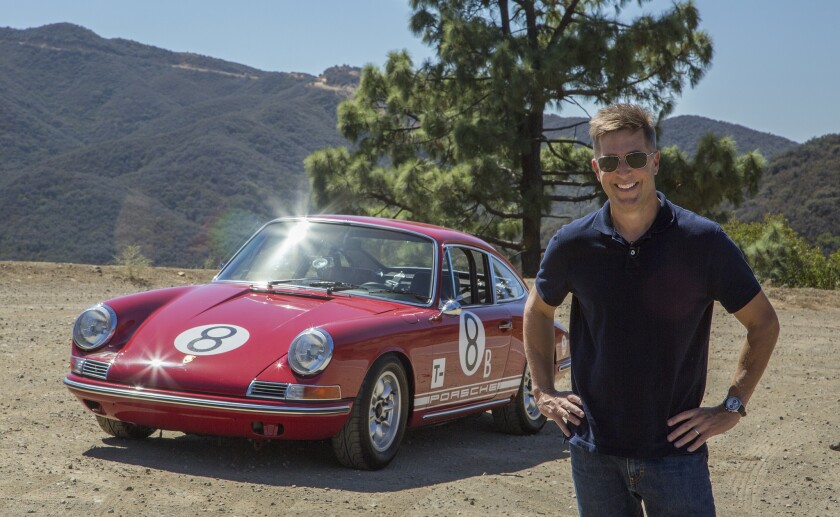 Spike Feresten is one of the funniest TV writers alive, with comedy credits stretching from "SNL" to "Late Night With David Letterman" to "Seinfeld," where his "Soup Nazi" episode became one of the landmark moments in that long-running series.
But he's dead serious about his cars. Feresten is a Porsche man, and he loves driving the Malibu canyons.
Weekends often find him tooling up the coast from the Brentwood home he shares with his wife and children. He hits Pacific Coast Highway, drives to Malibu and meets up with friends at the Malibu Kitchen — run by an owner so comically strict that he is known to Feresten and his friends as the "Deli Nazi."
On a perfect day, often in the company of his Porsche pal Jerry Seinfeld, Feresten makes a one-hour loop from PCH up to Mulholland Highway and back down.
The day we rode with him, Feresten drove his cherished 1968 Porsche 911L, a street-legal race car, on a route that curled up Encinal Canyon Road into the hills.
"I love this!" Feresten said as he wound the Porsche up and accelerated into a turn. "I don't do anything to relax. So this is it. For at least two hours of my week, I'm on vacation."
Feresten is a busy guy. He's currently finishing up the third season of his Esquire Network "Car Matchmaker" TV show, in which he uses his vast automotive knowledge and host of car- and motorcycle-friendly friends to connect hopeful car owners with the perfect ride.
In a recent episode, he visited Keanu Reeves' Arch Motorcycles factory to help a young woman figure out what bike to buy. In another, he took Sports Illustrated swimsuit model Genevieve Morton drifting at Willow Springs. In the final episode, which airs Oct. 26, he helps a pair of CrossFit competitors choose the perfect off-road camper vehicle.
Feresten owns a small dealership's worth of cars, and many of them are made by Porsche, the brand he started with when he first began to be interested in classic cars.
That was due to influence by Letterman and Seinfeld, the former by telling him he was "a Porsche guy," and the latter by deciding not to buy a classic Porsche, and then urging Feresten to buy it.
It was a 1973 Porsche 911T, Feresten said, and the first of many German cars he would go on to own. In the garage today, alongside a few Porsches, are a '79 Volkswagen Beetle that was once a German police car, and a vintage Land Rover.
The 1968 911L made a deliciously throaty sound as Feresten unspooled it on a straightaway, then pulled off the asphalt at a place he and Seinfeld have dubbed "Wizz Point."
"It's a bathroom break," Feresten explained. "We're older men. We've had a lot of coffee."
By the side of the road, Feresten recounted some of the history of the former race car, like the weird upside down "8" on its hood and doors. (On race day, the owner couldn't find proper numbers, so he got some mismatched zeroes at a crafts store and slapped them on the car. Feresten copied the "8" design from old photos he found after buying the car.)
But then it was back into the Porsche and onto the road, where we passed a series of "wine trolleys" ferrying tourists to nearby wineries, and a shirtless plein aire landscape painter daubing at his canvas by the side of the road.
We turned off Mulholland onto Kanan Dume Road and headed downhill, back toward the coast.
Feresten has the drive so memorized that he can accurately predict how many times your ears will pop coming down the mountain, and where, and around which corner the air will suddenly cool down with coastal fog, and behind which embankment the CHP will hide to catch speeders.
Feresten can talk cars all day. But he said his driving conversations with his companions tend toward the speculative, and the serious.
"Jerry and I are always crunching the larger questions of life, and how insignificant we are," he said. "We actually talk about that kind of stuff a lot."
But he discounts the generally held belief about the "midlife crisis," that middle-aged men who buy sports cars are pretending to be 25 again or are hoping to cheat death.
"It isn't that at all," Feresten said. "It's just that, you can see the end coming up quickly, and you decide to do what you really want to do. That's not a crisis."
Feresten and Seinfeld share the same opinion about car collecting and classic car ownership — that in fact the owner is just borrowing the car for a while.
"You are just the car's caretaker," Feresten said, echoing his former employer. "Eventually, you have to let someone else own and drive it."
Feresten gunned the engine as we went through one of Kanan Dume's short tunnels, thrilling to the sound of the vintage engine. Then, all too soon, we were back on PCH, and back at Malibu Kitchen.
The "Deli Nazi" had prepared a light lunch for Feresten and friends. Did the talk turn to television, and comedy?
No. It was still Saturday, and the talk was only about cars.
ALSO
Review: Rhino GX is a luxury SUV fit for a warlord
Takata air bag blamed for woman's death in Riverside County crash
'Art of Bugatti' exhibit shows generations of talent from the car designer's family
---