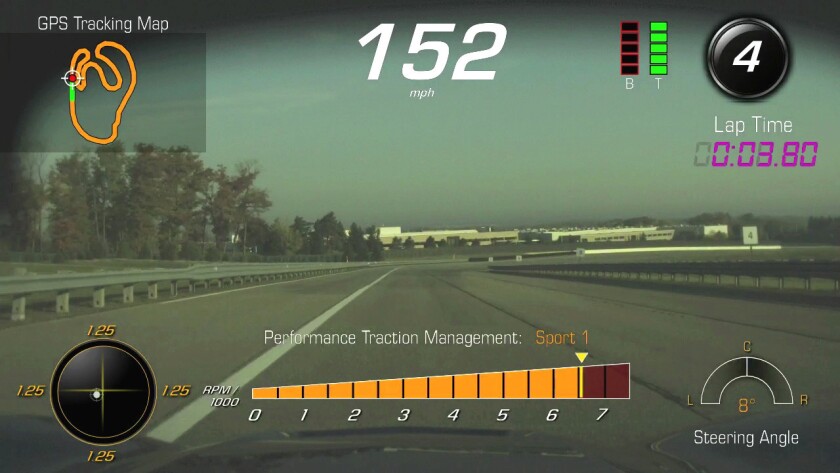 Data and video geeks who recently picked up an all-new Chevrolet Corvette Stingray will soon be able to track and share all their high-speed shenanigans, the automaker announced on Sunday.
At the annual Consumer Electronics Show in Las Vegas, Chevy introduced the Performance Data Recorder. Billed as an industry first, this three-piece system seamlessly integrates into a seventh-generation Corvette Stingray to record video and telemetry data for wherever you decide to put the car's 455 horsepower to use.
"Drivers can easily record and share their experiences driving down the Tail of the Dragon or lapping Road Atlanta," said Tadge Juechter, chief engineer on the Corvette. "In addition, with the included telemetry software, users can analyze their laps in incredible detail and find opportunities to improve their driving and lap times."
PHOTOS: Seven generations of Corvettes
The system uses three components. A 720p high-definition video camera clips into the rear-view mirror housing inside the car, with audio of your passenger's wheezing recorded through a dedicated microphone inside the cabin.
This camera is then synced with a dedicated GPS receiver that operates five times faster than a conventional navigation receiver for greater accuracy. This means drivers will be able to use the system to precisely track their path through turns and curves to find ways to shave off time.
This component records all of the Corvette's telemetry and is hard-wired into the vehicle's network to also glean data such as engine speed, brake force and steering-wheel angle.
Finally, the GPS and video data are recorded on a Secure Digital card in the glove box. An eight-gigabyte card can record about 200 minutes of driving, Chevy said. Drivers will also be able to replay the video on the Corvette's navigation screen when the car is in park.
Chevy's speed freaks will have four ways of viewing the recorded data over the video. Each setting displays increasing amounts of information, from touring mode displaying just audio, to track mode showing speed, rpm, lap-time, g-force and a location-based map.
Chevy developed this data recorder with Cosworth, a British engineering company long associated with auto racing. It's also the company Chevy itself uses for its Corvette Racing team. Included in the system will be additional software from Cosworth that lets users overlay recorded data onto a Bing-enabled satellite map to figure out faster paths and approaches to corners.
The Performance Data Recorder system will work on all seventh-generation Corvette Stingrays. Owners will need to wait until the fall before the system is on sale, and no price has been announced yet.
ALSO:
$75,000 gets you Chevrolet's Camaro Z/28 but no AC?
Chevrolet to debut Corvette Stingray Z06 at Detroit Auto Show
Nissan's Detroit Auto Show concept will likely tease next Maxima

---