Bruce Brown tribute brings out 'On Any Sunday' friends and family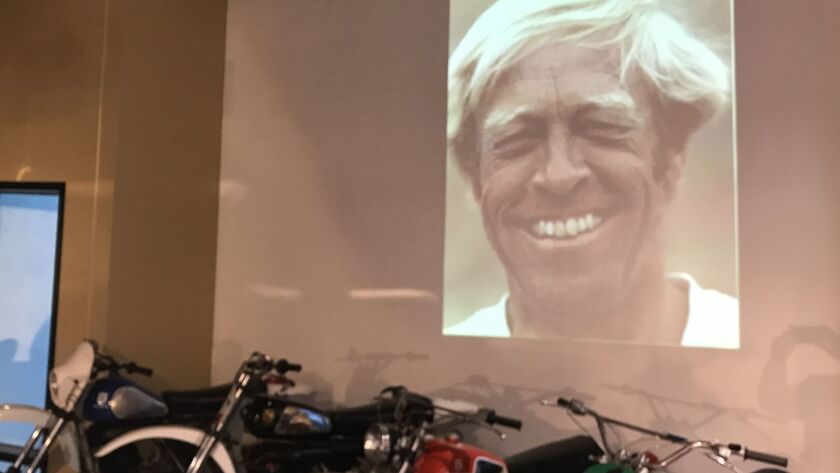 The life and career of the late Bruce Brown were celebrated Saturday night at a private, invitation-only event in Riverside.
About 100 friends and family members turned out to pay tribute to the "Barefoot Maverick," who put surfing on the map with his movie "Endless Summer" and legitimized motorcycling with the follow-up documentary "On Any Sunday."
Many at the intimate gathering had met while making the 1971 motorcycle movie. Others credited Brown and his movie with making their motorcycling careers possible.
Raising their glasses in Brown's honor were two of the three "stars" of the landmark film — racer Mert Lawwill and off-road legend Malcolm Smith, whose Riverside retail outlet hosted the weekend event.
Absent was the third featured player in the movie, the late actor Steve McQueen. But also attending, in a hall decorated with memorabilia from the movie and from Smith's decades-long off-road racing career, were dozens of other motorcycle luminaries.
Smith, Lawwill and emcee Larry "Supermouth" Huffman posed for photographs with living legends Kenny Roberts, Dick Mann, Sammy Tanner, Ricky Johnson, Troy Lee, Scot Harden, Bryon Farnsworth, Don Emde, Wayne Rainey and others.
Though the film would go on to make heroes of the participants, many of them were less than eager to join Brown when the project was being planned.
Smith remembered that, when Brown first approached him with a view to making a motorcycle documentary, he'd just acquired a new parts company and didn't want to skip work. Brown told him he'd reimburse him for any losses he might incur.
He didn't, Smith said, and didn't pay him any salary. "But I guess I got about $3 million worth of free publicity from it," said the racing legend who went on to become a power sports sales powerhouse.
Smith's costar in the movie was McQueen, who was also reluctant to sign on. Producer Bob Bagley, who was childhood friends with Brown, and partnered with him on "Endless Summer" and "On Any Sunday," recalled Brown pitching the movie to the "Bullitt" and "Le Mans" actor.
"Steve said, 'Sounds great. What can I do to help?'" Bagley said. "Bruce told him, 'Well, you can pay for it.' "
McQueen demurred, saying, "I star in movies. I don't pay for them," Bagley said. "But the next day he called and said, 'Let's do it.' "
Veteran desert rider Roger Riddell was also hesitant to sign on. He was making a name for himself on the race circuit when Brown suggested that McQueen contact Riddell and ask him to work on the movie.
But Riddell, believing someone was pulling his leg, hung up on the actor several times before finally agreeing to meet him at a local dirt bike track — still thinking he was being punked.
McQueen was waiting when he arrived. The two riders suited up and got onto the track. When McQueen tried to pass on the outside, Riddell remembered, the young racer forced the actor off the track into a chain link fence.
When the dust settled, McQueen told Riddell, "You realize you almost killed the No. 1 movie star in America. But you got the job."
Like many younger motorcyclists at the event, motorcycle parts and accessories giant Troy Lee said Brown's work was what drew him to the sport.
"I wouldn't be here today if it wasn't for Bruce and 'On Any Sunday,' " Lee said. "I saw the movie, and got hooked on motorcycles, and I'm still hooked today."
Mert Lawwill was already a star on the flat track race circuit when the "On Any Sunday" filmmakers asked him to be part of the movie. More than 50 years later, he said, "I can say it was the highlight of my career, and I can say Bruce was my personal best friend."
The Brown family was represented by generations of children and grandchildren.
Son Dana Brown, whose career has included the off-road racing movie "Dust to Glory" and the surf film "Step Into Liquid," praised his father's humility and said, "And he really loved these guys — Malcolm, Mert and the others. They were family to him."
As the bikers kept the bartenders busy, the stories got a little wilder. Many were told at the affectionate expense of McQueen, a motorsports enthusiast who drove fast cars, rode exotic motorcycles and admired racers more than he did his fellow actors.
Smith remembered that, at one point near the end of filming "On Any Sunday," he, Lawwill, Brown and McQueen ended the day drinking cocktails while sitting in a hot tub.
Smith couldn't believe the condition of McQueen's body. "It was just bruises, from top to bottom," Smith said. "He didn't really have the riding talent the rest of us had, so, he'd just ride wide open trying to keep up, until he fell off."
Lawwill credited McQueen with saving his career. He'd had a terrible accident that crushed his hand, and was told by surgeons that he'd never race again. McQueen stepped in, flew Lawwill to see his doctors in Los Angeles, and arranged for a series of surgical procedures that put him back on the race track.
"I never saw a bill," said Lawwill, who would go on to found a nonprofit that makes prosthetic limbs for athletes and military veterans. "Steve paid for the whole thing."
Producer Bagley recorded many hours of interview material with Brown near the end of the filmmaker's life. Footage screened at the tribute included moments when Brown discussed his early movies.
He told Bagley that he'd recently watched "On Any Sunday" again, for the first time in many years.
"Hey, it's not bad," Brown said. "I was very proud of that movie."
---