Ford's GT supercar is bold expansion into performance market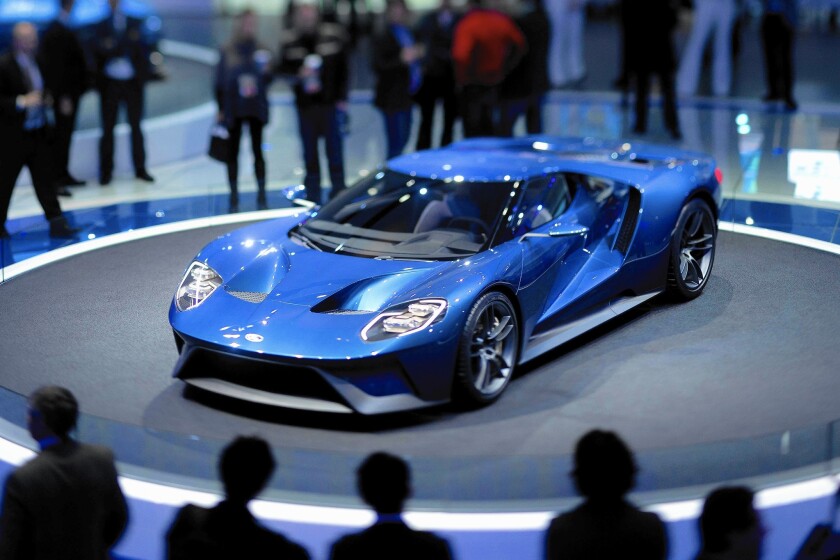 The whispers about Ford's plans for this week's Detroit auto show began swirling last fall.
The next Raptor F-150 truck was coming, some speculated. Or maybe a new high-powered Mustang. Or maybe something else — something big.
Big was an understatement. The Raptor and Mustang rumors were true, but even industry insiders were shocked to see the GT supercar, an exotic departure for the blue-collar U.S. brand.
Carbon fiber body. Doors that swing up like a Lamborghini's. Mid-engined turbocharged V-6. More than 600 horsepower. A price tag that could hit $300,000.
This is a Ford?
"Performance vehicles are a good and profitable business," explained Ford Chief Executive Mark Fields.
This trio of debuts at the North American International Auto Show in Detroit put an exclamation point on a major reorganization within Ford's global operations. From now on, all racing, performance and factory aftermarket parts will be pulled under one operation called Ford Performance.
Ford is betting big on its new division, promising 12 new or redesigned performance models worldwide by 2020. The fast Fords target buyers of all budgets and tastes, from the GT all the way down to the Ford Fiesta ST hatchback, starting at less than $22,000.
"In terms of breadth, it's a pretty big deal," said Mike Wall, auto analyst at IHS Automotive.
There's evidence that the market will support such an expensive and bold expansion into fast cars. The public's appetite for performance vehicles has grown by 70% since 2009, Ford said.
The profit margins are considerably higher too. For most models, automakers don't have to develop an entirely new vehicle — they can just add power and handling to existing models (the GT being an obvious exception).
Thrill-seeking vehicles attract wealthier and better-educated buyers, as well as buyers who might not otherwise consider the Blue Oval.
Now is the time to make an aggressive push into niche vehicles, analysts say.
"Times are good; you're not going to be able to do this kind of expansion in bad times," said Dave Sullivan, manager of product analysis at Auto Pacific.
The auto industry had an excellent year in 2014. U.S. sales overall were up 5.9% to 16.5 million vehicles, their highest number since 2006. Although Ford's sales were essentially flat, Ford was still the No. 1 automaker in the U.S. for 2014.
Ford's global profits are estimated at $6 billion for 2014, and projected at more than 8.5 billion for 2015.
The market for exotic and luxury cars is robust the world over.
"At the upper end of the market, they are buying cars like crazy," Wall said.
Other automakers are eyeing similar moves. General Motors executives said they are not about to yield the performance market to their cross-town rival.
"We fully plan to continue to produce a full line of performance vehicles for the U.S.," said Alan Batey, president of General Motors' North American operations. "Chevrolet sells 1 out of every 4 performance cars sold in the U.S."
The Camaro won the pony car war last year, he noted, and Ford doesn't have a model to take on the newly redesigned Corvette.
At Ford, better economic times helped to support an exotic project like the GT. But the commitment to performance cars goes deeper, said Raj Nair, Ford's product development chief.
"Performance has always been part of our DNA," he said.
The 2017 F-150 Raptor, due in showrooms next year, picks up where its predecessor leaves off. The outgoing model's surly V-8 is replaced with a 3.5-liter, twin-turbocharged EcoBoost engine, with 411 horsepower and better efficiency.
The Shelby Mustang GT350R is a track-ready (but still street-legal) version of the GT350 that debuted ahead of the L.A. Auto Show last year.
It uses the same 5.2-liter, race-derived V-8 engine for more than 500 horsepower. But it sheds more than 130 pounds off of the GT350's curb weight, and adds a host of aerodynamic and handling upgrades.
Ford hasn't had a model called the GT since 2005, when it built a mid-engined supercar that was the spiritual successor to the iconic GT40 racers of the 1960s — and the predecessor to this new GT, which is new from the ground up.
Ford expects to make money all on the new performance models. But the automaker also sees less tangible benefits in showcasing cutting-edge technologies, including the use of lightweight materials and turbocharged engines.
"It's all about image and being able to flex your engineering muscle to show what you're capable of doing," Sullivan said.
The GT's 3.5-liter, twin-turbocharged V-6 is already an option on Ford's Explorer SUV, the Taurus sedan, and the bread-and-butter F-150. But Ford engineers were let loose on the version in the GT.
"It's the ultimate expression of what an EcoBoost engine can do," Nair said.
With a lightweight carbon fiber passenger cell and body panels, the GT will also have one of the best power-to-weight ratios of any production car, Ford said.
The new GT grew out of a discussion, more than a year ago, about how to celebrate the 50th anniversary of the Ford GT40's momentous 1-2-3 finish at the 1966 24 Hours of Le Mans, Nair said. Nair saw an opportunity for Ford to again put itself on the cutting edge of technology.
From the start of the car's development, the GT was pulled out of the mainstream R&D process at Ford to speed things up. Instead, Nair unleashed a small team of sharp engineers on the car.
"With a small, tight team you have direct control, you can go fast," Nair said. "As soon as you get in the broader organization, there's a lot that can slow you down."
Ford had to take extraordinary measures to design and build a car of this caliber without the public finding out. This meant keeping things hidden even within Ford.
The group cleaned out and repurposed a crowded closet in a sub-basement buried below Ford's Product Development Center in Dearborn.
"If you didn't know your way around the tunnels, you'd never find it," Nair said.
The team used old-school keys rather than the electronic key cards given to all employees.
The group would meet and work outside of normal business hours, including nights and weekends. Early test mules of the car, driven off-site, had no body panels — just a driver sitting inside a roll cage.
Ford's success at keeping a lid on the GT's design until Monday morning surprised even company executives.
Ford hasn't yet priced the car or released official performance figures. But limited production starts in 2016, and the GT will be positioned against the McLaren 650S, the Ferrari 458 Speciale and the Lamborghini Aventador.
The dramatic carbon fiber bodywork, doors and interior shown at the Detroit show are all production ready, Nair said. And every piece serves the singular purpose of speed.
"It's not just for beauty's sake; everything had to be super-functional," Nair said. "There is not a single aspect of this vehicle that's being built for pop stars driving on Rodeo Drive."
david.undercoffler@latimes.com
Times staff writer Jerry Hirsch contributed to this report.
---
Your guide to our new economic reality.
Get our free business newsletter for insights and tips for getting by.
You may occasionally receive promotional content from the Los Angeles Times.