GM recalls 1.5 million additional cars, will take $300-million charge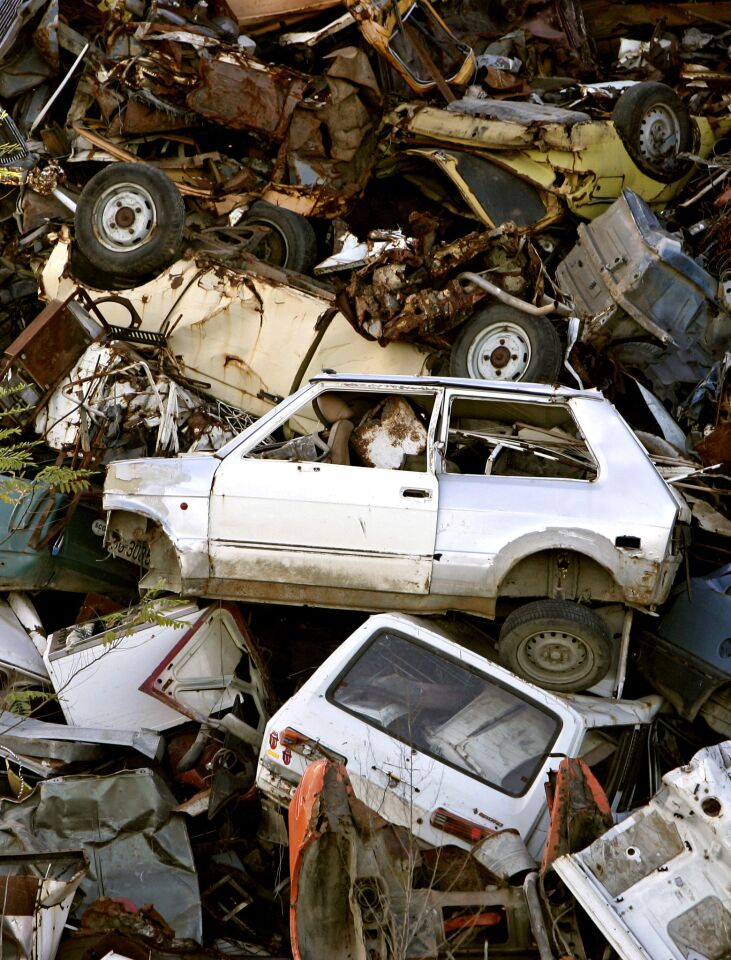 A Serbian-made version of the Fiat 127 that people thought couldn't possibly be as awful as its low price suggested. But it was!
(Darko Vojinovic / Associated Press)
General Motors Co. will recall 1.5 million vehicles and take a $300-million charge against its earnings to pay for repairs as part of a initiative to be more responsive to problems with its cars.
The recalls include nearly 1.2-million 2008-13 Buick Enclave and GMC Acadia sport-utility vehicles, 2009-13 Chevrolet Traverse SUVs and 2008-10 Saturn Outlook SUVs for an air bag problem.
Additionally the automaker recalled 303,000 Chevrolet Express and GMC Savana vans from the 2009-14 model years and 63,900 Cadillac XTS sedans from the 2013 and 2014 model years.
The recalls come as GM faces numerous probes and intense criticism for not moving fast enough to fix an ignition switch problem in Chevrolet Colbalts and other small sedans that the car company says has been linked to 12 fatal crashes and outside analysts say could be responsible for as many as 303 deaths.
GM recalled the vehicles only last month even though documents demonstrate that the automaker knew about the problem for more than a decade.
"Today's announcement underscores the focus we're putting on the safety and peace of mind of our customers. We are conducting an intense review of our internal processes and will have more developments to announce as we move forward," said Mary Barra, GM's chief executive.
"I asked our team to redouble our efforts on our pending product reviews, bring them forward and resolve them quickly," Barra said.
Barra is pursuing a smart strategy in getting the automaker to quickly review safety issues, said Kaitlin Wowak, a University of Notre Dame management professor who researches supply chain risks and disruption.
"Maybe GM learned its lesson and realized they have to take action when consumers are potentially at risk?" Wowak said. "The airbag recall gives GM an opportunity to show consumers they are willing to take action before consumers are harmed. It is also a chance for Mary Barra to show the world what she is made of."
GM is calling back the SUVs to repair wiring under the driver's seat that can crimp and cause a "service air bag" warning light to trigger on the dash.
Ignoring the warning light will eventually disable the side impact restraints, which include driver and passenger seat-mounted side air bags, front center air bag and the seat belt pretensioners, GM said.
Dealers will remove the driver and passenger side air bag wiring harness connectors and splice and solder the wires together.
The vans need to be fixed because they don't comply with a federal safety requirement designed to protect passengers who are not wearing seat belts and who might hit their heads on the instrument panel in a crash. The material on the instrument panel is too hard. GM will replace it with material that softens the blow for passengers who have not fastened their seat belts.
In the XTS, GM said it will fix a corrosion problem in the brake booster electronics that could cause an engine compartment fire. GM is aware of two engine compartment fires in unsold vehicles at dealerships and two cases of melted components.
GM said it knows of no injuries or accidents caused by the issues behind this latest set of recalls.
Last month's ignition switch recall affected about 1.6 million cars, including the 2003-07 Saturn Ions, 2006-07 Chevrolet HHRs, 2006-07 Pontiac Solstices, 2006-07 Saturn Sky models, and 2005-07 Chevrolet Cobalt and Pontiac G5 models. The cars all share the same ignition component; none of them remains in production.
The faulty switch makes it possible for a heavy key chain or driver's knee to knock the ignition key out of the "run" position while the car is on the road. This disables safety systems such as the power steering, anti-lock brakes and air bags.
Internal documents submitted by GM to NHTSA show the automaker was aware of the issue as early as 2001, when it surfaced on a prototype Saturn Ion. The problem was first noticed in production models in 2004, the documents show.
NHTSA and GM have come under heavy fire from lawmakers and safety advocates for not acting sooner. The Department of Justice and committees in the U.S. House and Senate have opened investigations in the matter. GM is likely to face at least a $35-million civil fine.
Meanwhile, the Center for Auto Safety, an independent watchdog group, announced Thursday that it had commissioned a report by Friedman Research. The study used raw data from fatal accident reports in which the air bags didn't deploy in two of the six models affected by this GM recall.
Based on the data, the Center for Auto Safety said 303 front-seat deaths had been caused by the non-deployment of air bags in the cars.
GM responded by calling the analysis "pure speculation," saying it's too early to tell just how many of those deaths were tied to the faulty ignitions.
The automaker said it expects to take a charge of approximately $300 million in the first quarter primarily for the cost of the repairs for the three latest safety actions and the ignition switch recall.
ALSO:
Why Tesla jilted California as site for battery plant
Consumer Reports names Tesla top pick in annual car rankings
Ford and Chevy trucks, Honda Accord most likely to last 200,000 miles
Follow me on Twitter (@LATimesJerry), Facebook and Google+.
---