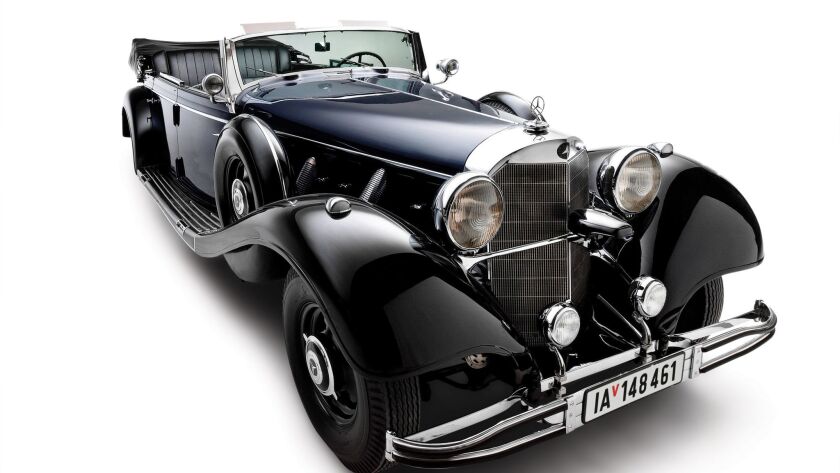 A 1939 touring car reputedly used to ferry the Fuhrer around Germany is headed for the auction block.
Worldwide Auctioneers will present at its Jan. 17 sale in Scottsdale, Ariz., a Mercedes-Benz 770 Grosser Offener Tourenwagen that the auction house claims is one of only four such vehicles built to transport Adolf Hitler and his staff during his reign over the Third Reich.
The meticulously restored vehicle is powered by a massive 7.7-liter supercharged engine, and at the time of its construction was capable of top speeds of more than 100 miles per hour. It was fitted at the time of construction with bulletproof glass and armor plating.
According to Worldwide, the car was seized by the liberating Allied forces in 1945 and then used by U.S. military police in France until 1946, after which time it was shipped to America and donated to a Veterans of Foreign Wars group, which used the car in parades.
The car later was featured in auto collections housed at the Chicago Historical Antique Automobile Museum in Highland Park, Ill., and the Imperial Hotel and Casino in Las Vegas.
The auction house asked prospective bidders not to judge the vehicle too harshly for having been built for history's most notorious mass murderer.
"This motorcar did not choose its original owner nor its use," said Rod Egan, auctioneer and principal for Worldwide. "If its original provenance can be set aside, surviving examples of the Mercedes-Benz 770 'Grosser' or 'Super-Mercedes' remain quite likely the world's greatest achievement in terms of automotive design, engineering and construction."
"It should be noted," the auction house publicity materials added, "that 10% of the sale price of the car will be donated and used to educate how and why the Holocaust happened and how to effectively prevent similar atrocities in the future."
More details are available online at worldwideauctioneers.com. Viewing of the vehicle in person will be arranged by appointment only.
---