L.A. Auto Show 2017: Don't drive, pretend you're Batman. Intel and Warner Bros. envision entertainment platform inside cars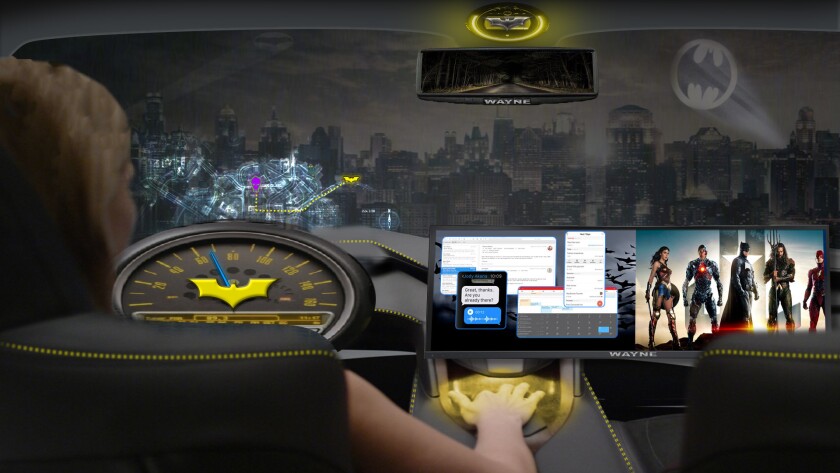 Entertainment and advertising already pervade our homes and our smartphones. Before long, they'll be everywhere in our cars — not just on the sound system and on little screens, but throughout the entire passenger compartment, even on the windows.
Brian Krzanich, chief executive at computer chip maker Intel, on Wednesday announced a collaboration with Warner Bros. to create "immersive experiences" inside driverless cars.
Speaking to auto industry insiders at Automobility LA — the four-day preview event ahead of the Los Angeles Auto Show — Krzanich said the companies will build proof-of-concept entertainment and advertising platforms using trademarked fictional characters to demonstrate how people might occupy themselves while a robot does the driving.
Someone who otherwise would have been driving might instead pretend to be Batman, Krzanich said, as an augmented reality system projected images on windows to make it seem like the car was zipping through Gotham City. In a press release, Intel said those same windows "will enable passengers to view advertising and other discovery experiences."
As broadband data channels in cars become more popular, and as humans cede driving duties to the car itself and look for something else to do, entertainment companies and their suppliers are licking their chops.
According to research firm Statistics MRC, the global in-car entertainment market is predicted to rocket to $33.8 billion in 2020 from $14.4 billion in 2016. It's a broad measure that covers everything from video screens and sound systems to broadband connections and subscription services.
The Intel-Warner augmented reality project is "more about imagining the future of entertainment than anything, but it definitely speaks to a future where the next high-speed internet portal will be in the car," said Mike Ramsey, an analyst at Gartner.
Gartner polled people in the U.S. and Germany earlier this year on the biggest benefits of riding in driverless cars. The top one was "being able to drive without worrying about driving when tired." Entertainment came in second place, ahead of using the time to catch up on work. In last place: Using travel time for socializing.
Twitter: @russ1mitchell
---
Your guide to our new economic reality.
Get our free business newsletter for insights and tips for getting by.
You may occasionally receive promotional content from the Los Angeles Times.