L.A. Drives: Glamorous Bentley convertible deserves cushy cruise along Mulholland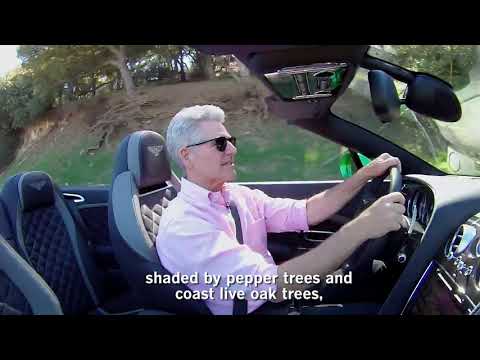 The leafy stretch of Mulholland between the 101 and the 405 Freeways is one of Southern California's prettiest drives. It also has some pretty tony neighborhoods, making a cushy cruise in a Bentley Continental GT Speed along the famous roadway all t
The controversial engineer William Mulholland designed the Los Angeles Aqueduct, brought water south from the Owens Valley and turned a desert into a garden.
His legacy gave us the plot of the movie "Chinatown," a beautiful fountain in Los Feliz and a highway that runs across the ridge separating the L.A. basin from the San Fernando Valley.
We took advantage of a sunny spring day and explored that highway in an apple-green Bentley Continental GT Speed convertible.
It's a glamorous car, and it deserves a glamorous setting. So we began the drive at the 101 Coffee Shop, the Franklin Avenue cafe made famous by the movie "Swingers" and frequented by a who's-who of Hollywood Hills hipsters.
Fueled up, we headed into Beachwood Canyon, past the granite gates that once advertised the Hollywoodland Realty company, which built homes for early movie moguls and advertised them with a massive hillside sign bearing its name. The same sign, minus the last four letters, is now the entertainment industry's most famous landmark.
Winding our way up Ledgewood Drive, we eventually found our way to Mulholland Highway, where, after a few turns, we found ourselves admiring the Hollywood sign along with a gaggle of other tourists.
That odd tower on the south side of Mulholland? That was once the mountain retreat of gangster Bugsy Siegel and later was owned by Madonna.
Lake Hollywood, one of Mulholland's principle creations, twinkled below as we descended. Past the lake, we climbed again, making our way to Barham Boulevard and across the Hollywood Freeway before picking up Mulholland again.
The leafy stretch of roadway between the 101 and the 405 is one of Southern California's prettiest drives. The views north and south are sparkling, day or night, and are made better by a series of pullouts and parklets built by the city in recent years.
It's also a tony address. The hilltop neighborhood has been home over the years to actors Marlon Brando, Jack Nicholson, Bruce Willis and Warren Beatty.
The Bentley was a perfect choice. Though the powerful machine is quite comfortable at high speeds on the highway, it also was a cushy cruise along the curvy mountain road.
Mulholland rises and falls, passing Laurel Canyon, Coldwater Canyon and Beverly Glen Boulevard, before dropping all the way down to cross the San Diego Freeway.
It rises again past the Skirball Cultural Center, where exhibitions include a look at the art of Roy Lichtenstein, currently, and upcoming shows on musician Paul Simon and Supreme Court Justice Ruth Bader Ginsburg.
Mulholland rises again, but after a final few miles, the pavement ends. The great highway continues, in fits and starts, all the way to the Pacific Ocean, but many sections are gated and unpaved.
We stopped to admire the view. Then, finding the day had gotten warm, we pulled up the top on the elegant Bentley, and cranked up the air conditioning for a gentle ride home via the 405.
Where we went: Mulholland Highway from Hollywood to Encino
What we drove: 2016 Bentley Continental GT Speed
What to see: Hollywoodland gates, Hollywood sign, stars' homes, Skirball Cultural Center and great city and valley views
Where to eat: The 101 Coffee Shop, 6145 Franklin Ave.; (323) 467-1175; open 7 a.m. to 3 a.m. daily
Total drive distance: 25 miles
Total driving and dining time: One to two hours