Motorcycle lane-splitting bill is withdrawn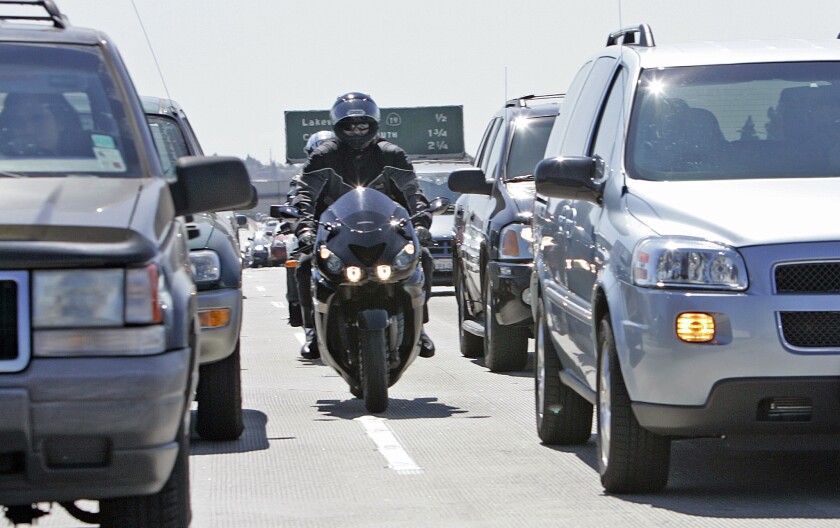 A California bill to legalize and regulate the controversial motorcycle practice of lane-splitting has been withdrawn.
Assembly member Bill Quirk (D-Hayward) pulled AB51 from active consideration last week, after it had passed the state Assembly but before it had been submitted for a vote by the Senate.
A Quirk spokesman said in an email, "Lane splitting is a very complex issue and the author feels he needs more time to work out the details so that it's more likely to be signed."
The measure, if passed into law, would have allowed motorcycles to travel between cars at speeds up to 15 mph faster than the flow of traffic, up to a speed of 50 mph.
Those speed limits were determined with the help of the California Highway Patrol and a safety study by UC Berkeley professor Tom Rice.
CHP spokesmen said the law enforcement agency does not comment on pending legislation.
But opponents of AB51 were quick to claim victory.
"I have to assume that the pressure all of us exerted in fighting the bill ... greatly entered into [Quirk's] decision," wrote Thomas Freeman, founder of the online group stoplanesplitting.com, which had fought the bill on the grounds that the speed limits proposed were too lenient.
Motorcycle groups also opposed the bill, because the limits it placed on lane-splitting were too restrictive.
"We don't like this bill," said Nicholas Haris, the American Motorcyclist Assn.'s Western states representative.
Among Haris' complaints: The Berkeley study concluded that lane-splitting was safe when there was a "speed delta" of not more than 15 mph between the speed of the traffic and the speed of the lane-splitting motorcycle -- up the point at which traffic is moving at 50 mph. Thus, a lane-splitting motorcyclist could be legal at speeds up to 65 mph.
The Quirk bill used the same "speed delta" but would limit the speed so that the lane-splitting motorcyclist could not exceed 50 mph.
"The Berkeley study should be the definitive one," Haris said.
Quirk representatives declined to specify which points in the bill were being reconsidered, or by whom, except to say that the bill's author was in conversation with the CHP about eliminating any problems it might contain.
But they did say the motion's sudden turnaround had nothing to do with stoplanesplitting.com or any other group.
"The decision to hold the bill had nothing to do with the opposition," said Quirk chief of staff Tomasa Duenas. "It had only to do with questions law enforcement was raising about implementation."
The bill is under review in the Senate Transportation Committee. Quirk's office said it would likely get a full hearing from that committee sometime in the first half of next year.
Twitter: @misterfleming
---