'McQueen effect' set to boost '67 Ferrari at Monterey Car Week auction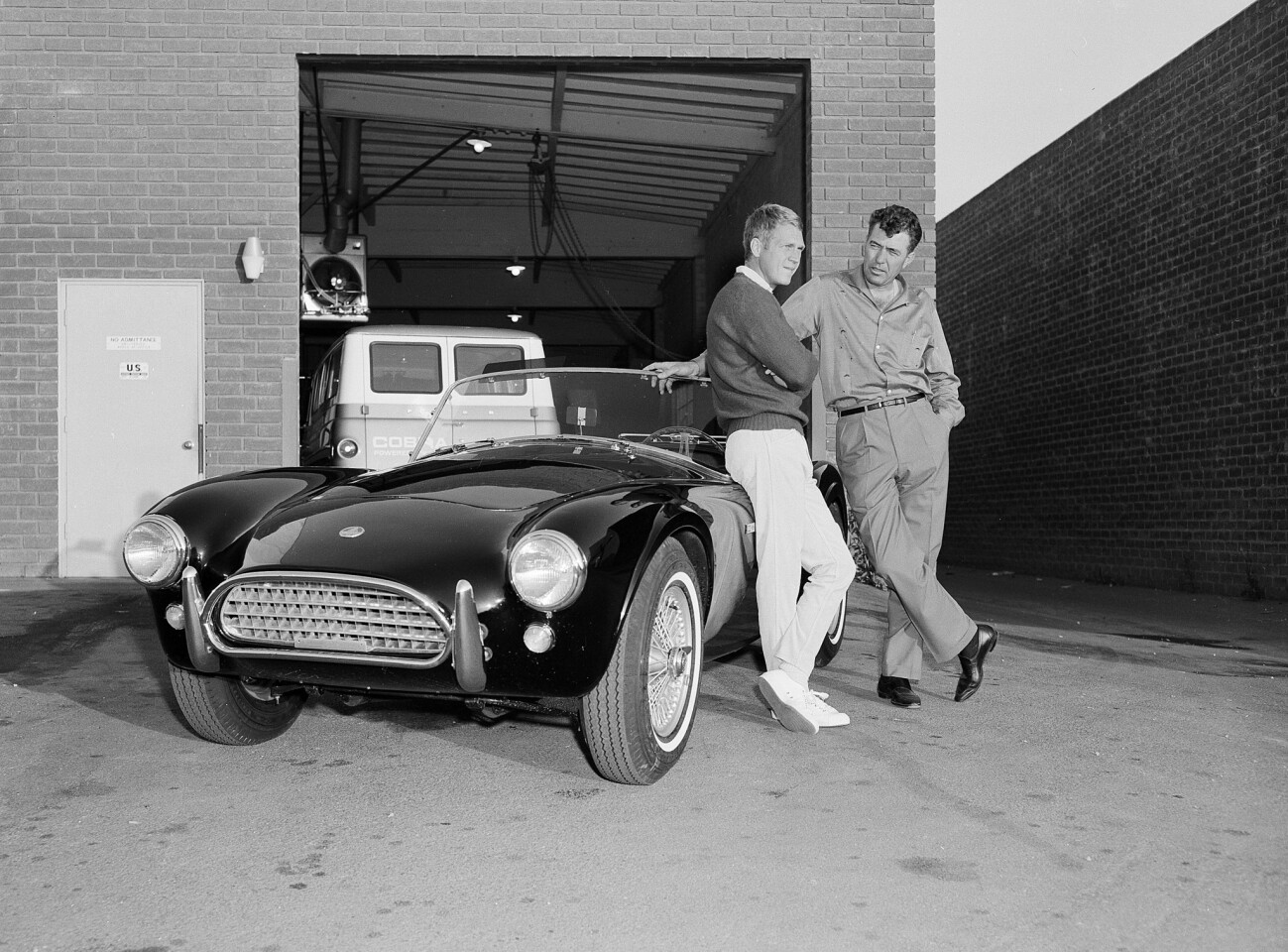 Actor Steve McQueen, left, and racer Carroll Shelby stand by McQueen's Ford Cobra Roadster in 1963.
(Dick Stroebel / Associated Press)
A 1956 Jaguar XKSS owned by movie legend Steve McQueen, now housed at the world famous Petersen Automotive Museum in Los Angeles.
(Anne Cusack / Los Angeles Times)
Steve McQueen owned and raced exotic vehicles, in the movies and in real life.
In the classic car world, that's good for business.
At a Saturday auction during Monterey Car Week, a Ferrari owned by the King of Cool could sell for $10 million or more — an astronomical sum for a car that would usually sell for a fraction of that.
In car circles, it's called the "Steve McQueen effect." Any vehicle the late actor owned can sell for three to five times its typical value.
"He had a glamour that supersedes any other celebrity when it comes to the ownership of cars," said McKeel Hagerty, president and chief executive of the classic vehicle insurance company Hagerty. "This car, in the same condition, might sell for $3 million, or maybe $3.5 million. But it could easily bring in $15 million."
Saturday's auction will offer a controlled experiment on McQueen's power to boost values. A nearly identical black 1967 275 GTB/4, with no celebrity provenance, will also be on the block.
The glamour comes in part from McQueen's movie career. The car chase scenes in the 1968 cop movie "Bullitt" are considered some of the best ever filmed, as are some of the driving scenes in McQueen's 1971 racing picture "Le Mans."
The motorcycle riding stunts in "The Great Escape" are remembered half a century after they were shot. McQueen's scenes are some of the best in the 1971 motorcycle documentary "On Any Sunday."
But the actor, who died in 1980 at age 50, also raced cars and motorcycles off-screen, taking a podium at the legendary 12 Hours of Sebring, and competing in several off-road Baja 1000 races.
"He was a legitimate car guy," said Hagerty. "He'd be out at the track. He was the real deal."
The McQueen effect has driven huge sales recently of vehicles that passed through his hands. In 2012, a 1968 Ford GT40 race car, used in the filming of the racing movie "Le Mans," sold for $11 million at Monterey — the most ever paid for any Ford vehicle, and almost four times the $3-million value listed in the Hagerty Price Guide.
A year earlier, McQueen's 1970 Porsche 911S, also used in "Le Mans," came under the gavel at $1.375 million, the most ever spent at auction for a 911 series Porsche. Hagerty had valued the car at $72,000.
Even more pedestrian classic cars and motorcycles get a bump. A 1953 Hudson Hornet owned by the actor at the time of his death was valued at $23,000 but sold for almost three times that at a 2012 auction. A Husqvarna dirt bike the actor owned and rode in the 1970s, valued at $6,000, went for $144,500 at an auction in 2011.
"There's definitely a multiplier," said Max Girardo, managing director of RM Auctions, which will sell McQueen's Ferrari. "Any car that's owned by a famous person will have an extra bit to it. When it comes to cars with celebrity provenance, it doesn't get any better than a Ferrari owned by Steve McQueen."
Hagerty and others said the Steve McQueen effect has no real equivalent. Cars owned by Elvis Presley or James Dean have added appeal, but Elvis wasn't considered a "car guy" and Dean died so young that he didn't actually own many vehicles.
Provenance that shows ownership by Frank Sinatra, Clark Gable or Gary Cooper can boost a sale price by 10% to 20%, Hagerty said, as can cars that were sold new to Eric Clapton, or one of the Beatles.
Sometimes the previous ownership might not add anything at all.
"I remember someone trying to sell these Mike Tyson Lamborghinis that had boxing gloves stitched into the seats," Hagerty said. "I'm not sure that was a premium."
The McQueen Ferrari — one of several expected to fetch record amounts at this year's Monterey auctions — is a 1967 275 GTB/4 that the actor ordered from the factory in Italy and had delivered to the San Francisco set of "Bullitt."
McQueen began customizing the powerful V-12 sports car, with a coupe body designed by the house of Pininfarina, shortly after it was delivered.
The original gold paint became Chianti Red. The alloy wheels were removed and replaced with wire wheels. He had new interior details added, along with a retractable radio antenna and a custom-designed driver's side mirror.
Though McQueen owned and drove the car for years, it wasn't even the Ferrari he wanted.
He'd become enamored of the similar Ferrari 275 GTB/4 NART Spider convertible, driven by Faye Dunaway's character in the McQueen movie "The Thomas Crown Affair." After appearing on screen with that car, he ordered one for himself from Hollywood Sport Cars, the local Ferrari distributor.
But McQueen was rear-ended on Pacific Coast Highway days after the Spider was delivered. When he learned how long it would take to get parts for the rare convertible (only 11 were ever made, out of a total of 300 GTB/4s), he paid $14,400 to replace it with the hardtop coupe model.
(Too bad. The convertible versions sell for much more than the coupes. Last year at Monterey, a 1967 GTB/4S NART Spider went for $27.5 million — unaided by the McQueen effect.)
Car historians say McQueen's GTB/4 went through many owners and permutations after he sold it, in around 1971, to "Zorro" actor Guy Williams, who traded in a Maserati 3500 GT to buy it.
The car was repainted several times, in several colors. At one point, it was even turned into a Spider-style convertible. Years later, being restored at the Ferrari factory in Modena, Italy, it was turned back into a coupe, and repainted Chianti Red.
David Christian, an architect who's spent years buying and selling Ferraris, visited the McQueen Ferrari two weeks ago when it was on loan from its current owner, Australian racing veteran Vern Schuppan, at the Petersen Automotive Museum — next to McQueen's prized XKSS Jaguar.
Christian, waxing nostalgic for his early days as a collector, remembered that he bought his GTB/4 in 1973 for $15,000, and then spent the next 13 years driving it to car shows and on long-distance car rallies.
Over time, the perception of the car changed as its value went up.
"When I first bought that car, people would stop me and say, 'Wow! How fast will it go?'" Christian said. "By the time I sold it, they would say, 'How much is it worth?'"
Now, Christian said, the classic Ferraris like the McQueen 275 GTB/4 are too valuable to drive.
"The sad part is that this car will never again go howling off into the darkness chasing a Stingray," Christian said. "It's dead now, like it was stuffed and put into a museum."
---