Musk aims figurative flamethrower at short sellers, and tweets he'll 'burn' them soon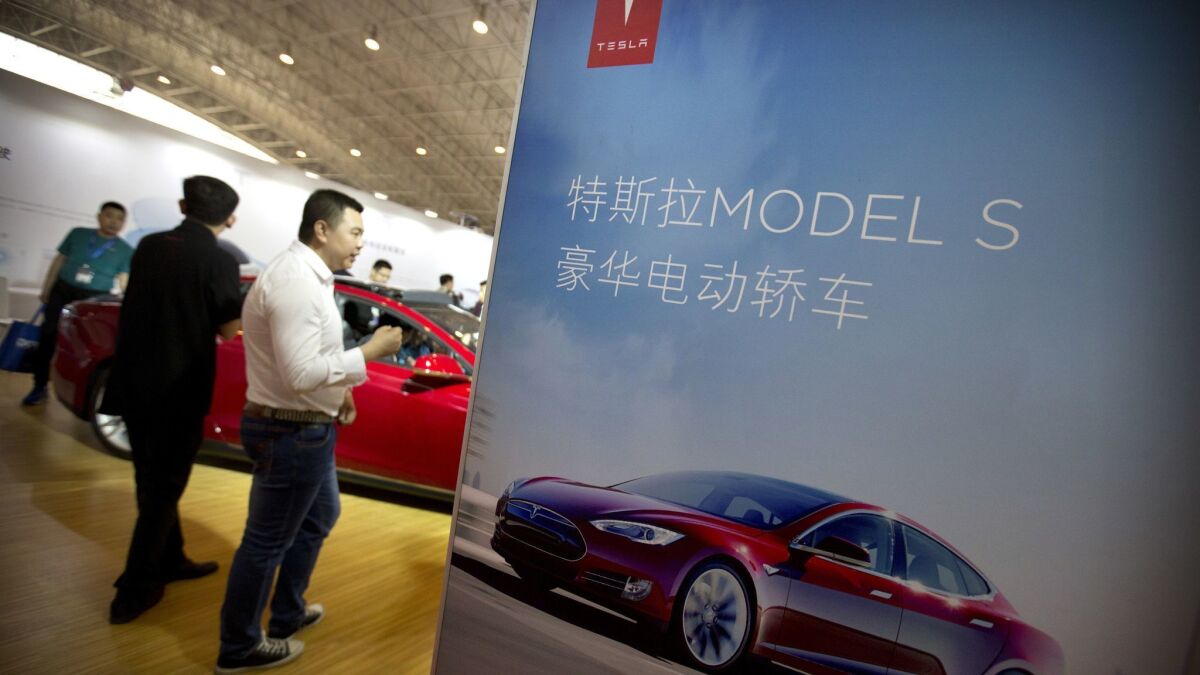 Reporting from San Francisco —
Elon Musk promised "the short burn of the century" Friday. "Flamethrowers should arrive just in time," he said in an early-morning tweet.
He directed his aim at short sellers, investors who bet that a company's stock will dive. The burn will come soon, he said, presumably in the form of some kind of positive news announcement to make Tesla's share price soar.
Short seller Mark Spiegel of Stanphyl Capital didn't sound scared: "Tesla stock has now officially entered the transition from when the shorts go from being mocked to being blamed." Spiegel said that switch reinforces his negative take on the company.
Tesla has been facing a barrage of bad news lately. Its crucial Model 3 electric sedan project is suffering severe production problems, a key reason the company reported a billion-dollar deficit in free cash flow for the first quarter.
The "short burn" news, judging from Musk's conference call with analysts on Wednesday, is likely to involve China. "We expect to announce a gigafactory in China soon," Musk had said. Tesla uses the word "gigafactory" where most people would say "manufacturing plant."
Whether any new China deal would include cash infusions from Chinese investors was left unsaid. Chinese internet giant Tencent already holds a 5% stake in Tesla.
Musk has been talking for months about setting up a site in or near Shanghai, but Chinese restrictions on foreign automakers in China stand in the way. China requires a 50-50 joint venture with a Chinese company in return for access to China's vast market.
But trade skirmishes between the U.S. and China might lead to changes allowing Tesla and other automakers to hold majority ownership. China's government has signaled it's open to the idea.
China is Tesla's largest non-U.S. market, followed by Norway, although the company accounted for only a tiny fraction of the 1 million electric cars sold in China last year, most of them built by domestic companies.
Government policy in China favors electric vehicles, and all major global automakers want part of the huge, fast-growing market.
Why would China want to ease up on foreign ownership restrictions? Consultant Michael Dunn, who lived in China from 1990 to 2015 before moving to San Diego, said China wants into the U.S. market.
"Every Chinese automaker has plans to compete in the United States in the next three to five years," he said. Easing restrictions on manufacturing in China could help avoid a backlash against Chinese exports to the U.S., he said.
A severe auto manufacturing overcapacity problem is pressuring Chinese carmakers to get serious about exports, according to Dunn.
Whether such news, if it happens, will help Tesla stock is uncertain. But if it does, it could put a crimp on short positions. Shorted stock constitutes nearly 30% of Tesla's outstanding shares, making Tesla one of the most heavily shorted stocks on Wall Street.
Tesla's stock price rose 3.4% Friday, to $294.09.
Twitter: @russ1mitchell
---
UPDATES:
2 p.m.: This article was updated with a final stock price.
This article was originally published at 12:25 p.m.
---