Elon Musk is at war with everyone from regulators to stock analysts to a Thai child rescuer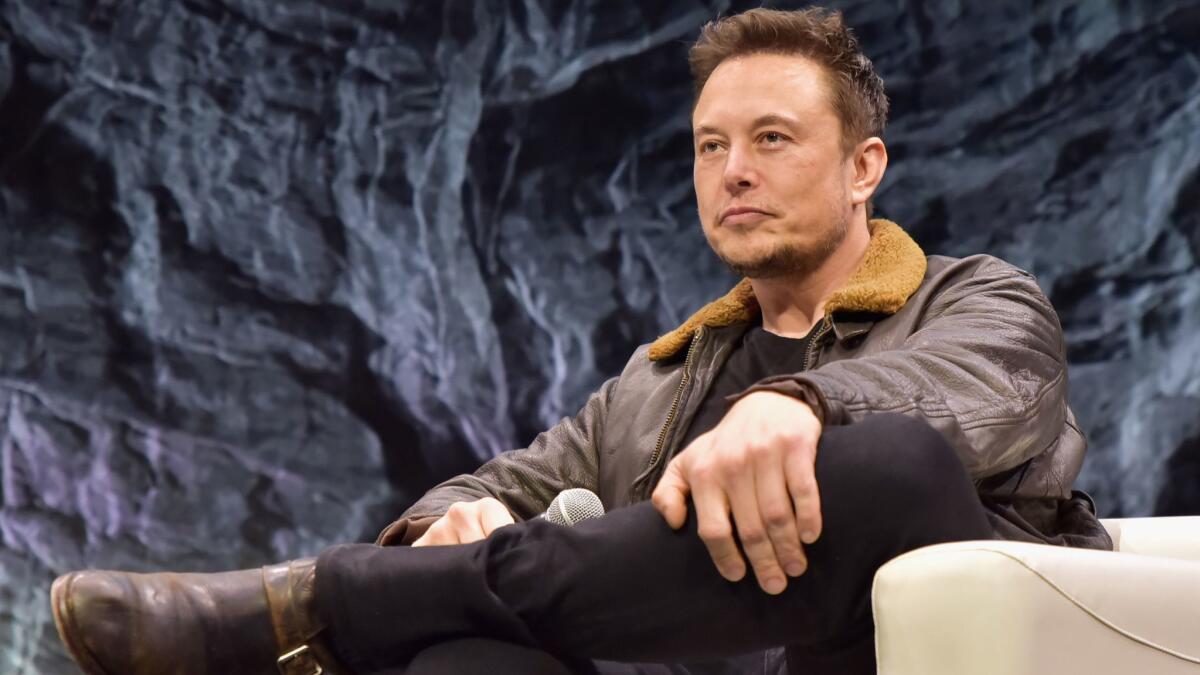 Reporting from San Francisco —
"Do you think I'm insane?"
That's the first line in the first chapter in the bestselling biography of Elon Musk by author Ashley Vance. Musk had asked Vance the question over dinner.
Vance dodged the subject. But anyone monitoring Musk's Twitter feed and other public behavior lately might well wonder what's got into the CEO of Tesla Inc.
At a crucial juncture for the company, which is struggling to show it can mass-produce an electric sedan and generate cash, Musk has tangled very publicly with government regulators, stock analysts, journalists, former employees — even the creator of a farting-unicorn coffee mug.
On Sunday morning, after a rescue diver took to CNN to criticize as a "PR stunt" Musk's offer of a small submarine to transport a Thai soccer team out of a flooded labyrinthine cave, Musk called the man a "pedo" on Twitter — short for pedophile.
Musk soon removed the tweet but not until the unsubstantiated slur had ricocheted around the world. The diver told reporters he's thinking about suing Musk.
Tesla has yet to officially comment on Musk's accusation. Thus far, Tesla's board of directors has been silent on the matter. But on Monday, Tesla's stock fell 2.75%, to $310.10. It is down 14% since Musk announced on July 2 that Tesla had hit a goal of producing 5,000 Model 3s a week.
James Anderson, a portfolio manager at Baille Gifford, which is a major Tesla investor, told the Guardian that he plans to address the issue with the company.
Gene Munster, an analyst with Loup Ventures, told the Washington Post the comments raised questions about Musk's distractability and "maturity."
"This crossed a line, and it needs to stop," he said. "They have such a great story to tell, and it's getting lost in this noise."
The situation is "very unusual," said Jeff Haden, author of "The Motivation Myth," a business book. "It's probably not a good look if you're calling people pedophiles. If you're a prosecutor in court, maybe it makes sense, but as the CEO of a major company? No."
Musk's confrontations come as he continues to struggle to fix crippling production problems with the Model 3 electric sedan, which Musk regards as a "bet the company" proposition.
The production goal Tesla hit earlier this month lags far behind earlier benchmarks set by the company. In August 2017, Musk told stock analysts there should be "zero concern" the company would hit 10,000 Model 3s a week by the end of this year. The calendar says that's still possible, but he's currently struggling to sustain the 5,000-a-week rate.
Meanwhile, the company's cash pile continues to shrink. When a section of the Model 3 assembly line was shut down after Musk — who is not only the company's chief executive but also its chief engineer — failed at an aggressive attempt at robot automation, he set up a tent in a parking lot at the company's Fremont, Calif., factory to handle the overflow, with partly finished car bodies transported from factory to tent on tractor beds and forklifts.
In an interview this month with Bloomberg BusinessWeek, Musk was asked about his Tweetstorms, which the magazine showed were peaking in the spring as Tesla's production woes increased.
"I have made the mistaken assumption — and I will attempt to be better at this — of thinking that because somebody is on Twitter and is attacking me that it is open season," Musk said. "And that is my mistake. I will correct it."
Ten days later, he sent the pedophile tweet.
Musk was not available for comment. Here's a look at some of his confrontations:
Regulators
According to the chairman of the government's top transportation safety investigation agency, Musk hung up the phone on him during a conversation they had on April 11. The National Transportation Safety Board was investigating the March 23 crash of a Tesla Model X in Mountain View, whose Autopilot function may have steered the car into a road barrier, smashing the front of the car and setting fire to its battery. The driver was killed.
The NTSB had asked Tesla not to make statements about the accident while it was being investigated. But the company posted an item on its blog that seemed to cast blame on the driver, Apple engineer Walter Huang. NTSB Chairman Robert Sumwalt was asking Musk about that on the call.
"Best I remember, he hung up on us," Sumwalt told an audience at an air-safety conference later in April.
Tesla said it "withdrew" from participating in the investigation. The NTSB disagreed, saying it removed Tesla.
Wall Street
On a May 2 earnings call, Musk cut off two Wall Street analysts who were trying to assess Tesla's operational and financial performance.
After Tesla's chief financial officer indicated capital spending would be cut back, Toni Sacconaghi, an analyst at Sanford C. Bernstein, asked how that would affect Model 3 vehicle and battery production, and for a firm figure on capital spending.
Musk's response: "Boring questions are not cool. Next!"
That exchange was followed by a question from Joseph Spak of RBC Capital Markets. The company had said it held 420,000 reservations from buyers for the Model 3. Spak wanted to know what percentage of reservation holders actually bought the car when they were invited to do so.
Musk's response: "We're going to go to YouTube. Sorry. These questions are so dry. They're killing me."
A potter
In late June, Musk engaged in a Twitter fight with a Colorado potter who noticed that Tesla was using as an icon on its vehicle operating system the image of a farting unicorn the artist had emblazoned on coffee mugs. When the potter's daughter complained he hadn't received permission or paid to use the image, Musk tweeted back that it would be lame of the family to file a lawsuit over the matter and that the potter should be happy with the attention he received. Musk stopped using the image.
Journalists
Musk aimed a barrage of incendiary tweets at Business Insider correspondent Linette Lopez on July 5. Two days earlier, quoting inside sources, Lopez had reported that Tesla stopped doing a brake test on the Model 3 assembly line as it rushed to meet its production goal.
Musk accused Lopez of bribing an ex-Tesla employee in exchange for proprietary information, and asked, "Is it possible you're serving as an inside trading source for one of Tesla's biggest short sellers?"
Musk named Martin Tripp as the ex-employee. Tesla had fired Tripp in June, accusing him of theft and sabotage and of hacking into the company's manufacturing computer system. Tesla then filed a lawsuit against Tripp.
Tripp in turn hired New York whistleblower attorney Stuart Meissner and filed fraud accusations against Tesla with the Securities and Exchange Commission. Tripp claims that Tesla lied to investors about the rate of Model 3 production and that the company knowingly installed dangerous batteries in Tesla cars. Tesla denies the accusations.
Lopez, the Business Insider reporter, tweeted she did not bribe Tripp, and Tripp tweeted he's accepted no money from reporters.
Also on July 5, Musk ripped into Reuters for what he called inaccurate coverage and CNBC for not revealing the forecasting track records of analysts who recommend against buying Tesla stock.
A cave diver
As production challenges mounted at the Fremont factory, Musk dove headlong into a scheme to rescue 12 members of a youth soccer team and their coach who were stuck miles inside a cave, blocked by monsoon rains that filled the exit route with water.
Musk used SpaceX engineers and a swimming pool to devise a tube-shaped canister that he believed could be guided remotely through the labyrinth. He flew it to Thailand and showed up there himself. By then, however, the children were being successfully extracted by underwater divers who had meticulously plotted out their own rescue plan.
Musk was told he wasn't needed. He headed to China to meet with officials about a new plant in Shanghai and left the submarine behind.
Several days later, British cave diver Vernon Unsworth appeared on CNN belittling Musk's idea, saying, "He can stick his submarine where it hurts." Another cave rescue official said the long, stiff submarine would be impractical given the sharp, narrow turns along the escape route.
On Sunday, Musk launched his "pedo" tweet. Challenged on Twitter for leveling an unsubstantiated charge, Musk responded, "Bet ya a signed dollar it's true."
Carl Tobias, a professor at the University of Richmond School of Law in Virginia, said if Unsworth does follow through with a lawsuit, Tesla's board of directors should consider settling it out of court.
The situation is unusual if not unprecedented in the annals of business, he said.
"I think most CEOs try to keep a pretty low profile if they can," Tobias said. "But Musk has been very successful so far, so who's going to challenge that? He's certainly got all those Twitter followers, millions of people."
Twitter: @russ1mitchell