Pebble Beach 2017: Final automobile auction numbers down from 2016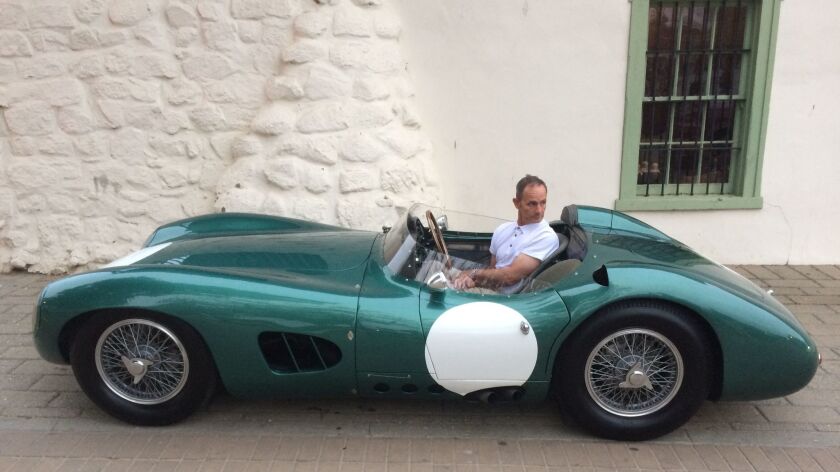 Monterey, Ca. —
A new record was set for a British car sale, a new record was set for a McLaren car sale, and a new auction house joined the action during the just-concluded Monterey Car Week, but the total auction sales figure was down slightly from 2016.
RM Sotheby broke existing British car records when it moved a 1956 Aston Martin DBR1 Roadster for $22.55 million, beating a record set last year when the same auction house sold a 1955 Jaguar D-Type for $21.78 million.
Bonhams, meanwhile, set a new record for a McLaren car sale, moving a 1995 McLaren F1 Coupe for $15.6 million.
Despite those high sales, the total dollar value for the week's auctions — which were among the events leading up to the Concours d'Elegance — was $317.6 million, according to numbers gathered by the vintage insurance company Hagerty. That's down from last year's total of $338 million, and far below the $400 million in sales racked up during a heated 2014 car week.
"Post-block" sales, made after the auctions were closed, added an additional $10 million, most of it in the form of a 1963 Jaguar E-Type Lightweight Roadster, sold by Bonhams for $8 million.
Hagerty's Jonathan Klinger said that he believed the market was still leveling off from a precipitous rise in prices that peaked with the high 2014 number, and that car prices seemed stable.
The average sale price this year was $438,000, compared with last year's $466,000. The sell-through rate was about 57% for both years.
"It isn't that overall prices are down, but that we saw fewer seven- and eight-digit cars available this year," Hagerty said.
The numbers were flat in spite of the arrival of a new player on the crowded car week schedule. Worldwide Auctioneers joined RM Sotheby, Bonhams, Gooding & Co., Mecum and Russo and Steele, bringing a one-day sale to the busy auction calendar.
The new arrival clocked $7 million in sales, Klinger said.
Bonhams and RM Sotheby saw slightly higher numbers this year than last, Hagerty numbers show. Both had sell-through rates of above 80%.
Twitter: @misterfleming
---