Free McLaren or Bentley: Sellers get creative to close deals before 'mansion tax' kicks in
Right now, there's a mansion on the market in Beverly Crest. Buy it in the next few days and you'll get a free McLaren. Or an Aston Martin. Or a Bentley.
Act fast. If you wait too long, you'll get nothing.
It's one of many time-sensitive deals available right now in L.A.'s luxury real estate market, which has been scrambling since voters passed Measure ULA in November.
The bill, dubbed a "mansion tax," will bring a one-time transfer tax to high-end property sales, including a 4% tax on sales above $5 million and a 5.5% tax on sales above $10 million within the city of L.A. Designed to fund homelessness prevention and affordable housing construction, it kicks in April 1, and many of those who would be affected have spent the last four months devising ways to get out of it.
Some have suggested schemes to shirk the tax, such as dividing properties to get them under the $5-million price point. Attorneys and law firms have flooded the inboxes of real estate agents, offering their services in finding such solutions.
Homeowners, developers and real estate agents are all bracing for the incoming mansion tax set to hit L.A. next year.
Others in the industry have tried to stop the measure from happening altogether, suing on the grounds that it violates the California Constitution.
Now, in the waning days before the bill takes effect, homeowners and agents are sweetening the pot to sell homes before April 1.
If necessity is the mother of invention, the necessity here is selling a house to avoid a hefty tax bill, and the invention is throwing in a luxury car as a cherry on top.
One $16.5-million listing is offering the buyer their choice of an Aston Martin Vantage, Aston Martin DBX 707, McLaren GT or Bentley Bentayga EWB if they pay the full price and close escrow before April 1.
"We wanted to come up with a marketing strategy that would make sense with the house, which has this amazing 1,300-square-foot underground car gallery. So the buyer can choose one of these cars to put in the gallery," said Tatiana Derovanessian, the agent with dreamliving LA who holds the listing. "You get a house and a car. It's a one-two punch."
Buyer beware: if you can't close the deal before Measure ULA kicks in, the cars are off the table.
Other listings appeal to buyers' agents, offering more commission if they can convince their clients to buy before the deadline.
In Bel-Air, a $28-million mansion owned by celebrity plastic surgeon and "Botched" star Paul Nassif is offering a $1-million bonus to whichever agent can bring a buyer who closes escrow before April 1.
The math makes sense. Under ULA, Nassif would have to pay a $1.54-million transfer tax, so if he can pay an agent $1 million to convince their buyer to close before April 1, he'll save half a million.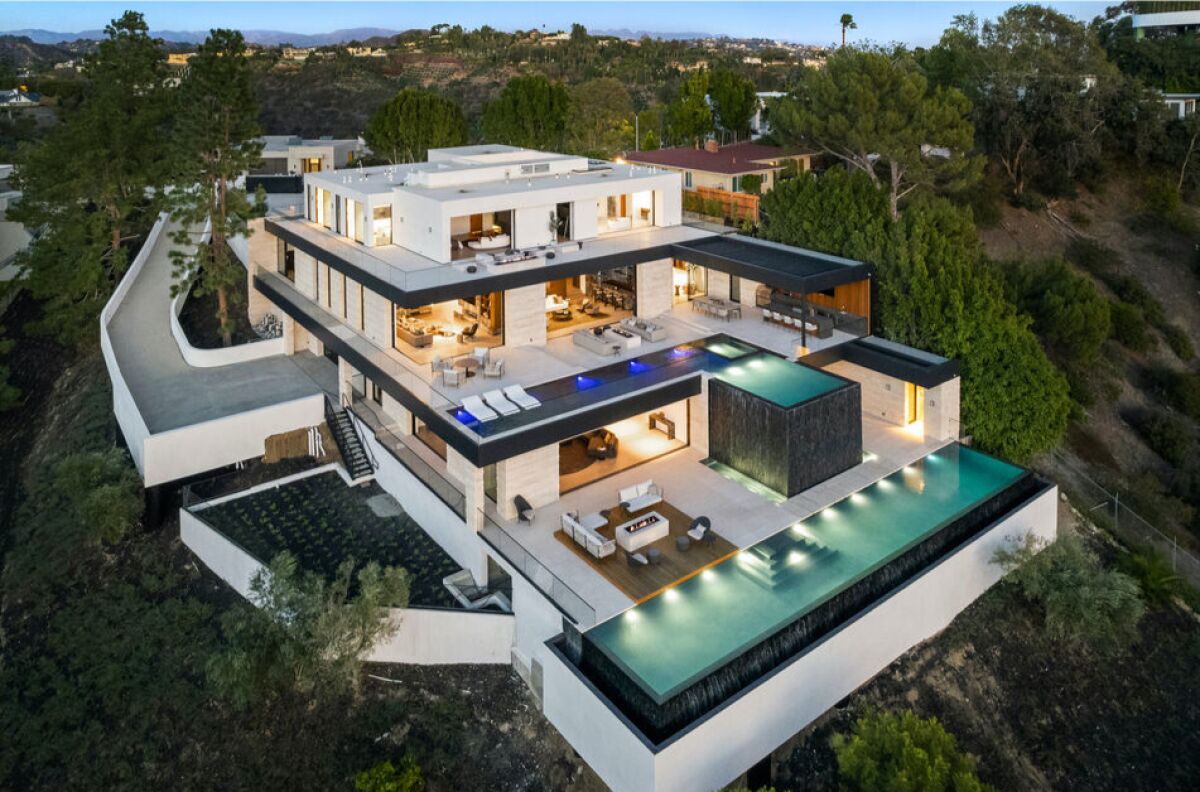 Josh Altman of Douglas Elliman, who's co-listing the property, said he's negotiated everything into deals before: cars, boats, vacation rentals, paid staff for a year. He brokered one deal that included a clause where the seller could come back and use the house for one month every year. But the broker bonus is a first, and he said it's been successful so far.
"We've been showing it eight to 10 times per week, by far the most of any listing we have in this price range," he said. "We're negotiating two offers right now and have had multiple offers since."
One listing in Pacific Palisades is opting for a potentially sneaky route. In the fine print only visible to agents, not buyers, on the Multiple Listing Service website, it promises a bump from 2.5% commission to 4% for the buyer's agent if they can get their client to close before April 1.
"It's a horrible look for our industry," said Anthony Marguleas of Amalfi Estates. "What type of agent would force their client to buy something to make more money even if it's not the right property for them?"
Subscribers get exclusive access to this story
We're offering L.A. Times subscribers special access to our best journalism. Thank you for your support.

Explore more Subscriber Exclusive content.
Listing notes on sites such as Zillow or Redfin are typically used to sing the praises of the property, boasting about scenic views, unique designs or luxury amenities. But these days, many reference Measure ULA.
"Due to the upcoming ULA Tax starting April 1st, Get a $400k Deduction from Seller if you Close Escrow by March 31st," reads a listing for an $8.25-million modern farmhouse in Pacific Palisades.
Another listing features a more direct tone: "REDUCED PURCHASE PRICE OF $20,995,000!!! THIS IS AN AMAZING OPPORTUNITY FOR A BUYER WHO CAN CLOSE ESCROW PRIOR TO APRIL 1ST. POST APRIL 1ST, PURCHASE PRICE WILL REVERT BACK TO $21,995,000."
"A lot of this is just marketing hoopla," said Billy Rose of the Agency.
Rose recently trimmed the price of a penthouse he's listing from $75 million to $50 million but said the price cut wasn't due to Measure ULA. Instead, he noted that buyer demand has diminished for a number of reasons.
A decades-long landslide has reshaped a 240-acre part of Palos Verdes Peninsula known as Portuguese Bend. Rancho Palos Verdes is mounting a plan to slow it.
Industry experts generally agree that L.A.'s luxury market has slowed down this year, and the data agree. So far in 2023, there have been 70 sales above $5 million and 22 above $10 million in the city of L.A. compared with 78 above $5 million and 26 above $10 million during the same stretch in 2022, according to the Multiple Listing Service.
But that hasn't stopped sellers from putting their homes on the market anyway in hopes of closing a deal before the April 1 deadline.
This year, there have been 231 new listings above $5 million and 276 properties with reduced prices. In the same stretch last year, there were just 130 new listings above $5 million and 154 price reductions.
"I'll do anything to sell," said the owner of one home in Brentwood who wished to remain anonymous to not affect a potential sale. "This market is a mess."
Peter Dreier, a professor at Occidental College who worked with the people who drafted Measure ULA, said it's outrageous that sellers are going to such lengths to maneuver around the measure.
"Multi-millionaires are giving away luxury cars to get out of a tax that helps people sleeping in their cars," he said.
The trend has led to a glut of mansions on the market. Sellers still want the same record-breaking prices they were getting during the peak of the pandemic, but buyers, burdened with higher interest rates, aren't taking the bait. It's led to a stalemate.
To push a deal across the finish line, some sellers are accepting deep discounts on homes.
When actor Mark Wahlberg listed his mega-mansion in Beverly Park — an enclave above Beverly Hills, but technically in the city of L.A. — he was asking $87.5 million. With no takers, he sold the place in February for $55 million, avoiding a transfer tax of $3.025 million.
Villa Firenze, an iconic Italian-inspired palace spanning 10 acres and 31,000 square feet, hit the market for $120 million last year. At that price, it would've carried a transfer tax of $6.6 million.
It languished on the market for months, and the owner slowly lowered the price until finally selling it for $52 million in February — a discount of more than 56%.
"The market reminds me of 2008. You couldn't even give a house away, so you had to throw in all these incentives in order to sell it," Marguleas said.
Southern California home prices are falling, eroding equity homeowners could spend on renovations or emergencies. People who bought at the peak are particularly nervous.
He said there's an influx of inventory, especially at the higher end of the market. Sellers are rushing to close deals, and developers are putting properties onto the market that aren't even finished. But buyer demand isn't keeping up with supply.
He likens the trend to the five stages of grief.
Denial: Homeowners refusing to believe that Measure ULA would pass.
Anger: Once it did pass, those same owners trying to sell their house before April 1 to avoid paying what they believe is an unjust tax.
Bargaining: Sellers offering incentives to sweeten the deal.
Depression: Buyers aren't interested.
Acceptance: Sellers biting the bullet, sharply reducing their asking price and eventually paying the tax.
The stories shaping California
Get up to speed with our Essential California newsletter, sent six days a week.
You may occasionally receive promotional content from the Los Angeles Times.