Tesla Model 3s hit Europe, but their Autopilot feature is disabled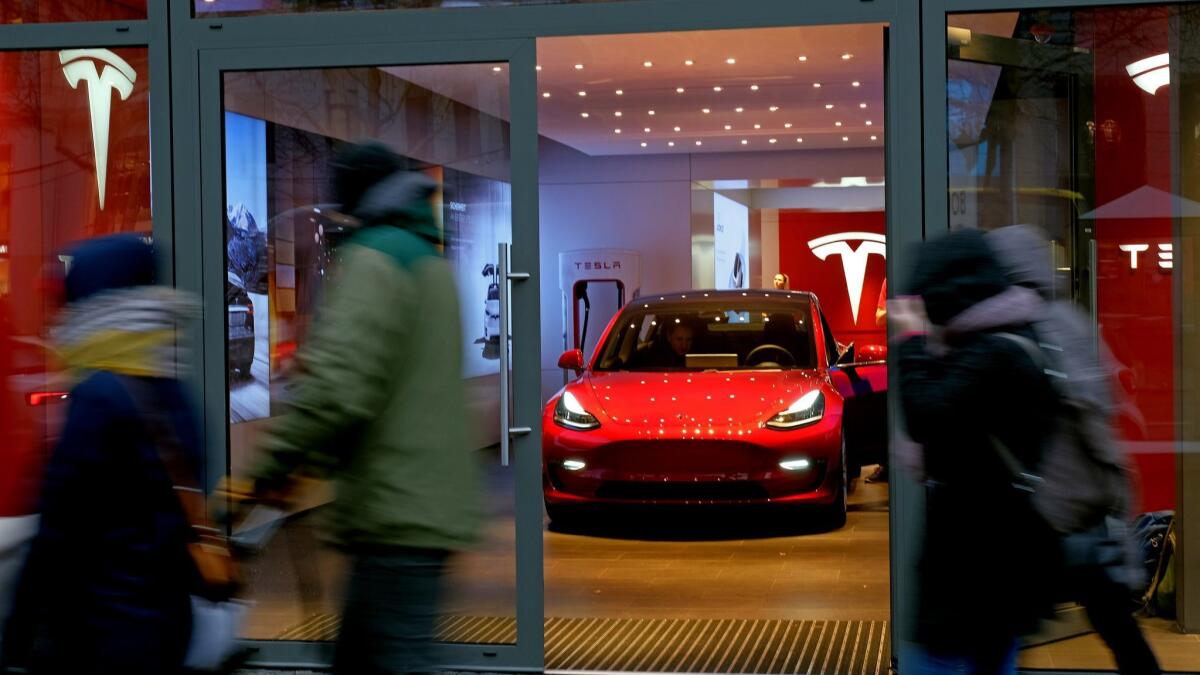 Tesla's near-term future depends heavily on the reception of its Model 3 in Europe.
But for now, Tesla will have to sell the Model 3 there without Autopilot.
Although European safety regulators approved the Model 3 vehicle for sale in Europe in January, they have not approved Autopilot — the controversial driver-assist mode that offers automatic cruise control, lane keeping and lane changing — The Times has learned.
"At this moment the autopilot is not part of the original Type Approval of the Tesla Model 3," Joke Willemsen, spokesman for RDW, the Netherlands-based organization in charge of the Model 3 approval process for Europe, said via email.
On Jan. 18, Tesla told The Times, "We have received European vehicle type approval for Model 3," but did not mention that the approval did not include Autopilot. European car publications that were given Model 3s to review in recent weeks reported the cars' Autopilot was disabled.
Type approval is a term used to describe a car that meets European Union regulations and can be sold throughout the continent.
"We are planning to enable Autopilot in Europe beginning next week," a Tesla spokesman told The Times on Thursday. The company did not answer any other questions, including one about when it expects type approval for Autopilot.
The lack of Autopilot approval — whether a short-term problem or something more serious — complicates the Model 3's entry into Europe. Tesla already sells its Model S and Model X cars in Europe. Norway is one of the company's largest markets outside the U.S.
The first bulk shipment of Model 3s arrived at the port of Zeebrugge in Belgium this week. But already, European buyers are expressing the same "delivery hell" complaints on Twitter that have become routine in the United States — rescheduled deliveries, cars not showing up as promised, difficulty contacting Tesla customer service to resolve problems.
Tesla Chief Executive Elon Musk acknowledged the rocky start in a tweet Wednesday: "Sorry, many unexpected challenges with cars coming through Zeebrugge first time. Cars will start moving out in volume tomorrow."
Europe and China are crucial to the company's continued health after Model 3 sales declined precipitously in the U.S. in January as federal incentives were cut in half.
The company said all current production from its sole assembly plant in Fremont, Calif., is dedicated to the Europe and China markets.
RDW did not say why Autopilot has not been approved, when it might be, or why the Model 3 version falls short while Model S and Model X Teslas are available in Europe with Autopilot.
Tesla was asked the same questions repeatedly by The Times but did not answer them.
The Times also asked Tesla whether refunds would be offered to customers who have already paid for Autopilot, whether they can reject the car for a full refund and whether Tesla will discontinue charging for Autopilot on European order forms. Tesla's web-based order forms as of Thursday morning still were charging European buyers about $6,000 for the Autopilot option.
Autopilot is controversial because, whereas Tesla owner manuals tell drivers to remain alert and keep their hands on the steering wheel while using it, Musk has long taken a more casual attitude toward the technology, appearing on television and YouTube videos putting his hands in the air, roller coaster style, while the car drives itself. YouTube is filled with videos of people apparently sleeping in moving Tesla cars and otherwise flouting the manual's suggestions.
Twitter: @russ1mitchell