Tesla's latest surprise: It'll announce earnings results on Wednesday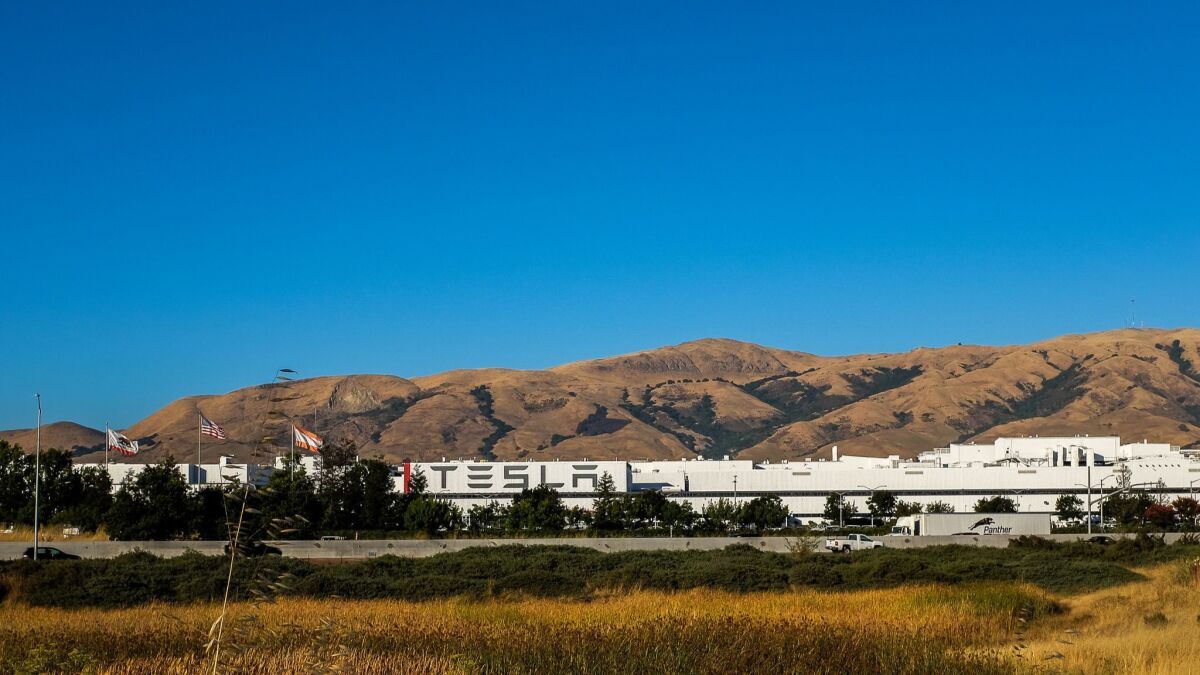 Companies usually set the date for earnings announcements weeks in advance. Tesla Inc. prides itself on being unusual.
On Monday evening, Elon Musk's electric car company popped a surprise: It said it will release third-quarter results and hold a conference call Wednesday afternoon, with less than 48 hours' notice.
The Oct. 24 date is also more than a week earlier than usual. With few exceptions, Tesla has scheduled its third-quarter earnings releases for the first week of November.
Why it's doing this, Tesla hasn't said. The company did not respond to a request for comment. Speculation on social media ran wild, from bulls saying Tesla doesn't want stellar results to be drowned out by the midterm election, to bears saying the company has bad news and wants the earnings call over and done.
Alma Angotti, managing director at the Navigant consulting firm and a former senior counsel at the Securities & Exchange Commission's enforcement division, said the Palo Alto automaker is "probably trying to get public information out there as quickly as possible" to address stock-market uncertainty in the aftermath of Chief Executive Musk's recent settlement with the SEC on fraud charges.
Musk has promised to show profits and positive cash flow starting in the third quarter and into the future. He did build in some wiggle room, though, saying that force majeure events — that is, situations outside the company's control — could crimp those forecasts.
Stock analysts generally expect the positive cash flow part to come true, what with Tesla's report that it delivered 55,840 of its Model 3 sedans during the quarter, three times as many as the quarter before.
Analysts differ widely on profit forecasts. The earnings estimates of 18 analysts listed on FactSet range from a loss of $1.75 a share to a gain of 88 cents a share.
Los Angeles investment manager Andrew Left of Citron Research, a fierce Tesla critic who last month sued the company and Musk, alleging stock manipulation, issued a report early Tuesday saying he changed his mind about Tesla's prospects. The Model 3's sales performance, he said, has proved that "Tesla is destroying the competition."
Tesla shares surged $33.19, or 12.7%, to $294.14 on Tuesday, even as the overall stock market finished down slightly.
Short sellers and other Tesla skeptics say the company has yet to prove Model 3 sales are sustainable or profitable enough to justify the company's relatively high stock price. Those issues are unlikely to be resolved in Wednesday's earnings report and conference call.
Tesla stock is especially volatile and prone to large movements based on good and bad news, providing opportunities for day traders to make money on the roller coaster ride.
Recent turmoil in Tesla's share price began Aug. 7, when Musk tweeted that he had secured funding to take the automaker private at $420 a share. In the weeks that followed, it became clear no investor had formalized a deal to bankroll the plan, and the SEC accused Musk of fraud. In their lawsuit, the regulators sought to have him banned from leading any publicly traded company.
The suit was quickly settled, with Musk and Tesla agreeing last month to pay $40 million — $20 million each. Musk agreed to relinquish his role as chairman of the automaker for three years, and the company is required to install an independent chairman and two new board members. Musk will remain on the board and keep his CEO role. He and Tesla did not admit wrongdoing.
Separately Tuesday, Musk said on Twitter that Tesla would reduce "many" interior configurations on the Model S and Model X to simplify manufacturing. "Order now to be sure of the one you want," he tweeted.
Earlier this year, Musk tweeted that Tesla had trimmed its exterior color offerings from seven to five, also to simplify manufacturing.
Twitter: @russ1mitchell
---
UPDATES:
3:05 p.m.: This article was updated with closing stock market data and Tesla's decision to eliminate some auto interior options.
11:10 a.m.: This article was updated with comment from Navigant's Alma Angotti and with background information about Tesla's recent stock-price fluctuations.
This article was originally published at 10 a.m.
---