More factory problems as Elon Musk's Tesla starts producing the Model 3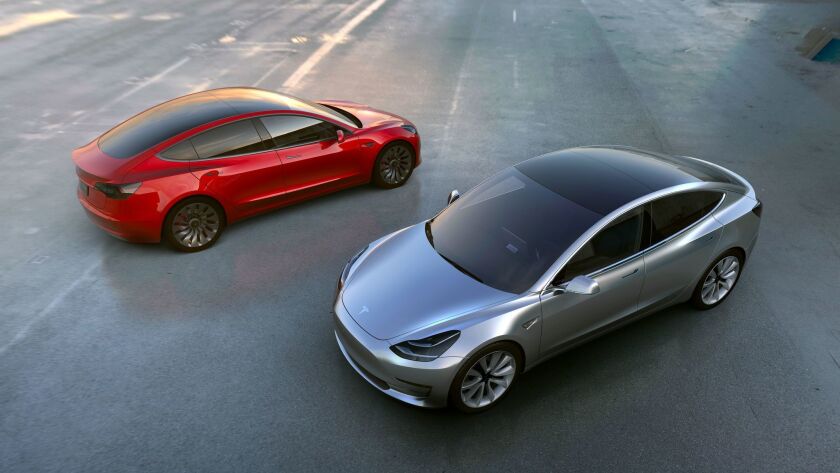 Reporting from San Francisco —
Will Tesla's Elon Musk revolutionize the auto industry and become the Henry Ford of the 21st century? Or are his bold visions too untethered from the complicated realities of mass-market motor vehicle production, sales, distribution and repair?
The answer will be clarified six months from now, when we'll know whether Tesla is capable of high-volume production of its new mid-market Model 3 -- and whether customers are happy with what's coming off the assembly line.
The six-month clock started ticking late Sunday night with a tweet from Musk. He said Tesla will deliver 30 Model 3s by the end of July, and ramp up production to 20,000 Model 3s a month by December -- a rate of 240,000 a year.
He'll have to make good on that promise even as the company is running into production snags with its luxury Model X and Model S electric cars. On Monday, Tesla said unit sales were down 12% in the second quarter to about 22,000, from about 25,000 in the previous period. It blamed a "severe production shortfall of 100 kWh battery packs, which are made using new technologies on new production lines" at its Nevada battery plant.
The problem's been fixed, Tesla said, but the stock took a hit, closing down 2.5% on Monday at $352.62.
The future of the company rides on the commercial success of the Model 3 -- Tesla's first high-volume car, priced for the masses with a $35,000 base price and a range of roughly 215 miles. If the Model 3 suffers anything like the production and quality problems that plagued the introduction of the high-end Model X sport utility vehicle in 2016, the company could have trouble finding new financing and see its stock price plunge.
At least 380,000 people have put down refundable $1,000 deposits for Model 3s, though Tesla hasn't publicly updated that number since early last year. At the production pace Musk predicted, most buyers will have to wait at least until 2018 for their cars.
Mid-priced cars are "one of the most competitive markets in the world," said Alexandre Marian, a director at consulting firm AlixPartners. The company "must prove that they'll actually be able to deliver. The design part isn't that difficult. It's the industrialization, the ramp up, the volume to deliver to the mass market."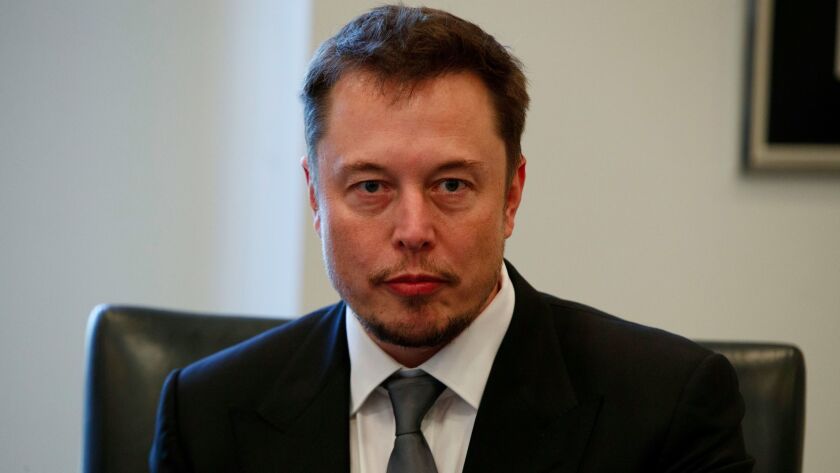 Musk aims "to get as many electric cars on the road as possible" -- to make car buyers happy and to save the planet, he says, but surely also to enrich himself and reward his shareholders.
That's why he's not stopping with the Model S and Model X, which range in price from about $70,000 to over $120,000. The company produced about 80,000 of them last year. With the Model 3 line running at its only assembly plant, in Fremont, Calif., Tesla intends to build 500,000 cars in 2018 and, Musk said, a million in 2020.
Whether it can do so, and profitably, is a subject of great debate. The stock price is up 63% this year, and the company occasionally exceeds General Motors in market value, though many are predicting -- and in the case of short sellers, betting on -- a big fall.
The legions who side with Musk have bought into his comic-book-style take on Tesla's manufacturing approach. He names factory robots after X-Men characters. He wants to become "the greatest manufacturer on Earth." To Musk, the factory is "the machine that builds the machine." He has dubbed Tesla's version the "Alien Dreadnaught," an allusion to an armed alien spaceship in Star Wars.
The best anybody outside the company can figure, he means a more intense focus on fast and flexible hardware and software automation.
And it may be that Tesla is making unprecedented advancements in manufacturing, but is keeping them hush for competitive advantage. Competitors will not be able to match its manufacturing software advantages, Musk has claimed. AlixPartners' Marian said traditional automakers are struggling to speed up their software development cycles and feeling Tesla's heat.
A few facts are known about Model 3 production. A Tesla engineer told the Los Angeles Times that the glass roof on the Model 3 isn't there just to look cool. It also enables robots to reach into the car from the top, before the glass is installed, taking over duties that humans would otherwise have to perform.
The Model 3 was designed for efficient manufacturing, unlike the Model X, which was designed according to the whims of Musk, who, for example, insisted on falcon-wing doors that were difficult and costly to manufacture and led to embarrassing quality problems.
"We've really learned a lot of lessons, especially from the difficult Model X ramp," Chief Technology Officer J.B. Straubel said in a recent earnings call.
Tesla pitches the Model 3 as a smaller, more affordable version of the luxury Model S. Because both cars are equipped with the same self-drive hardware, costs need to be reduced somewhere else.
Hence, early versions of the Model 3 show a spartan interior, lacking even an instrument cluster with a speedometer. There's an iPad-like screen between the driver and the passenger, and widespread speculation that there will be a head-up display projected onto the windshield.
Tesla has dropped a few details on its cost-cutting approach: the Model S has two screens, the Model 3 will have one. The Model S is stuffed with three kilometers of wiring, the Model 3, 1.5 kilometers.
According to Tesla, 93% of reservation holders have no previous dealings with the company. Rebecca Lindland, a Kelley Blue Book analyst, said such early adopters tend to be risk-takers, "adaptable to the quirks of new technology." But quirks and major problems are two different things. "These are the owners that Tesla desperately needs to evangelize the brand to the masses, spreading Model 3 love down the golden path of profitability," she said. "It will be fascinating to see if Tesla has the delivery, ownership and service infrastructure to satisfy these early adopters."
Production and quality are hardly the only challenges for Tesla. The company has no traditional dealer system -- which might have its advantages -- but distribution, repair and maintenance for potentially hundreds of thousands of vehicles will tax and test Tesla management.
Then there's competition. Next year, Jaguar releases its sharp-looking I-Pace electric crossover, and Audi promises a sporty all-electric sport utility of its own. Porsche plans an electric offering the following year. And BMW will reportedly soon announce an all-electric version of its 3-series sedans, perhaps the Model 3's most direct competition.
If all goes well for Tesla, it will beat them to the market. If Tesla can get production up to 200,000 to 300,000 cars a year at high quality, with costs under control, it could remain well ahead of the pack, consultant Marian said.
The global electric car market is bound for strong growth, he believes, and "Tesla is fully vested in electric vehicles. This helps them a lot."
Tesla is also far ahead of competitors in over-the-air software, which can regularly and automatically upgrade electronic systems with no trip to the dealer. "That's a huge competitive advantage," Marian said. Other automakers "are trying to catch up, but they're many years late."
Still, if Tesla can't produce the Model 3 at high volume with high quality, that won't matter, especially if buyers have other luxury electric cars to pick from.
Acknowledging the risk, Musk tweeted again Monday afternoon, thanking those who own or have ordered a Tesla. "It matters to us that you took a risk on a new car company," he said. "We won't forget."
Twitter: @russ1mitchell
ALSO
Mazda recalls more than 225,000 cars after saying parking brake may not hold
Volvo's V90 Cross Country — Wagon Ho!
California lawmaker pushing bill to jolt electric car market with $3 billion in subsidies
---
UPDATES:
5:10 p.m.: This story was updated with additional details and comments from analyst.
This article was originally published at 12:05 a.m.
---