Tesla's Model 3 'production hell' is testing Elon Musk's fix-as-you-go carmaking model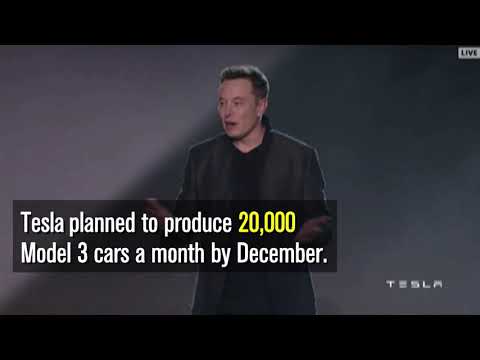 The company didn't say whether its forecast of 500,000 a year by the end of 2018 remains on track. (Oct. 3, 2017)
Reporting from San Francisco —
When Elon Musk talks about the future of factory automation at Tesla, he envisions new breeds of robots and smart machines compressed in dense factories with little room for human operators, guided by self-learning software.
"At the point at which the factory looks like an "alien dreadnought" — a nod to a video game spaceship — "you know you've won," Musk has told investors.
For the record:
10:10 a.m. Oct. 20, 2017The date of Tesla's third-quarter earnings report has been corrected in this story.
But so far, the manufacturing of Tesla's new all-electric compact sedan, the Model 3, at its Fremont, Calif., factory is moving at a more earthbound pace.
When Musk launched the car at an elaborate stage show in July, Tesla was anticipating a production rate of 20,000 Model 3s a month by the end of December. Over three months through September, though, Tesla had produced only 260 Model 3s — about three cars a day. That's well behind a normal auto-industry production pace of about one car per minute.
The company blamed manufacturing "bottlenecks," without saying what they are. It promised a quick fix, and contested a report in the Wall Street Journal that said the assembly line remained incomplete by early September with some body parts normally installed by robots being employee-assembled by hand.
Still, the "production hell" that Musk acknowledged in a tweet raises questions about whether the Silicon Valley model he has followed — beta testing with early adopters and launching updates via software — can be adapted for Tesla's first mass-market product.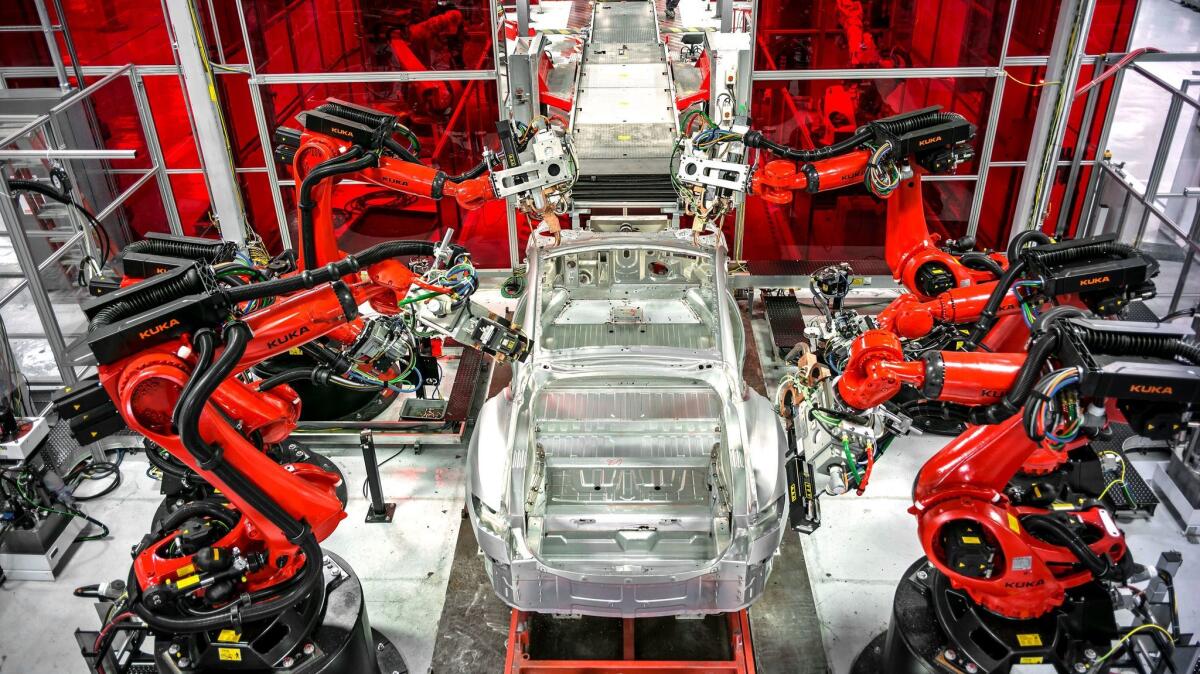 Musk needs to fix things, fast. Demand for the car appears strong. The company intends to sell about 400,000 Model 3s in 2018 to customers who have placed deposits and depend on the cash flow from those vehicles to keep the thus-far profitless company running.
"This is a critical juncture for Tesla," said David Keith at the MIT Sloan School of Management. "They need to convert 400,000 orders into 400,000 happy customers."
Tesla declined requests to interview Musk or a manufacturing executive. The company will release third-quarter earnings on Nov. 1 and the status of Model 3 production will surely be discussed during the company's conference call that afternoon.
Silicon Valley is all about disrupting old industries: Uber with the taxi business, Google and Facebook with advertising and journalism, Amazon with retail. Musk, a native South African who earned a fortune in Silicon Valley as a co-founder of PayPal, hasn't yet disrupted the auto industry. But the success of Tesla's luxury Model S and Model X automobiles, with their all-electric powertrains, self-drive feature, and over-the-air software updates, has woken up incumbent automakers to the emergence of electric, autonomous and connected transportation.
Yet the Model S and Model X production has yet to exceed 100,000 automobiles a year, combined — a speck in a global market where 88 million passenger cars and trucks are sold.
"Automobile manufacturing is very hard," said Uday Karmarkar, a specialist in operations and technology at the UCLA Anderson School of Management. "It's amazing that Tesla has been able to build cars at all." He meant it as a compliment.
Tesla was founded in 2003. Its first product was an electric roadster, based on a platform from British sports car maker Lotus. It was a hit.
Then came the Model S sedan in 2013, which made Tesla a household name. The full-sized sedan was sleek and powerful. It won high praise from Consumer Reports and other publications. Auto reviewers gushed.
MIT's Keith owns a Model S and loves it. "It's quiet, it's fast, it's smooth, it's such a delight to drive," he said.
Tesla took the Model S from design to full production faster than traditional manufacturers would consider. Tesla's breakthrough over-the-air technology made software fixes a snap. Code to fix battery management issues, add self-drive features, or simply tweak the music system can be downloaded via the car's Wi-Fi system.
Still, many owners complained that there were more quality problems than they expected in a $90,000 car. Outside a private school in Oakland earlier this week, a parent waited for his child beside a spotless gray Model S. When asked how he liked the car, he shook his head. "It's mainly my wife's car. She loves it. I love the way it drives, it drives better than anything I've ever driven. But there are all these rattles and noises." To cover them up, he plays the music at high volume, said the driver, who declined to give his name.
The Model X sport utility vehicle, launched in 2015, was also considered great fun to drive, with astonishing 2.9-second acceleration from zero to 60 mph. It, too, was fast-tracked to production — and was riddled with quality problems, especially with its exotic gull-wing doors. "They're still trying to work out the bugs in that vehicle," said Mike Ramsey, auto industry analyst at Gartner.
Musk copped to the problems and said lessons were learned that would make the Model 3 process better. He told designers to put ease of manufacturing at the top of the requirements list. The company's assembly plant, built in 1961 for General Motors and later shared with Toyota in a joint venture, has room for two assembly lines. The Model S and Model X are being built on one line. A separate line was built from scratch for the Model 3.
Using Silicon Valley nomenclature, Musk calls the line as it exists now Alien Dreadnought Version 0.5. By the end of next year, enough automation will be added to deem it Version 1.0, Musk has said.
Tesla turned the first 30 Model 3s over to paying customers — all Tesla employees – at the July event. The company said regular customers will begin receiving Model 3s by the end of October.
It's common practice for carmakers to let employees try out fresh cars as the assembly line is being tweaked before production begins in earnest. But those cars don't generate revenue for the company.
"At GM or Ford or Toyota, they call those vehicles 'production-intent prototypes not for sale,'" said Bob Lutz, a legendary car executive whose career spanned BMW, Ford, Chrysler and General Motors. By selling cars when the factory remains in "production hell," Lutz said, "you've got an increased risk of having problems with the vehicles. You're putting quality at risk for the sake of a PR event."
The online publication Elektrek said some of those first 30 cars were returned to Tesla with battery problems. Asked whether the story was accurate, a Tesla spokesman declined to comment.
Some observers wonder whether the Silicon Valley approach is being taken too far.
"If you find fault in a [motor vehicle] production process, it's not like your [Apple] Watch app, where they say, 'No problem, our next software release is in seven days and we promise it'll be fixed,'" said Julian Weber, an executive at BMW who helped develop its i3 and i8 electric cars and the author of a textbook on automobile manufacturing.
Weber now works with digital information systems for autos, and agrees that the Silicon Valley "done is better than perfect" approach to software releases has some merit for infotainment and other electronics because problems can be fixed fast. Large objects with moving parts are a different story.
"If 1,000 vehicles have a serious flaw, that's not going to be fixed in a few days," he said. "It means delays for 1,000 people waiting for their car. In the worst case, 1,000 vehicles have to be scrapped."
When a manufacturer introduces new manufacturing techniques to a line, Weber said, the results are often unpredictable. Several years ago, on a BMW 5 Series redesign, the mostly steel front end was changed to a mix of aluminum and other materials that required different joining techniques. The switch required "extensive and costly testing to ensure safety and functionality," Weber said.
The bodies of the Model S and Model X are mostly aluminum. The Model 3 is a mix of steel and aluminum. After Musk recently posted a short video clip of robots working with body parts, trade publication Automotive News showed it to a manufacturing expert, who said it appears that Tesla is grappling with welding issues.
Barring some surprising disclosure from Tesla during its Nov. 1 earnings call, the production level reached by the end of December will be the first public indication of whether Tesla's bottlenecks are early fixable glitches or problems that run deep.
Twitter: @russ1mitchell
ALSO
Elon Musk gets OK to start digging in early step toward hyperloop dream
Elon Musk says Tesla Model 3 remains 'deep in production hell'
Hundreds of Tesla workers were let go for subpar performance, the company says
Tesla employees racially harassed black contract workers, lawsuit alleges
---
UPDATES:
10:40 a.m.: This article has been updated to clarify the state of Model 3 production as of the July launch.
The article was originally published at 6 a.m.