Elon Musk calls Tesla's bid for SolarCity a 'no-brainer,' but Tesla stock dives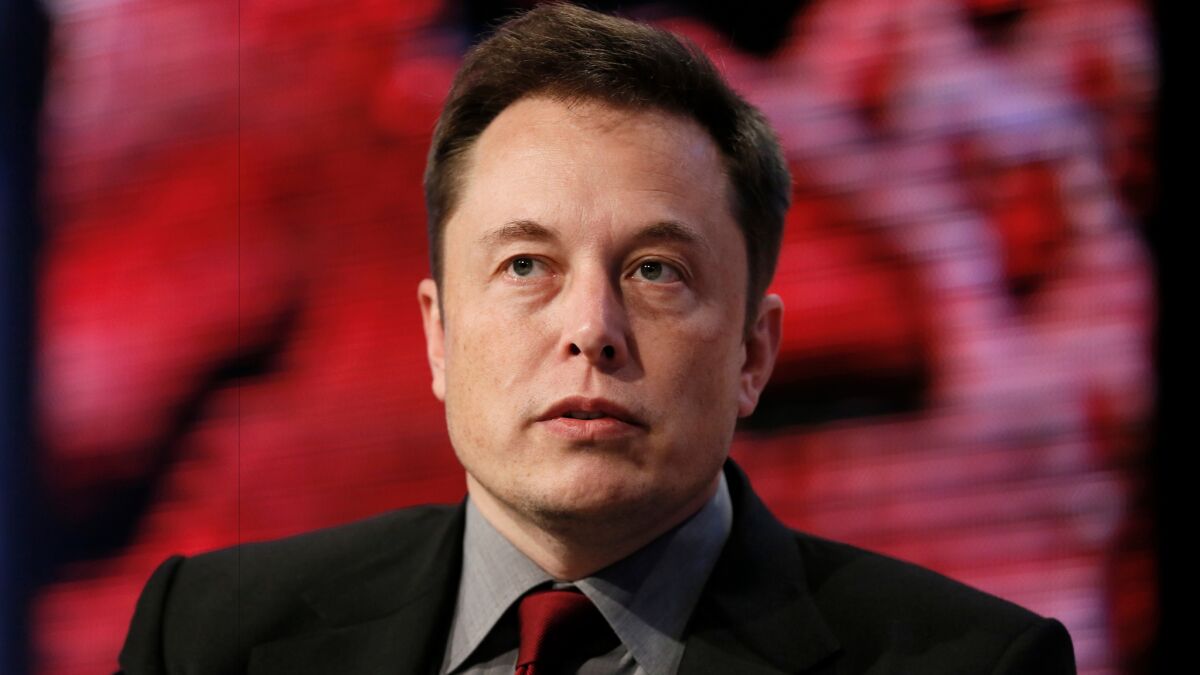 Reporting from San Francisco —
Tesla stock plunged Wednesday, effectively devaluing the Elon Musk-led company's currency and casting doubts on its plan to buy SolarCity.
Tesla Motors Inc., the electric car maker, offered Tuesday to buy rooftop solar provider SolarCity Corp., another company that heavily involves Musk, in a stock swap worth $2.8 billion.
But investors sent Tesla stock down as much as 12% when markets opened, although it has rebounded a bit to around $203, or down 7.5%, at 8:40 a.m. Pacific.
Because the deal involves a swap of Tesla shares for SolarCity shares, a significant drop in Tesla stock effectively makes the deal more expensive for Tesla.
Oppenheimer & Co. analyst Colin Rusch downgraded Tesla's stock after the deal was announced because "uncertainty around the acquisition and the resulting corporate structure will weigh heavily on the stock."
"We believe investors are likely to view this transaction as a bailout for [SolarCity] and a distraction to [Tesla's] own production hurdles," Rusch said in a note to clients.
"While we remain bulls on the solar industry, we do not view this acquisition as the best and highest use of [Tesla's] capital and human resources," Rusch wrote.
Patrick Jobin, an analyst who follows SolarCity for Credit Suisse, said in a note to clients that "we put a low 20-40% probability" of the deal being completed.
Musk, chairman of both companies, defended the deal in an early morning conference call, calling it a "no-brainer" and asserting "zero doubt" about it.
The idea is to combine the solar business with Tesla's battery storage and electric car business, so homebuyers can charge their Teslas with all products coming from the same company.
Pressed for more financial detail on the proposal, however, Musk said both companies are heading toward positive cash flow and that the combination would lead to lower cost of sales, but he had little more to offer.
He acknowledged that the proposal was not only complicated, but unusual, given his connection to both companies. Musk owns 22% of SolarCity stock and 21% of Tesla, where he's both chairman and chief executive.
Tesla said Musk and Antonio Gracias, who serve on the boards of both, will recuse themselves from any vote in the deal.
Musk was long on rhetoric, however, reportedly issuing statements such as, "this is what the world needs, this is the Earth's solution" and "we're trying to have the non-weird future get here as fast as possible."
Some Tesla investors aren't buying it.
Jobin said some would take a dim view of the purchase "given the intense skepticism of the residential solar space, the regulatory risks and vociferous consumption of capital" at SolarCity.
There also could be a "lengthy board evaluation and shareholder-approval process" for the deal that could hobble SolarCity's ability to raise more cash in the capital markets over the next several months, the analyst wrote.
"We are unconvinced of the strategic and financial rationale of the proposed transaction," Jobin said. "There would be limited synergies, in our view, of a single solar and electric-vehicle company combining to be an energy powerhouse."
Twitter: @russ1mitchell
MORE BUSINESS NEWS
Offer payday loans as an employee benefit, this start-up says
IMF says U.S. should raise minimum wage, offer paid maternity leave and overhaul taxes
It'll take time — and $3.8 billion — to shut down the Diablo Canyon nuclear power plant
---
UPDATES:
9:13 a.m.: This article has been updated with comments from analyst Patrick Jobin.
The story was first published at 8:49 a.m.