As Uber death is investigated, its chief faces a crossroads on driverless tech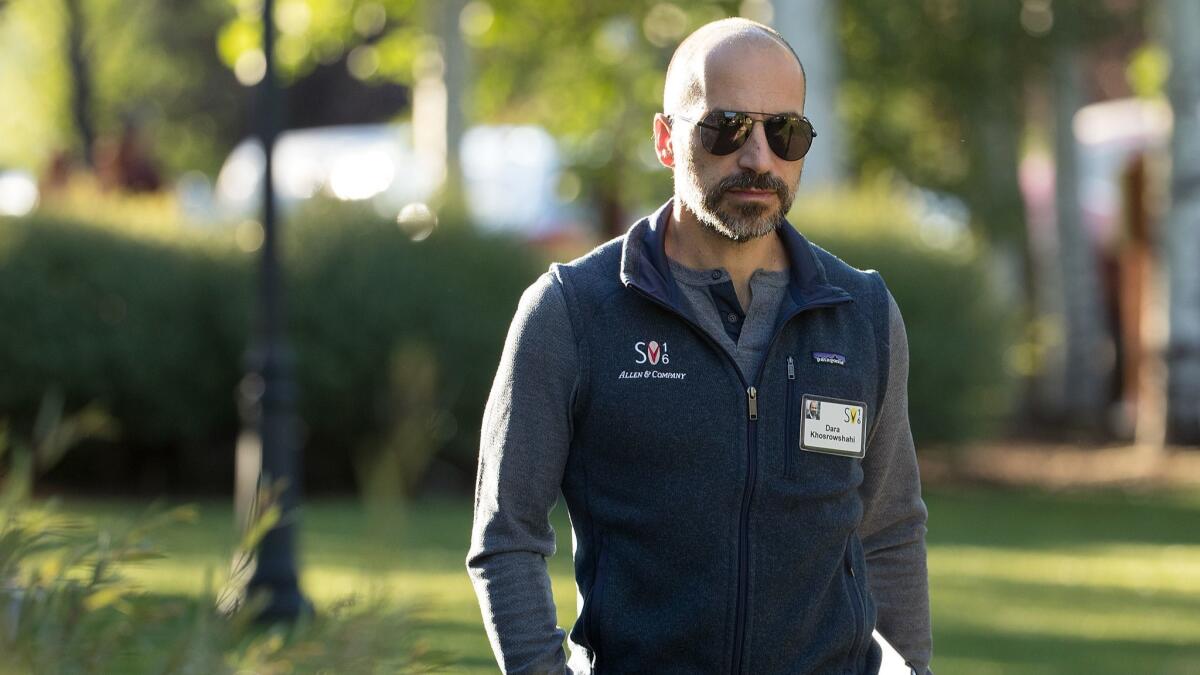 Reporting from San Francisco —
When Dara Khosrowshahi took over as Uber's chief executive last August, he faced a pile of festering problems. Near the top: The company's troubled driverless-car program, then embroiled in a major lawsuit over trade-secrets theft with arch-foe Waymo, and suffering after a series of defections by top engineers.
He had three options: find outside partners for joint development of driverless technology; drop the internal program altogether and buy the technology off the shelf; or continue to go it alone. Khosrowshahi chose the solo route.

For the record:
3:00 p.m. March 29, 2018A previous version of this story said Uber settled a lawsuit filed by Waymo in November. The correct month was February.
"They've never shown too much interest in partnerships, I think to their detriment," said Evan Rawley, an associate professor of business strategy at the University of Minnesota Carlson School of Management who tracks the company.
Now, after an Uber driverless car killed an Arizona woman and threw the company's program into turmoil, Khosrowshahi may be back at the same crossroads. But this time Uber's options may be slimmer.
The industry's eagerness to separate itself from the fatality, on top of Uber's well-earned reputation for over-aggressiveness and arrogance, could make partnerships more difficult to strike.
While the causes behind the Uber system's failure are under federal investigation, companies including Waymo, Intel's Mobileye and Uber's own supplier of radar and cameras, Aptiv, haven't waited for those findings to speak up about the Uber system's shortcomings.
Aptiv said Volvo's own safety systems, which include automatic braking, had been disconnected. And Reuters reported that Uber had reduced its lidar system — a light-based version of radar that senses objects in fine detail — from seven lidar units to one when it switched from Ford Fusion cars to Volvo SUVs.
Arizona Gov. Doug Ducey has ordered Uber to cease driverless car and truck testing in the state, and Uber has told California officials it will not seek renewal of driverless testing permits this year.
Uber already was six years behind Waymo, the self-driving arm of Google parent company Alphabet, when it started its own driverless program in 2015. On Wednesday, Bloomberg reported that Lior Ron, a key executive in Uber's driverless program, is leaving the company.
"They may well be so far behind Waymo that they can't catch up" with their own technology, said Alain Kornhauser, head of the driverless transportation program at Princeton University.
It's possible that Uber was unlucky and "they happened to be the car that was on the road at the time," said Rebecca Lindland, an analyst at Kelley Blue Book. But even in that best-case scenario, she said, "potential partners have to find something good in it for them, and now fair or unfair, that's going to be much more difficult."
Khosrowshahi was lured from his job as CEO at online-travel company Expedia to replace Uber co-founder Travis Kalanick. Kalanick was fired as CEO by Uber's board of directors after presiding over a culture that led to a drumbeat of reports on sexual discrimination and harassment, corporate spying, and bully-boy behavior that led to regulatory and law enforcement investigations into its business practices on multiple continents.
"Uber has had this continuing narrative of not being a good corporate citizen," said Chris Allieri, who heads the Mulberry & Astor public relations firm in New York. Despite Khosrowshahi's attempts, "They've never really gotten ahead of it, and they lack the brand equity and goodwill" that has helped other companies recover from corporate crises.
When Khosrowshahi took control in August and committed himself to changing Uber's culture, the company was in the thick of a high-profile trial, accused by Waymo of using stolen driverless technology trade secrets.
Kalanick had called Waymo's driverless program an "existential threat" to Uber's ride-hailing business, in which human drivers must be paid with money that could otherwise be folded into profit. In August 2016, Uber bought a company called Otto for $680 million. Otto was started by Anthony Levandowski while he worked as an engineer at Google. When he left, he allegedly took 14,000 documents from Google servers.
Khosrowshahi put an end to the trial in February after a week of embarrassing testimony, including a board member's testimony that he had not read a critical due diligence report on Levandowski before approving the Otto deal. The settlement included payment of $245 million of stock to Alphabet.
At trial's end, rumors circulated that Waymo and Uber would join forces in driverless technology, but four months later there are no signs of that.
On Tuesday, Waymo announced it planned to buy as many as 20,000 Jaguars to extend its driverless ride-hailing endeavors. Waymo is sticking with plans to offer a driverless taxi service to Phoenix-area drivers this year, with plans to expand to other cities as regulations and market conditions allow.
Before the fatality, Khosrowshahi talked boldly about Uber's driverless plans. In India in February, he was quoted saying autonomous vehicles "will be on the road in our network. Much sooner than you would expect." During the same trip in Asia, Khosrowshahi had met with Toyota executives in Japan where it was rumored they discussed possible partnerships.
After the Arizona fatality, Toyota temporarily suspended its own driverless testing in the U.S., as did chipmaker Nvidia.
It's uncertain where Uber goes from here. The company declined to make Khosrowshahi or other executives available, saying they are focused on cooperating with federal transportation investigators looking into the Arizona death.
How all this affects Uber's private market value, now roughly estimated at $70 billion, remains to be seen. Khosrowshahi has said he hopes to issue public stock in the company as early as next year.
Bradley Tusk, CEO of Tusk Ventures, said he holds a private stake in Uber. He's dubious that self-driving technology is "existential" to the future of the company, which has an estimated 2 million to 3 million drivers working for it worldwide.
"I don't have the sense that [Uber investor] SoftBank bought into Uber because of their driverless vehicles," Tusk said. "If ultimately investor interest is around ride-sharing itself, maybe Uber doesn't need to make this the focus."
Twitter: @russ1mitchell