L.A. Auto Show: The five concepts you should care about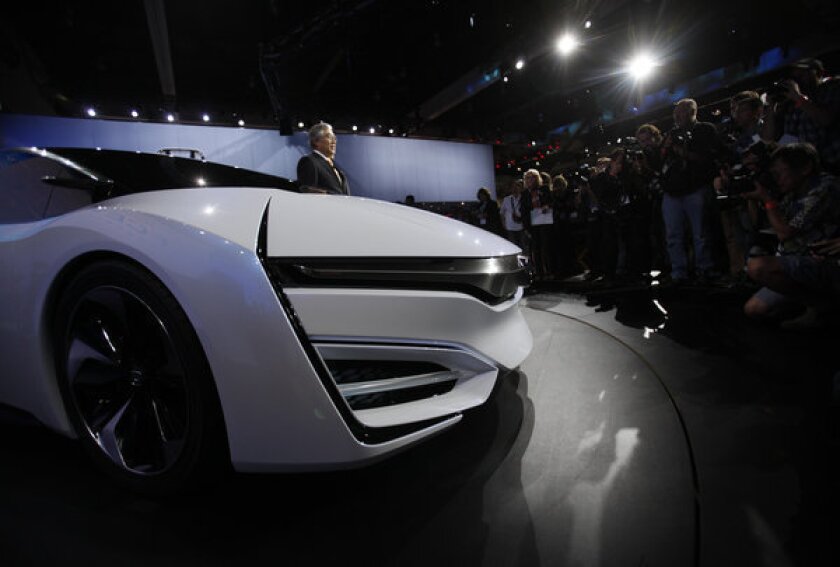 With all the flashy sheet metal automakers brought to the 2013 L.A. Auto Show competing for attention, it can be difficult to tell what to care about and what will never see production. Brands including BMW, Subaru, Mercedes-Benz, Ford, Honda, Jaguar, Nissan, Hyundai, Infiniti, and Volkswagen all brought concepts in varying forms of reality. Here's a list of the few worth your time and why.
Jaguar C-X17: Yeah, this one's coming to production. To be clear, Jaguar hasn't officially confirmed it. But bring this concept up to anyone with a Jaguar label on their shirt, and you're met with are more winks and nudges than the back room of city hall.
Consider the facts. Jaguar has a history of showing a "concept" car with a goofy name, only to turn around 18 to 24 months later with a nearly identical specimen ready for sale to the public. This is exactly what it did with the F-Type Coupe -- revealed a day before this year's L.A. Auto Show. We first saw that stunner in concept form at the 2011 Frankfurt Auto Show when it was called the C-X16.
PHOTOS: Five concepts you should care about at the L.A. Auto Show
The concept's relatively straightforward design also makes production likely. This isn't a far-out "Jetsons" car with weird design quirks that would never reach production. The concept already looks like something you could buy at your local Jaguar dealership.
Jaguar has also made no bones about expanding its lineup to more volume-oriented vehicles. With an all-new compact sedan confirmed for 2015 or 2016, Jaguar has said it would use the same all-aluminum platform for that sedan and this crossover. If it reaches production. Wink.
Honda FCEV Concept: OK, this one looks like something from "The Jetsons." Or Master Chief's helmet from HALO. But underneath a body that won't see the road this decade is a drive train that will in the next two years.
PHOTOS: L.A. Auto Show model debuts
Honda -- along with Hyundai and Toyota -- announced recently that they're betting big on hydrogen fuel cell cars. Despite a dearth of infrastructure (quick, find your nearest hydrogen station), these brands think hydrogen fuel cell cars have a promising future.
They offer the range and refueling times of a traditional gas engine that current electric cars can't. Costs are still high, but like any emerging technology, they're dropping quickly (the Toyota FCV concept that debuted at the Tokyo Motor Show last week will likely sell for around $50,000 when it goes on sale in two years). And most hydrogen fuel cell vehicles emit only water, a huge plus for an automaker looking to meet emission regulations in the U.S. and abroad that will get tougher later this decade.
California is one of the states leading the charge into a greener future, requiring 15% of all vehicles sold in 2025 to be zero emissions. Nine other states have adopted the same requirements.
FULL COVERAGE: L.A. Auto Show 2013
Though there are only a handful of hydrogen stations currently open in California, as much as $20 million a year is being spent on building new stations. This means 28 hydrogen refueling areas could be open in California's major urban areas by 2015, and up to 100 in the next five years, according to the California Fuel Cell Partnership.
Subaru Legacy Concept: With a coupe-like profile and low-slung greenhouse, this sexy sedan is an indication of where Subaru plans to take the next Legacy mid-size sedan.
Unfortunately, Subaru fans should expect the production version to be a bit more homely when it likely bows at an auto show in 2014 as a 2015 model. This seems to be an unfortunate trend with the Japanese automaker. It showed a brilliantly designed WRX concept at the 2013 New York Auto Show in April. Fast forward to the production WRX that Subaru unveiled at this L.A. show: Things got a lot more mundane.
Regardless of what the concept Legacy's sheet metal looks like, Subaru didn't mention what kind of powertrain was hiding underneath it. But don't expect the production model to deviate much from the standard recipe in this segment of a four-cylinder base engine and either a six-cylinder model or possibly a hybrid, which the brand has recently been flirting with in other models.
Of course, bet on all-wheel-drive being integral to the next Legacy's ethos. Same for a CVT, which Subaru has been using in a variety of models to offset the fuel economy penalty all-wheel-drive traditionally requires. Even the new WRX will offer a CVT as an option.
Nissan Sentra Nismo: Oh, just build this car already, Nissan. Throw some license plates on the one at the L.A. show and you could practically drive it home. Just avoid speedbumps, as Nissan went heavy on the body cladding on this one.
Built to showcase Nissan's burgeoning Nismo performance line, this concept takes the lukewarm Sentra introduced for the 2013 model year and adds some fun to it.
The 1.8-liter four cylinder engine remains, but now it's turbocharged for 240 horsepower and 240 pound-feet of torque. Nissan jettisoned the CVT in favor of a six-speed manual transmission, and added a limited-slip differential. Brembo brakes from the 370Z, 19-inch wheels, and Recaro seats also up the sport quotient.
Nissan hasn't confirmed it will bring this to the production world, but expect it. The Nismo version of the oddball Juke crossover is now in production, and Nissan made big news at the L.A. show with the "I'm-off-my-meds" Nismo edition of the GT-R, which Nissan says will roar from zero-60 mph in two seconds. A Nismo Sentra wouldn't quite be that fast, but it would give Nissan something it could actually sell to the masses.
Ford Edge Concept: Ignoring the massive panoramic roof and the iPads bolted to the front seats and you're looking at the next Ford Edge. This upright crossover slots into Ford's lineup between the compact Escape crossover and the three-row Explorer and will probably debut in production form in 2014.
While not as popular as its crossover stablemates, the Edge has proved a strong seller for Ford both in the U.S. and abroad, and the new model hopes to use bolder styling to capitalize on that and further set itself apart from the Explorer and Escape.
The production version of this crossover will share a platform with the Ford Fusion mid-size sedan. Powertrain details weren't announced but expect a turbocharged four-cylinder EcoBoost engine and a six-cylinder -- possibly turbocharged.
Technology will be another asset for the Edge, which the concept hints at. Ford says the concept has collision avoidance features that will automatically take evasive action, and a parallel parking feature that doesn't even need a driver on board.
Honorable mention: Mercedes-Benz's Vision Gran Turismo: No this car doesn't have a snowballs chance in anywhere of reaching production. But it does tease what's next in the sports car realm for Mercedes.
With the announcement that the SLS Final Edition -- also on display in L.A. -- would be the last of that full-bodied sports car, the tri-star brand is looking to debut a new sports car in 2014.
That model will be called the GT AMG and will target the Porsche 911 directly in a way that the current grand-touring SL can't. Expect to see elements of this Vision concept in that GT model.
ALSO:
Lexus debuts new RC coupe for 2014
Range Rover brings out Bond girl for exclusive new SUV debut
Honda and Acura latest brands to get Apple's Siri Eyes Free integration
---
Your guide to our new economic reality.
Get our free business newsletter for insights and tips for getting by.
You may occasionally receive promotional content from the Los Angeles Times.