Get ready for driverless taxis at 25 cents a mile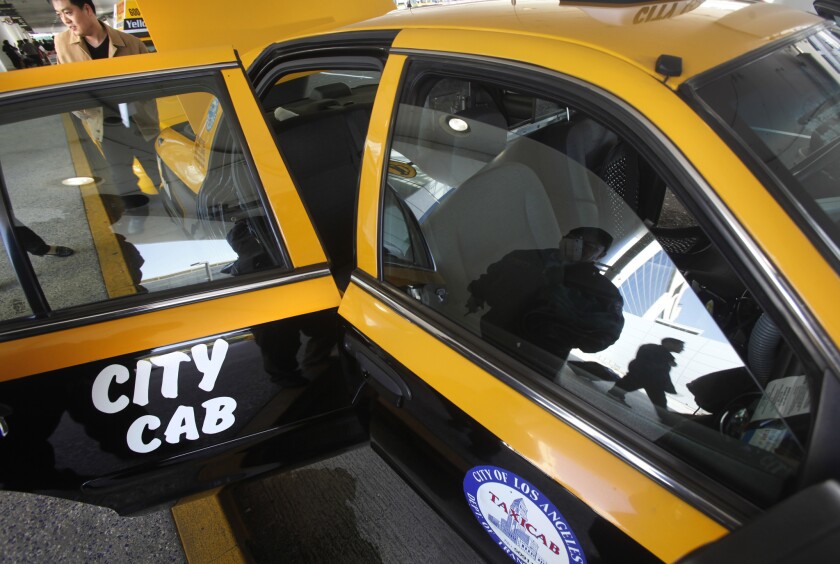 The taxibots are coming.
Eric Spiegelman, president of the Los Angeles Taxicab Commission, said Angelenos will one day be able to hail taxibots, or driverless taxis. The autonomous vehicles will be able to get people from place to place while bringing costs drastically down, he said.
"Driverless cars have the potential to solve certain intractable social inequity problems," he said.
UPDATES: Get live updates from the floor of the L.A. Auto Show
For one, fares will decrease by 85%, to about 25 cents a mile, he predicted. That means for most people, there will be no need to own a car.
"That's not just competitive with taxicabs, that's competitive with private car ownership," he said. "At 25 cents a mile, that's competitive with a city bus. Any trip less than 7 miles is cheaper than a city bus."
Speaking during the first day of the L.A. Auto Show, Spiegelman said the new transportation method would be less than half the cost of owning the most popular car in America and believes that in 20 years, L.A. will be filled with taxi robots.
PHOTOS: See the best of the L.A. Auto Show
With the price so low, people from all socioeconomic backgrounds would be able to afford riding in a taxibot, which will mean more equality for anyone who wants a ride. As it is now, he said, ride-sharing services are less available in lower-income neighborhoods than they are in trendier, more affluent parts of town because drivers can pick and choose where they want to operate.
"Taxibots are probably not going to be racist, and I say that because they'll be robots," he said.
The vehicles will also be free of the constraints of today's taxis -- namely, the limitations of the drivers who have to stop driving in order to sleep. Spiegelman said the commission starts worrying when its drivers log more than 50,000 miles of driving a year, but taxibots can do 100,000 miles a year.
If his lofty predictions come true, it could be great for customers. Not so much for taxi drivers.
Twitter: @byandreachang
ALSO
BMW's fear of lawsuits blinds it to a customer's idea
Former Marley Coffee CEO charged in alleged 'pump-and-dump' scheme
CalPERS may lower investment expectations, costing taxpayers billions
---