Column: Catholic hospital chain Dignity Health defends its UC deal — with a lie
Struggling to justify its proposed affiliation deal with UC San Francisco, the Catholic hospital chain Dignity Health complains that my recent column about this disturbing proposal "gives the wrong impression about how Dignity Health provides care."
That's according a letter to the editor by Dr. Todd Strumwasser, Dignity's senior vice president for operations in the Bay Area, published Friday by The Times. As it happens, the letter itself proves that the principles followed in medical care by UCSF and Dignity Health are irreconcilably at odds, and that the proposal should be dropped. Strumwasser's defense is cobbled together from misrepresentations and irrelevancies. More on that in a moment.
As I wrote on April 12, the proposed affiliation between UCSF and Dignity Health puts the university and its medical school in the position of participating in an openly discriminatory model of healthcare — one that deprives women and LGBTQ patients of equal medical treatment.
[Y]our request ... does not meet the requirement of Mercy's current sterilization policy or the Ethical and Religious Directives for Catholic Health Services.
Dignity Health rejecting a request to perform a tubal ligation on a patient
The terms of the affiliation are still murky: No formal contract has been presented to the UC regents, even though the regents' health services committee has held two meetings on the proposal so far.
But judging from the outlines UCSF officials have presented to the committee, Dignity's adherence to Catholic Church directives affecting medical care, including a near-total ban on abortion, is hopelessly at odds with the values of a public institution such as UCSF.
Dignity's hospitals are required to comply with the Catholic Church's "statement of common values," which bars "direct abortions" and fertility services such as in vitro fertilization (IVF), or the church's stricter ethical and religious directives (ERDs), which bar abortion, the provision of contraceptives, IVF and gender-affirmation services to transgender patients. Two of the four Bay Area hospitals that would be part of the UCSF affiliation are subject to the statement of common values, and two are subject to the ERDs.
The implications go well beyond UCSF and its medical center, one of the premier teaching hospitals in the nation. As Robert May of UC Davis, a regent and chair of UC's Academic Senate, put it during the committee's April 9 meeting, the idea of affiliation between a university entity and Dignity Health is an issue the entire university should consider. The Academic Senate, he said, has "serious, serious concerns" about the arrangement, and "serious hesitation on any kind of support for this."
That brings us back to Strumwasser's letter. He writes, "At Dignity Health hospitals, all healthcare decisions are made between patients and their doctors."
This is flatly untrue. How do we know this? Because Dignity itself says so.
The evidence comes from Dignity's statements in two lawsuits currently making their way through the California court system.
The first was filed by Rebecca Chamorro, a patient who sought a tubal ligation at Dignity's Mercy Medical Center in Redding. Chamorro was scheduled for a caesarean delivery of her third child in January 2016. She informed her obstetrician that she wished to have no more children and asked his advice. Her doctor, Samuel Van Kirk, suggested she could undergo a tubal ligation while she was on the operating table for her C-section. The procedure would reliably prevent her from becoming pregnant again.
As Van Kirk later asserted in a court declaration, the simultaneous procedure is the standard of medical care because the patient is already under anesthesia, all the necessary equipment is at hand, no additional recovery time would be needed, and the procedure would take one to two minutes.
Mercy's management rejected Van Kirk's request to perform the tubal ligation. Its explanation in a letter the hospital sent Van Kirk was that "your request … does not meet the requirement of Mercy's current sterilization policy or the Ethical and Religious Directives for Catholic Health Services."
In other words, the decision on Chamorro's care was not made between herself and her doctor at all. It was made by Dignity, adhering to precepts that are religious, not medical.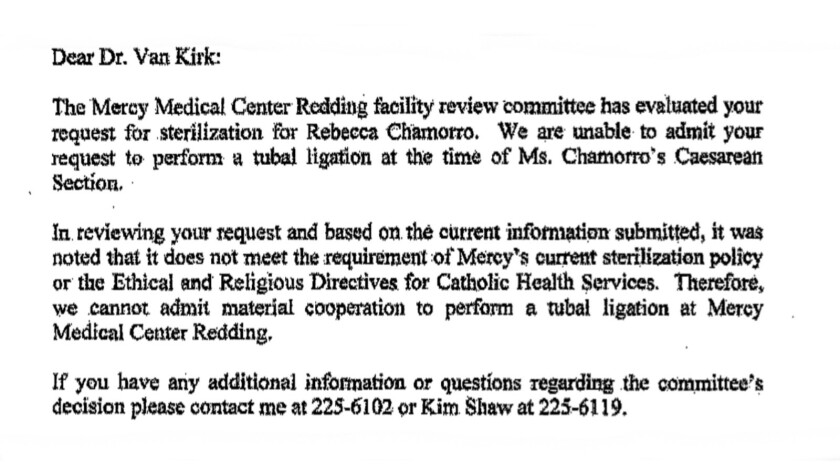 This was not a trivial interference in Chamorro's rights, but a significant burden. To have the tubal ligation, Chamorro eventually would need to undergo anesthesia a second time — a health risk in itself. The only hospitals with labor and delivery units within 70 miles of Chamorro's home, where she might have been able to undergo the simultaneous delivery and sterilization procedures, are Dignity hospitals with the same strictures against it.
The second case involves a decision by Evan Minton, a transgender patient, to undergo a hysterectomy as a gender affirmation procedure. Dignity refused to allow the operation to be done at its Mercy San Juan Medical Center outside Sacramento. The reason, it says in court papers, is that the procedure "was not permitted under Catholic doctrine."
Dignity further acknowledges that enforcement of the ERDs is vested in "the local Catholic Bishop," who could withdraw Mercy's Catholic status and sanction the hospital's leadership if they permitted what is, in fact, a legal and medically approved operation. (Minton had the operation a few days later at a Dignity hospital not bound by the ERDs.)
Strumwasser asserts in his letter that nothing in the affiliation deal with UCSF "would cause any patient to forfeit access to any care." This is misleading. UCSF officials themselves acknowledge that a patient presenting at a Dignity ERD hospital can be transferred to a Dignity facility where he or she can receive the desired treatment, but transfers in themselves can threaten a patient's health. Let's not overlook that Rebecca Chamorro was forced to forfeit her access to care at Mercy Medical Center.
Strumwasser also writes that Dignity Health hospitals in the Bay Area are vigorous providers of charity care and other services unavailable at some other hospitals. That's true, but hardly relevant to the issues implicit in the UCSF affiliation.
He also points out that the Gender Institute at Dignity's St. Francis Memorial Hospital in San Francisco is an outstanding provider of care for LGBTQ patients. Also true, and also irrelevant. The point is that Dignity interposes religious mandates throughout its system — including at St. Francis.
Strumwasser concludes by asserting, "It is unrealistic to expect that agreements between institutions should exist only when their respective beliefs and values entirely align."
That's true, up to a point. The question turns on the nature of the agreements, and the nature of the misalignment.
The proposed affiliation between UCSF and Dignity, according to what's known about it thus far, involves a drastic misalignment — between an institution based on scientific, evidence-based medicine and bound by law to avoid discrimination and a hospital chain hostile to the equal treatment of all and bound to treatment rules that have nothing to do with medicine and can lead to physical harm. UC's duty to reject this deal is not a close call.
Keep up to date with Michael Hiltzik. Follow @hiltzikm on Twitter, see his Facebook page, or email michael.hiltzik@latimes.com.
---