Column: Proving that work requirements work as intended, Arkansas throws thousands off Medicaid rolls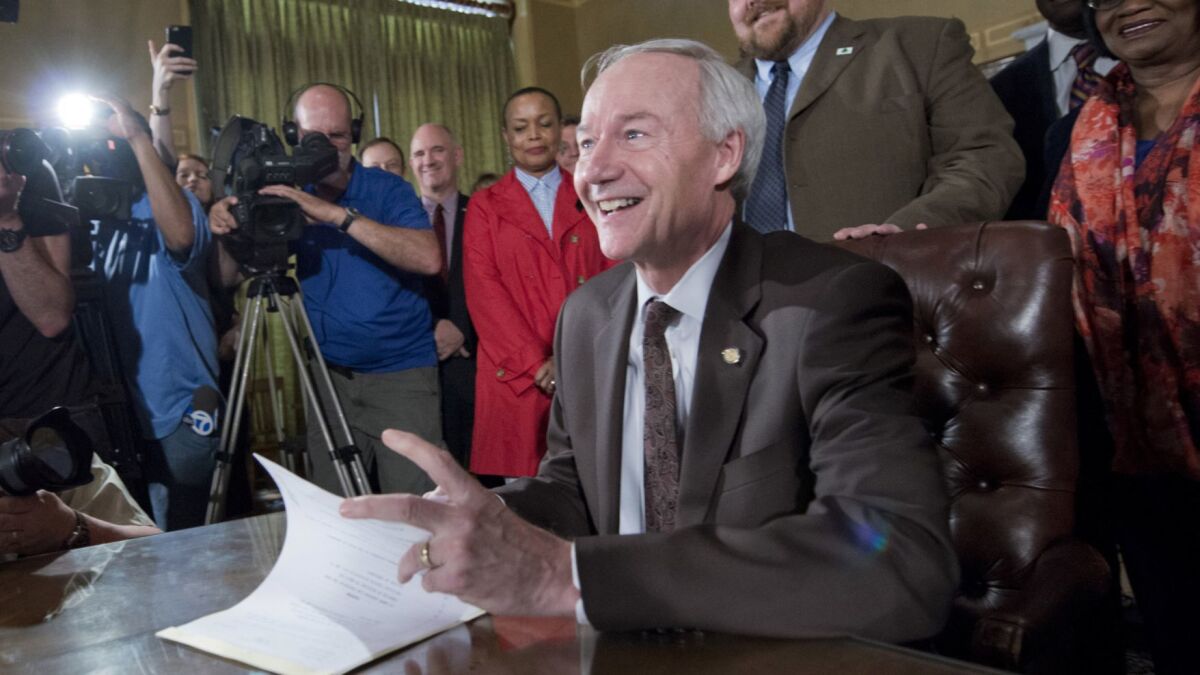 The Republican project to turn Medicaid from a healthcare program into an obstacle course for the most vulnerable members of society has passed its first proof-of-concept test: Arkansas has reported that 4,574 residents, or more than half of those subject to new work requirements, lost their coverage as of last Saturday.
Some will be locked out of coverage entirely through the end of this year.
The new rules "are working as their advocates have intended," commented health insurance expert David Anderson of Duke University. "The work requirements are paperwork and administrative hassle requirements. They are roadblocks to coverage."
Clearly, there has not been adequate communication about the policy to those who are being impacted by it.
— Jessica Greene, City University of New York
Arkansas is the only state currently with a Medicaid work requirement in place. Federal officials approved a program for Kentucky earlier this year, but it was nullified by a federal judge in June.
In Arkansas, Medicaid recipients must work at a paying or volunteer job for 80 hours a month unless they're going to school, searching for work or attending health education classes. They're required to report their hours to the state via a website. Those who don't reach the hours threshold or fail to report for any three months in a year lose their eligibility for Medicaid until the following Jan. 1.
The state began rolling out the rules in June in phases, when 26,000 residents ages 30-49 with no children under 18 at home became subject to the work requirement. Of those, the state exempted about 15,500 based on its own records and another 2,400 claimed exemptions, according to Judy Solomon of the Center for Budget and Policy Priorities, a Washington think tank. That left 8,100 required to report their hours, of whom 4,574, or 56%, failed to comply.
The reporting website, however, has been nonfunctional for long stretches; state officials say they will extend the reporting deadline to Oct. 5 for enrollees who can show they could not log in.
A bigger problems is poor outreach and education by the state. According to Jessica Greene, a healthcare policy expert at the City University of New York who conducted interviews with 18 enrollees in three Arkansas counties, "A number of people were at risk for losing their Medicaid health coverage because of complex life circumstances, not because of a conscious decision related to the work requirement." In a blog post for the journal HealthAffairs, she wrote: "What I found was a profound lack of awareness about the policy."
Twelve of Greene's interviewees said they had not heard anything about the work requirement. Others said they did not have the internet access required to report online or could not navigate the website.
As the Urban Institute has reported, about 23% of non-elderly adult Medicaid enrollees in Arkansas lack internet access, whether through a cellphone or an Internet service provider. About 30% have no broadband internet access. The state website is hard to read on a smartphone, and its registration and login process may be difficult for those not familiar with website usage.
"Clearly, there has not been adequate communication about the policy to those who are being impacted by it," Greene reported, in part because the policy was communicated via a letter that recipients may have interpreted as junk mail. "A much broader educational effort is needed to inform recipients about the policy," she wrote.
State officials, according to the Arkansas Democrat Gazette, took the position that a large share of unreporting enrollees are shedding their responsibilities voluntarily. Some "simply chose not to comply," Gov. Asa Hutchinson said. "Personal responsibility is important."
But it should be plain that the Arkansas program is not chiefly about "personal responsibility." It's about paring the Medicaid rolls on the principle that anyone needing public assistance must be undeserving. Medicaid exists to bring healthcare to the neediest residents of a state, and placing obstacles in the way is a detestible, and pointless, policy.
Keep up to date with Michael Hiltzik. Follow @hiltzikm on Twitter, see his Facebook page, or email michael.hiltzik@latimes.com.
---