Column: Angels pitcher Garrett Richards' stem cell treatment failed. That should help dispel the stem cell hype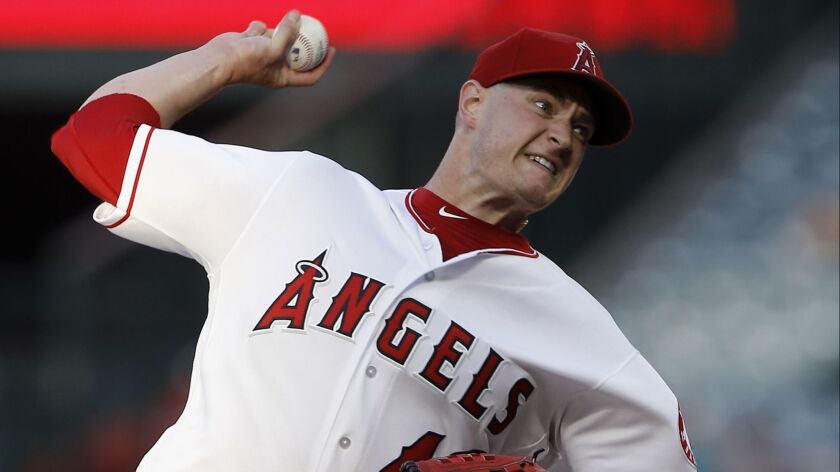 The Los Angeles Angels of Anaheim announced the other day that the stem cell treatment that pitcher Garrett Richards underwent in 2016 to avoid Tommy John surgery has failed, and Richards will now undergo the procedure.
There are three takeaways from this news.
1. It's terrible for Richards.
2. It's bad for the Angels, who need an ace in their rotation to compete for the post-season.
3. It's good for anyone else contemplating stem cell therapy for a sports injury.
The state of the medical science of stem cells for musculoskeletal conditions is still relatively primitive. It just isn't ready for prime time.
Paul Knoepfler, UC Davis
Richards faces the surgery with our sympathy and best wishes. But his experience may help to dispel the hype about stem cells, much of which comes from the world of sports. Stories of high-paid sports stars experiencing "miracle" cures of muscle and ligament damage or worse are common to the genre, and could prompt other athletes — professional or amateur — to pay thousands of dollars for the unproven treatments. Before the recent announcement, Richards had joined pitcher Bartolo Colon, NFL quarterback Peyton Manning, tennis pro Rafael Nadal and pro basketball star Pau Gasol as reputedly happy beneficiaries of stem cell injections.
Medical experts' doubts about the efficacy of stem cell injections and of related treatments using platelet rich plasma seldom make it into sports stories touting athletes' cures. This can lead the average reader to overestimate the prospects of success.
In sports stories, "the therapy is almost always portrayed as effective," says Timothy Caulfield of the University of Alberta, a critic of healthcare misreporting, especially stories featuring celebrity endorsements. In a 2017 paper, Caulfield and two colleagues examined hundreds of news articles about treatments with platelet rich plasma in the U.S. and five other countries. The vast majority of the articles were sports stories. Although legitimate clinical trials have shown that PRP produces little or no benefit as a treatment for musculoskeletal injuries, most of the news articles asserting that the treatment works cited only anecdotal evidence.
PRP's "portrayal as a routine treatment used by elite athletes and celebrities," Caulfield wrote, "creates an implicit hype." The same is true of stem cells.
Stem cell promoters have an obvious interest in using pseudoscientific tripe to push treatments for which they can charge five-figure fees, which they collect in cash in advance. Their treatments are almost never covered by health insurance because insurers won't pay for a treatment that has not been proven to work.
Richards, for his part, says he doesn't regret undertaking the stem cell treatment and deferring Tommy John surgery, since the treatment seemed to have worked, at least for a time. "I was able to come back," he told my colleague Jeff Miller. "The ball was coming out of my hand great. I don't think anybody will dispute that."
But orthopedic experts observe that no scientifically valid trial has shown that stem cell or PRP treatments do any good. "Ultimately, stem cell therapy will be a very important part of our armamentarium in caring for musculoskeletal injuries," says Alan Beyer, an orthopedic surgeon at Hoag Orthopedic Institute in Newport Beach and host of a weekly radio program, Doctor in the Dugout, on the Angels radio station, AM 830. (Beyer is not employed by the team.)
"But I don't know when 'ultimately' is going to be," Beyer says. "A certain percentage of people you inject with stem cells will get better. But some would get better just with time, or because of the placebo effect."
Steve Yoon, the Angels team physician who performed the stem cell procedure on Richards, says he discourages patients from seeing the treatment as a miracle cure, as opposed to an option to help certain kinds of injuries heal. "A lot of people think that because you've received stem cell injections you're healed or that this is some type of miracle injection," he told me. "But all you're trying to do is supplement an injured tissue with the healing process. You still have to heal, and there are a lot of factors at play as to whether that happens."
Yoon knows that misconceptions are widespread among the public about stem cell treatments. "A large part of my time is spent debunking the myths that people are seeing on the internet or in seminars," he says. "Everyone involved in providing these treatments needs to be very cautious about what they say until we can develop a larger volume of data."
He says he has seen clear indications of efficacy in his practice, though "most of the information available to us is mainly anecdotal — there are no high-level studies that have shown that using stem cells can help ulnar collateral ligaments heal any better than just rest and therapy and time." He says pitchers can be a special case, because their motion places a unique strain on the UCL. That means the ligaments need not merely to heal, but heal in a way that leaves it strong enough to withstand the strain.
Ultimately, he says "it's the player's decision" whether to try biologic treatment rather than a surgical alternative that can mean more than a year of recovery.
The Food and Drug Administration has never approved stem cell treatment for anything except "blood-forming stem cells (hematopoietic progenitor cells) derived from [umbilical] cord blood." But that hasn't prevented a huge industry of for-profit stem cell clinics from springing up nationwide, offering purported treatments or cures for Alzheimer's, Parkinson's, diabetes, pulmonary ailments, multiple sclerosis and much more.
Treatment of musculoskeletal trauma is a popular subset of these clinics' unproven claims. The treatment sounds plausible to a layman: Inject stem cells or platelets directly into the injured tissue, and they go directly to work.
But what's plausible to the layman can generate skepticism in a trained scientist. "The data generally show that injected stem cells are almost all quickly eliminated from the body within hours or days," says Paul Knoepfler, stem cell biologist at UC Davis, "so it's unclear how they could have lasting benefit." The procedure "just isn't ready for prime time because the data so far do not prove this kind of thing is really effective."
In the sports world, the granddaddy of stem cell hype is a yarn about the National Hockey League great Gordie Howe of the Detroit Red Wings. Howe died in 2016 at 88, but two years earlier he had suffered a major stroke. His family shipped him down to a stem cell clinic in Tijuana, which injected him with stem cells. Eight hours later, according to a press release from the Howe family, Gordie was miraculously standing and walking again. The story got picked up by local press in Detroit and around the hockey world, and quickly became an uplifting legend.
Medical and stem cell experts labeled it highly dubious. They discerned nothing in the treatment protocol that justified giving any credit for improvement to the injections. Some scientists raised questions about the ethics of the treatment itself.
Wrote veteran quackhunter David Gorski, "I can't remember a time when I've seen a medical story presented so many times in a manner so devoid of basic fact checking."
The Howe story, however, was not unique. The worst recent example came to us from CNN. In April, the network's star medical correspondent, Sanjay Gupta, conducted an interview with golf legend Jack Nicklaus and his doctors about the treatment of his chronic back pain with stem cells, and then published a version that was almost entirely devoid of serious scientific context. Knoepfler called foul on the CNN piece, and I followed up with reporting on the relationships connecting Nicklaus, his doctors and a stem cell company with a financial interest in the procedure he underwent.
Richards looked like the Angels' next ace pitcher in 2014, when he went 13-4 before suffering a freak knee injury. In 2016, he went 1-3 before suffering damage to the ulnar collateral ligament in his elbow. That's often a precursor to Tommy John surgery, in which the damaged ligament is replaced with one removed from elsewhere in the body. The recovery time from the surgery can exceed a year, so it's unsurprising that a pitcher would avoid it if he could.
Richards showed flashes of his former skill early this season, but on the whole he seemed to struggle. He started 16 games, going 5-4; in four starts he failed to finish three innings. He was lifted in the third inning of a game against the Mariners on July 10, ending his season.
For all the frustration and pain Richards has gone through, the silver lining in his travails may be that ordinary people with backaches and muscle sprains no longer will find his name among the "success stories" wholesaled to the public by stem cell promoters and a credulous press.
But the sheer volume of promotional material pushing stem cell treatments may overwhelm cautionary cases like Richards'. "There's a stream of stem cell hyperbole that gets pumped out on a routine basis by orthopedic and sport medicine clinics with YouTube videos, their press releases, their Twitter feeds, their Facebook pages," says Leigh Turner, a bioethicist at the University of Minnesota.
"The marketing of unproven stem cell therapies has become a serious health policy dilemma," Caulfield told me, "and these kind of stories have likely facilitated the growth of the industry. They help to normalize the idea that stem cell therapy is routine. They legitimize the idea that this stuff works."
Keep up to date with Michael Hiltzik. Follow @hiltzikm on Twitter, see his Facebook page, or email michael.hiltzik@latimes.com.
---