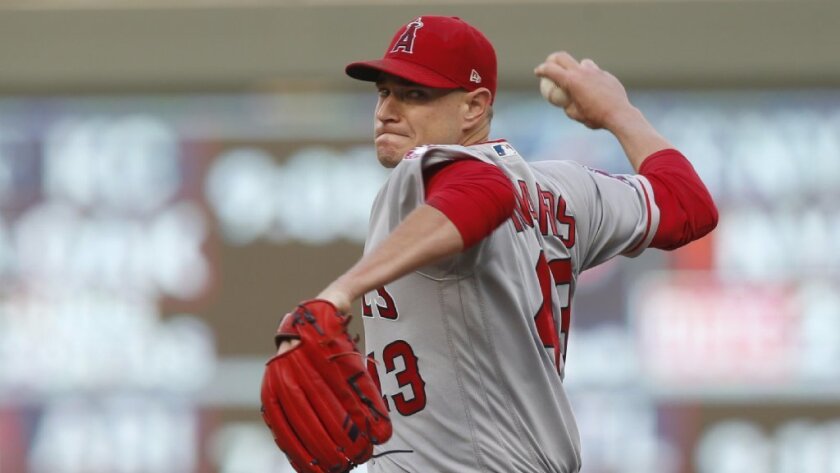 Garrett Richards plans to pitch again in 2020, with a sound elbow and a sound mind, no matter what uniform he's wearing.
The right-hander has opted to undergo surgery on his damaged ulnar collateral ligament, a procedure that will sideline him long after his Angels contract expires following this season.
Richards, who has battled UCL issues since May 2016, said the decision will offer "not only peace of mind for me but peace of mind for whoever wants me to play for them."
The 30-year-old now faces as uncertain a future as possible for a player entering his first offseason of free agency.
Rather than pursuing a long-term deal, Richards will be recovering and rehabilitating knowing that the process will cost him all of the 2019 season.
"It sucks," he said. "I wanted to be back out there and compete. I wanted to be there for my teammates. … This is something that I have to do."
Richards was pulled from his start Tuesday in the third inning. Tests the next day revealed the extent of the injury. He said his arm hadn't felt right for a couple weeks.
After being diagnosed with UCL damage in 2016, Richards was treated with platelet-rich plasma and stem-cell injections. The ligament healed enough for him to pitch in 2017 before a second ailment — biceps nerve irritation — flared.
Because of the circumstances in that instance — the nature of the tear, the timing of the injury — Richards said taking the more conservative injection route was the best decision.
"I don't regret it whatsoever," he said. "I was able to come back. To be honest with you, the ball was coming out of my hand great. I don't think anybody will dispute that."
In this case, however, Richards said he entered his doctors appointment Wednesday set on agreeing to surgery if more UCL damage was discovered. The procedure is scheduled for July 24.
"Just get the surgery," Richards said, "move forward and get back for the second half of my career, hopefully."
His loss comes just as the Angels welcomed back Tyler Skaggs after an absence of nearly two weeks. Skaggs, out because of an adductor strain, returned Thursday against Seattle.
Nick Tropeano, who has been struggling with bursitis in his right shoulder, is scheduled to make a second rehabilitation start Friday for Class-A Inland Empire. He's expected to rejoin the rotation after the All-Star break.
Among the Angels, there is no one closer to Richards than Mike Trout. The two have lived together throughout much of their careers, going back to the minors.
"Obviously, he's going through a lot right now," Trout said. "He's been battling injuries the last couple years. I'm just trying to keep him positive."
The Angels are the only team for which Richards has played. They drafted him 42nd overall in 2009 and he made his big league debut not quite two years later.
A two-time starter on opening day, he had back-to-back seasons of 13 and 15 victories before the injuries began to mount in 2016.
"A lot of guys come back from this surgery and they have long careers," Richards said. "Hopefully, this adds a few years on the end of my career."
In parts of eight seasons, he's 45-38 in 170 games (115 starts). He has pitched 744 2/3 innings for the Angels, with his next innings possibly coming for another team.
"I'll be back," Richards said. "Everything will be fine. I'll get through this. I'm going to be positive about this. I'm not going to dwell on the negative stuff. This is what was presented to me, and this is what I've got to deal with."
---
UPDATES:
7:49 p.m.: This article was updated with additional details.
This article was originally published at 5:58 p.m.
---