Column: Snap Inc. again shows why it should not have become a public company
The most important question not posed to Evan Spiegel, the co-founder and CEO of Snap Inc., by Wall Street analysts during the company's conference call Tuesday, after its first-quarter earnings report, was: "What ever possessed you to go public in the first place?"
But the question was implicit in what the investment analysts did ask, and in their tone of voice, and even in the defensive replies offered by Spiegel, CFO Andrew Vollero, and Chief Strategy Officer Imran Khan. They were asked why user growth has basically flatlined, why advertisers are evaporating.
"What caused the advertisers who were spending to pull back?" asked the man from Oppenheimer. "And what … gives you confidence they come back?"
Venture money is expensive money, but smart money; public money is cheap money, but dumb money.
Silicon Valley adage
To recap, Snap fell short of virtually every expectation Wall Street had set for the first-quarter report. The Venice-based app developer reported revenue of $231 million, below consensus expectations of $244.5 million. Its daily active users — the essential metric for online services — came in at 191 million, short of expectations of 194 million. The company lost nearly $386 million in the quarter.
Spiegel's performance on the conference call underscored the folly of giving an untested entrepreneur unassailable control over a company. (With his co-founder Bobby Murphy, Spiegel holds more than 88% voting control over Snap.)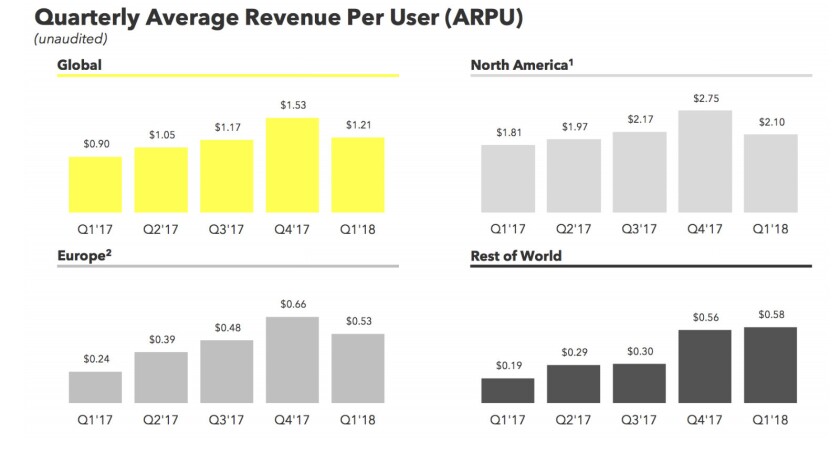 Pressed by the analysts to explain how he plans to reverse Snap's dismal results, Spiegel kept referring to the company's "mission" — seven times in the half-hour call, by my count. Sounding like a bargain-basement knock-off of Mark Zuckerberg, he described that mission as helping to "empower people to express themselves, live in the moment, learn about the world and have fun together." This is a high-faluting way of saying that Snap distributes a smartphone app, Snapchat, aimed at young users who use it to communicate with friends via messaging and short videos of themselves, and sells advertisers space on the screen.
During the earnings conference call, the Snap team made things sound even worse than the awful quarterly numbers. Second-quarter revenue growth will "decelerate substantially" from the first quarter, Vollero warned. The number of daily active users in March was lower than the average for the first quarter as a whole, a signal that Snap's user base may be evanescing into the void. But the March figure was still higher than users in the fourth quarter of 2017, Spiegel said, clutching at a straw.
Lamely, Khan blamed the advertisers' actions on "negative news in the press every day" about Snap. The implication was that the negative press was undeserved, but the hard numbers the company released Tuesday show that it is, if anything, not negative enough.
Stock investors were voting with their feet Wednesday. In early trading on Nasdaq, Snap was down nearly 19%, to about $11.60. Remember the company's initial public offering, exactly one year ago? The shares closed then at $24.48. After the first few days, they never smelled that number again.
That brings us back to the issue of why this company decided to go public. I'm reminded of an adage that should be tattooed to the foreheads of start-up entrepreneurs in reverse script, so they can see it every time they brush their teeth in the mirror: "Venture money is expensive money, but smart money; public money is cheap money, but dumb money."
On May 2, 2017, Snap traded the former for the latter. The company's original backers included some of the premier venture funds in Silicon Valley, such as Benchmark, Institutional Venture Partners and Kleiner, Perkins, Caufield & Byers.
These firms have extensive experience nurturing start-ups by allowing them to test variations of their business model on the way to finding the right one and to make mistakes within the tolerant confines of private ownership. That way, any missteps can be part of a learning experience instead of a stock-market train wreck.
Spiegel, 27, and his co-founder Bobby Murphy, 29, traded that in for a big payday at the IPO, which ludicrously valued the company at $33 billion and raised nearly $2.5 billion, making them each multimillionaires and, on paper, billionaires.
They don't deserve all the blame for a bad decision, however: The venture investors themselves allowed the IPO to happen, because exiting into an IPO would give them a big payday, too. Perhaps, having seen Snap from the inside, they decided the smart move was to get out while the getting was good.
The venture funds also were complaisant in allowing Spiegel and Murphy to create an ownership structure that gave the two untested entrepreneurs their immense voting rights. They retain control of the company even if they're fired (an unlikely enough occurrence given their voting control) or theoretically even from beyond the grave, since their super-voting Class C shares won't be converted to minimally-voting Class B shares until nine months after their deaths.
This would be marginally acceptable if it were indisputable that Spiegel and Murphy know what they're doing. On this, the jury is still out, but the evidence isn't encouraging. Early this year, the company rolled out a redesigned app that has met with near universal condemnation by users, scads of whom have taken to YouTube and other venues to vent their displeasure, often with verbiage not acceptable on this website.
Simply put, the app originally displayed a user's chat messages with friends with one swipe of the screen. An opposite swipe brought up video "stories" from friends and others, interspersed with paid advertising that was relatively unobtrusive and easy to ignore.
In the redesign, the chat and "stories" are displayed together, and advertising and paid messages get their own space. Users complain that this is confusing, makes it difficult to find their friends' most recent messages and most relevant stories, and gives advertisers too much unavoidable presence. "A lot of people are going to flee the platform, much like myself," a video performance artist named Davison posted on YouTube. "Now it's this bloated, complicated mess." Anecdotally, it seems that many Snapchat users are heading to Facebook's Instagram app.
When he introduced the Snapchat redesign late last year, Spiegel told users the goal was to make it "more personal" for its users, including by providing advertising "personalized just for you." But what really drove the redesign, plainly, was giving advertisers more access. "We listened to our advertisers very closely," Khan told the investment analysts.
But advertisers won't need a platform that is hemorrhaging users. The company says it won't be reverting to the old design, despite the clamor that it do so. "A change this big comes with some disruption," Spiegel told the analysts, giving a figurative shrug to users' discontent. Instead of listening to advertisers, Spiegel and company need to listen to their users. They seem to be speaking loud and clear.
Keep up to date with Michael Hiltzik. Follow @hiltzikm on Twitter, see his Facebook page, or email michael.hiltzik@latimes.com.
---