Column: Pressure points? Here are the CEOs who have dropped out of Trump's business panels--and the ones who are still on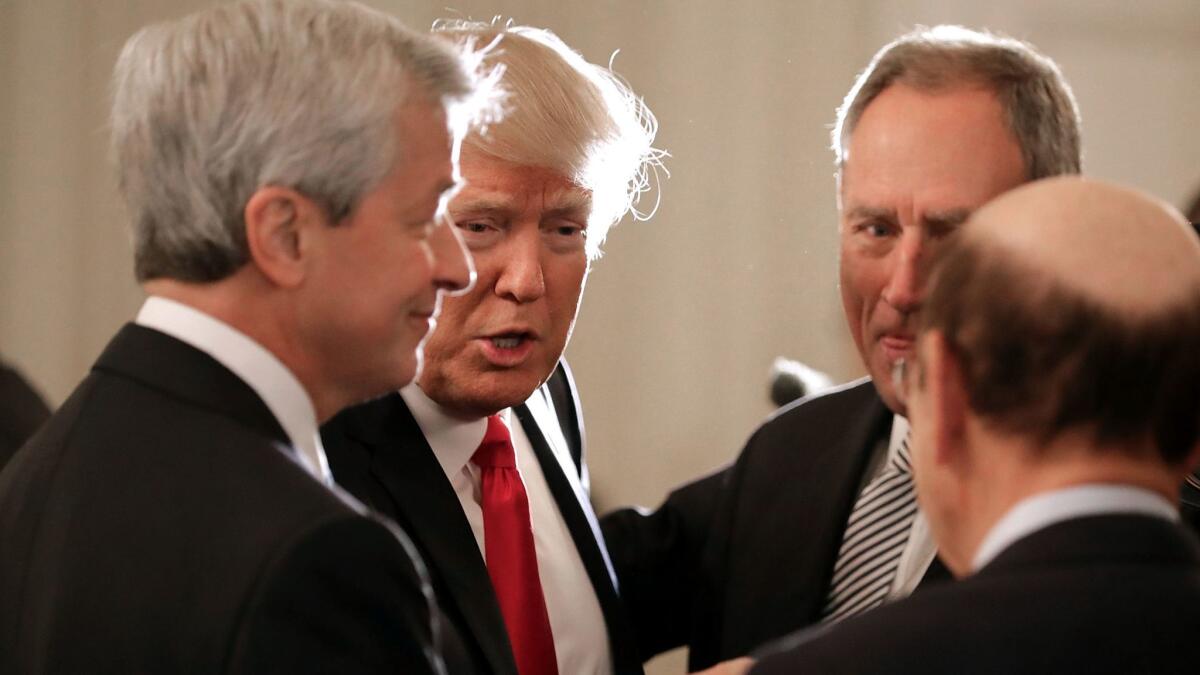 On Monday morning, Merck & Co. Chief Executive Ken Frazier resigned from President Trump's manufacturing jobs council to protest Trump's deficient condemnation of the racist violence in Charlottesville, Va. Since then, membership on Trump's Potemkin Village-like CEO boards has begun to look like something of a litmus test for American corporations and business organizations.
Two CEOs followed Frazier out the door on Monday: Under Armour's Kevin Plank and Intel's Brian Krzanich. But representatives of some 40 other corporations and other organizations, including a couple of retired CEOs, are still members of the jobs council and a second panel designated the "President's Strategic and Policy Forum."
Those companies and organizations are undoubtedly pondering now whether cozying up to this president is worth the grief. When we polled members of the jobs panel Monday, only a handful responded, and a subset of those stated affirmatively that they were staying on. They were Whirlpool, Boeing, General Electric, Dell and Campbell Soup.
The AFL-CIO said Tuesday that its two representatives on the jobs council, President Richard Trumka and Deputy Chief of Staff Thea Lee, were resigning, effective immediately. "We cannot sit on a council for a President who tolerates bigotry and domestic terrorism," the two officers said in a tweet.
Make no mistake, the decisions business leaders make send a very powerful signal both to the rest of the world and the president.
— Former Treasury Secretary Lawrence Summers
It's possible that more will withdraw in coming days. But as a guide for shareholders and customers of those that remain, we're providing a list here of the companies and organizations, and their current status.
Shortly after this column originally was published, Scott Paul, president of the Alliance for American Manufacturing, announced via Twitter his resignation from the manufacturing jobs council "because it's the right thing for me to do."
Paul's resignation tweet came just 16 minutes after Trump tweeted a response to the previous resignations, asserting that for every CEO who resigns, "I have many to take their place. Grandstanders should not have gone on. JOBS!"
On Wednesday, 3M CEO Inge Thulin and Campbell Soup CEO Denise Morrison said they were resigning from the jobs panel, becoming the seventh and eighth members to quit this week.
"I joined the Manufacturing Jobs Initiative in January to advocate for policies that align with our values and encourage even stronger investment and job growth," Thulin said. "After careful consideration, I believe the initiative is no longer an effective vehicle for 3M to advance these goals." A statement from Morrison attributed her departure to Trump's remarks Tuesday about the Charlottesville attack, in which he defended the white supremacists whose march instigated the violence.
We should consider what membership on these panels means to its members and why the time may be nigh to bail out. The best outline of the arguments pro and con came from a dialogue in June between Jamie Dimon, chairman and CEO of JPMorgan Chase — and a member of the strategic and policy panel — and Lawrence Summers, who served as Treasury secretary under President Clinton and chief economist to President Obama. They made their views known via Bloomberg TV.
The issue then was Trump's withdrawing the United States from the Paris climate agreement. "I am a American patriot, and I want to help the president of the United States," Dimon said, explaining why he wouldn't resign from the panel in protest. "It is very hard if you say I'm going to go off an advisory group or not do 'a, b, c' because you disagree on one issue. Honestly, no one is going to agree with every president or prime minister on every issue. So I don't want to overreact to it."
Summers said that wouldn't do. "Jamie referred to this as one issue," he told the Bloomberg interviewers. "There's an immigration ban, there's arithmetic that doesn't add up, there's climate change, there's crony capitalism and selective deals — this is hardly the first and only minor issue. This is the central part or philosophy — does the United States believe in a community of nations?" He argued that there is a difference between volunteering one's advice to a president, and "lending your prestige and that of your company to joining an advisory board of his creation. That is accepting a presidential appointment."
He added that a mass resignation from the presidential committee would get Trump's attention. "Make no mistake, the decisions business leaders make send a very powerful signal both to the rest of the world and the president."
By the time Summers was speaking, several CEOs had resigned from one of Trump's two business panels: Robert Iger of Disney and Elon Musk of SpaceX and Tesla Motors quit the strategic and policy council to protest the Paris decision, Musk also quit the jobs council, and Travis Kalanick of Uber had quit the strategic and policy council in the aftermath of Trump's travel ban.
As we observed Monday, retaining membership in Trump's business councils makes a company complicit in everything he represents: his punitive immigration policies, his climate change denialism, and now his embrace of white supremacist and Nazi sentiments.
The question is especially acute given the fundamental uselessness of Trump's business councils. There's no evidence he listens. In fact, the jobs council has not held a formal meeting, other than a single get-together about a month after it was named in January. The two AFL-CIO representatives weren't even invited. The strategic and policy council hasn't met since April. That's why the panels deserve to be compared to Potemkin Villages. The term derives from the possibly apocryphal story of fake villages built by Catherine the Great's favorite, Grigory Potemkin, to impress her during a visit to the Crimea in 1787.
Here are the companies retaining membership on Trump's two major business panels, the Strategic and Policy Forum (designated SP in this list), and the Manufacturing Jobs Initiative (MJ). A handy spreadsheet as of late Monday can be found here, courtesy of Forbes. We'll update the roster if changes occur Tuesday. In some cases, company spokespersons left their positions ambiguous; when they cited the virtues of remaining "engaged" with government officials, we interpreted that as affirming continued membership.
Affirmatively staying on:
--General Motors, CEO Mary Barra (SP)
--Cleveland Clinic, CEO Toby Cosgrove (SP)
--JP Morgan Chase, CEO Jamie Dimon (SP)
--Wal-Mart, CEO Doug McMillon (SP)
--Boeing, CEO Dennis Muilenberg (MJ)
--Blackstone Group, CEO Stephen Schwarzman (SP)
--General Electric, former CEO Jack Welch (SP)
--Dell, CEO Michael Dell (MJ)
--Whirlpool, CEO Jeff Fettig (MJ)
--Johnson & Johnson, CEO Alex Gorsky (MJ)
--General Electric, CEO Jeff Immelt (MJ)
--Timken, CEO Rich Kyle
--Newell Brands, CEO Michael Polk (MJ)
--International Paper, CEO Mark Sutton (MJ)
--Corning, CEO Wendell Weeks (MJ)
No specific comment on plans:
--BlackRock, CEO Larry Fink (SP)
--BCG (Boston Consulting Group), CEO Rich Lesser (SP)
--Boeing, former CEO Jim McNerney (SP)
--Pepsico, CEO Indra Nooyi (SP)
--Global Infrastructure Partners, Chairman Adebayo Ogunlesi (SP)
--IBM, CEO Virginia Rometty (SP)
--Stanford University/Hoover Institution, Kevin Warsh, visiting fellow (SP)
--EY (Ernst & Young), CEO Mark Weinberger (SP)
--IHS Markit, Vice Chairman Daniel Yergin (SP)
--Dow Chemical, CEO Andrew Liveris (MJ)
--Nucor Corp., CEO John Ferriola (MJ)
--United Technologies, CEO Greg Hayes (MJ)
--Lockheed Martin, CEO Marillyn Hewson (MJ)
--Dana Inc., CEO Jim Kamsickas (MJ)
Retired from company and council:
--Ford Motor, former CEO Mark Fields (MJ)
--Arconic, former CEO Klaus Kleinfeld (MJ)
--U.S. Steel, former CEO Mario Longhi (MJ)
--Caterpillar, former CEO Doug Oberhelman (MJ)
Members who have dropped out:
--Tesla, CEO Elon Musk (MJ and SP—prior to Charlottesville)
--Disney, CEO Robert Iger (SP—prior to Charlottesville)
--Uber, ex-CEO Travis Kalanick (SP—prior to Charlottesville)
--Merck & Co., CEO Kenneth Frazier (MJ)
--Under Armour, CEO Kevin Plank (MJ)
--Intel, CEO Brian Krzanich (MJ)
--Alliance for American Manufacturing, President Scott Paul (MJ)
--AFL-CIO, President Richard Trumka and Deputy Chief of Staff Thea Lee (MJ)
--3M, CEO Inge Thulin (MJ)
--Campbell Soup, CEO Denise Morrison (MJ)
Keep up to date with Michael Hiltzik. Follow @hiltzikm on Twitter, see his Facebook page, or email michael.hiltzik@latimes.com.
Return to Michael Hiltzik's blog.
MORE FROM MICHAEL HILTZIK
An Obamacare insurer flees another state, blaming Trump and the GOP for sabotage
How a factory deal Trump touted put the 'con' in 'Foxconn' — and how taxpayers will get taken
How right-winger Dennis Prager politicized his own symphony gig — and declared himself the victim
---
UPDATES:
9:22 a.m.: This post has been updated with the resignation of Scott Paul and Trump's tweeted response to the resignations.
3:11 p.m.: This post has been updated with the resignations of AFL-CIO officers Trumka and Lee.
9:24 a.m., August 16: This post has been updated with the resignation of 3M's Inge Thulin.
10:12 a.m., August 16: This post has been updated with the resignation of Campbell Soup's Denise Morrison.
This article was originally published at 8:35 a.m.