Column: Despite the government shutdown, Trump's efforts to gut Obamacare go full speed ahead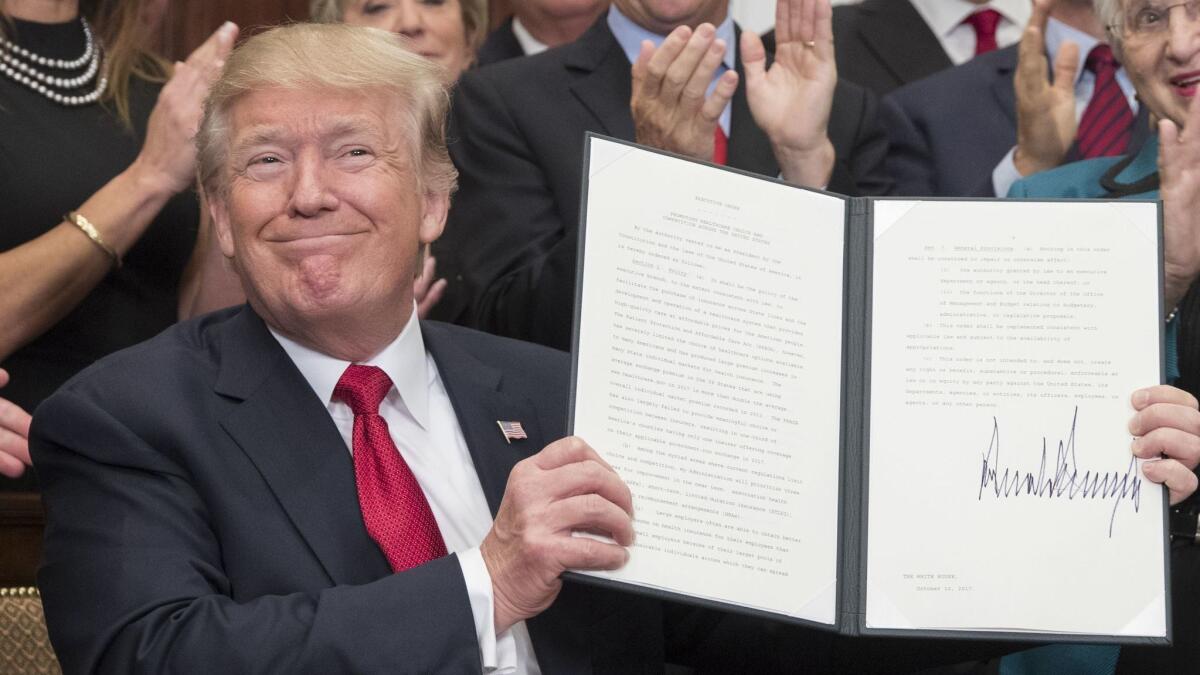 A good portion of the federal government may be shut down, but you can rest assured that the devoted Obamacare saboteurs at the Department of Health and Human Services are on the job.
Late Thursday, they released proposed rule changes for the 2020 health insurance year — and requests for comments on further changes — that will drive up premiums for people on Affordable Care Act health plans, cut subsidies and discourage more Americans from enrolling.
The proposals also could raise prescription costs for enrollees and raise costs even for families enrolled in employer plans. Longer-term changes proposed for 2021 and beyond could affect about 2 million ACA enrollees.
The savings to the Treasury are consistent with the idea that consumers would have to pay more.
— Elizabeth Carpenter, Avalere Health
HHS acknowledges that the near-term proposals would save the U.S. Treasury and cost families an aggregate $900 million a year in subsidies in 2020 and 2021, and $1 billion a year after that. It anticipates that the higher costs will drive 100,000 people off their health insurance plans every year between 2020 and 2023.
"The savings to the Treasury are consistent with the idea that consumers would have to pay more," says Elizabeth Carpenter, the ACA expert at the consulting firm Avalere Health.
HHS says some of those people may end up buying the short-term junk insurance plans of which the Trump administration is so enamored, though "a majority is likely to become uninsured."
The White House seems to think this is a good thing: The loss of insurance, HHS says, "may result in greater exposure to health care costs, which previous research suggests reduces utilization of health care services. Economic distortions may be reduced, and economic efficiency and social benefits improved, because these individuals will be bearing a larger share of the costs of their own health care consumption, potentially reducing spending on health care services."
Translation from the gibberish: People will face higher costs for healthcare, so they'll use less of it. Win-win(?).
This is another example of how the Trump administration is happy for no part of government to function well, except the parts that make life harder for the average American. Sen. Patty Murray (D-Wash.) connected the dots following the release of the HHS document. Even 27 days into the shutdown, she said, "President Trump has somehow found time to further sabotage health care for patients, families, and women — this time by proposing what would amount to a health care tax on patients and families across the country."
The rule proposals come as Seema Verma, the head of ACA implementation at HHS, issues another broadside against the law she is sworn to uphold. In an op-ed published Tuesday in the conservative Washington Times, Verma urged states "to develop alternatives to Obamacare that better meet the needs of their residents," using flexibility offered by her office.
It's proper to mention that the "flexibility" Verma has encouraged thus far involves imposing work requirements on Medicaid in ways that deprive thousands of people of access to coverage in places they've been tried, such as Arkansas; and allowing states to legalize junk insurance, which the ACA was aimed at eradicating.
Verma backed up her position with flagrantly bogus statistics. She asserted, for instance, that enrollment in ACA exchange plans is "more than 60% below expectations," which she called "the best evidence of the unpopularity of these plans." Actually, it's the best evidence of Verma's willingness to mislead. The "expectations" she mentioned were those made by the Congressional Budget Office in 2010, before the ACA was even implemented. The CBO reckoned then that 21.6 million people would sign up for exchange plans by 2016; the actual figure was about 12.7 million.
Why the shortfall? The main reason is that a huge 6-million decline in enrollments in employer-sponsored insurance that the CBO anticipated never materialized. Employers kept their plans in place and their workers stayed covered; this isn't a rap on the ACA but an indication that employers and employees remained committed to health coverage. For Verma to ascribe it to the shortcomings of Obamacare is just dishonest.
Let's examine the details of the 2020 rule proposals. "All these ACA changes are incredibly technical," says Larry Levitt of the Kaiser Family Foundation, "but also incredibly consequential."
The near-term impacts are related to a change in the formula HHS uses to calculate the relationship between premium growth and income growth. (Premiums tend to grow faster than income.)
The difference governs how much of their income recipients of subsidies are expected to pay for coverage before the subsidies kick in. As Matt Fiedler of the Brookings Institution observes, HHS is proposing to change how it calculates premium growth so that enrollees pay a higher percentage of their income before subsidies. Fiedler calculates that a single person earning 300% of the federal poverty limit ($37,470) would lose $92 a year in subsidy, and a family of four would lose $189 a year.
That may not sound like much, but for an individual or family living paycheck to paycheck, it's plenty — that's shown by the government's own calculation that 100,000 people would abandon their coverage as unaffordable.
The formula change would affect enrollees in employer plans by raising the maximum out-of-pocket expenses and the amount employers could charge and still keep their plans "affordable" under the ACA's definition. That's important because individuals and families aren't eligible for subsidies on ACA plans if they have access to "affordable" coverage at their workplace.
Another proposed change for 2020 would allow health plans to change their prescription formularies — their list of covered medications — in midyear, if generic substitutes for brand-name drugs became available. This is bad for consumers, because many choose their health plans based on the availability and cost of drugs they're taking, and the formularies remain fixed for the year.
"From the consumer's perspective," Carpenter says of the proposal, "you pick a plan with certain prescription drugs, and in the middle of the year, your brand-name drug is no longer carried or you have to pay more out of pocket."
Two changes proposed for 2021 and later, on which HHS is seeking public comment, are even more far-reaching.
The first is a change, possibly elimination, to automatic enrollment in ACA plans. Under auto-enrollment, which is in place on the federal exchange site, healthcare.gov, the coverage for customers who don't bother to reenroll in a health plan each year is simply continued for the following year. If you forget to sign up, you're still covered. About 1.8 million enrollees using the federal marketplace used auto-enrollment this year.
"Undermining Obamacare is the only conceivable reason to dismantle this," Andrew Slavitt, who had Verma's job in the Obama administration, said Thursday on Twitter.
The second proposal is to shut down "silver loading." In simple terms, this was a step taken by several states, including California, after Trump canceled reimbursements to insurers for discounts on deductibles and co-pays they were required to give to their lowest-income customers. Facing the threat that insurers would jack up premiums on all plans to cover their losses, silver loading states allowed them to load all the premium increases onto their second-cheapest silver ACA plans.
These are the most popular choices for ACA customers. They're also the plans used as a benchmark to calculate federal subsidies. As a result of silver loading, subsidies got higher and all plans became cheaper for subsidized customers. Indeed, some bronze plans became free and even some gold plans, which offer lower deductibles and co-pays but at higher premiums, became as cheap as silver plans.
Outlawing silver loading, as the administration proposes, would be "a sure fire path to raising premiums by a lot and pricing people out of health care," Slavitt said.
Put it all together, and the Trump administration is continuing its sabotage of the Affordable Care Act. Make no mistake: This is bad for consumers nationwide. The first question that must be asked of Trump and Verma is, what's the rationale for these steps? The second is: As long as so much of the government is shut down, why can't you stay home too?
Keep up to date with Michael Hiltzik. Follow @hiltzikm on Twitter, see his Facebook page, or email michael.hiltzik@latimes.com.