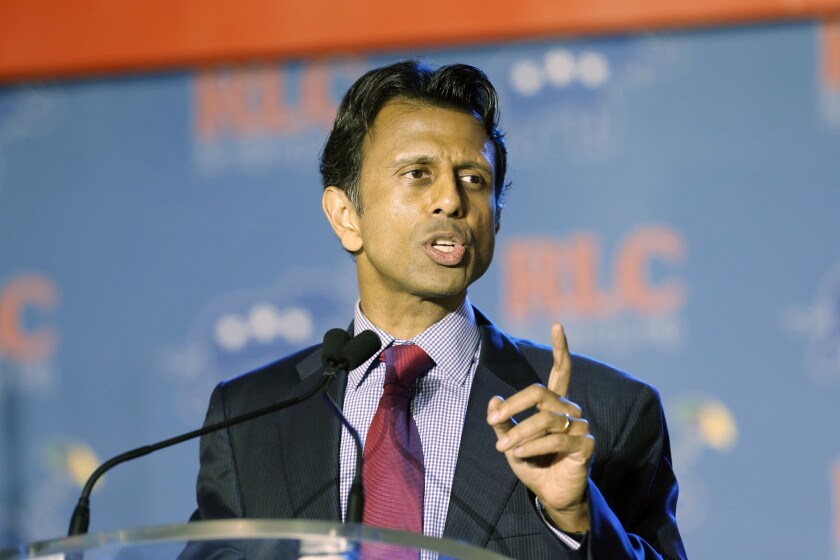 Despite frantic warnings from legal experts around the country and from his own attorney general, Louisiana Gov. Bobby Jindal on Friday signed a bill killing a local coastal agency's lawsuit against the oil and gas industry.
What unnerves the experts is that the bill is so sloppily written that it could undermine other lawsuits against oil and gas interests in Louisiana, including damage claims from the 2010 Deepwater Horizon oil spill. BP is sure to use the measure as another weapon against claims it's already fighting in federal court in Louisiana.
The lawsuit had been filed by the Southeast Louisiana Flood Protection Authority - East, an independent board created after Hurricane Katrina by the state legislature specifically to get politics out of environmental protection efforts in the state.
The authority's targets were the 97 energy companies operating in the state, including BP, which is responsible for the Deepwater Horizon disaster.
The industry, it charged, had created "a mercilessly efficient, continuously expanding system of ecological destruction." The cost of restoration has been estimated at $50 billion or more, and the authority was demanding that the oil and gas industry pay its share.
But as my colleague Neela Banerjee reported last month, the political pushback has been ferocious. In the lead has been Jindal, who denounced the lawsuit and supported the bill, which would effectively quash the case. In signing the measure Friday, Jindal said it would "help stop frivolous lawsuits and create a more fair and predictable legal environment."
The bill reflects the peculiar solicitude held by Louisiana politicians for the oil and gas folks. "I think it's absurd to say that the oil and gas industry has damaged the coast," said Republican state Sen. Robert Adley, the bill's sponsor. "They did what they were told to do, and a lot of what they have done has helped us, not hurt us."
Not just chumminess is involved. Environmental groups have pointed out that Republican Jindal has received more than $1 million in political donations from the industry. The groups list 231 contributions from oil and gas companies and their executives from 2003 through 2013, totaling $1,019,777.
According to state Atty. Gen. Buddy Caldwell and scores of law professors, the measure could nullify lawsuits brought by dozens of local entities and individuals over the Deepwater Horizon spill. That's because it authorizes only the state Dept. of Natural Resources and parish governments to bring lawsuits over coastal damage.
Federal officials also say they may have to rule on whether the law violates federal laws governing enforcement of coastal regulations.
It's also a blow against efforts to restore the coastline, the degradation of which has made New Orleans and other local communities more vulnerable to storm damage.
Remember when Jindal spoke out in 2013 against the GOP being the "stupid party"? He's learned a lot since then; especially where his campaign bread is buttered.
---