From Wisconsin to California, the decline of public higher ed continues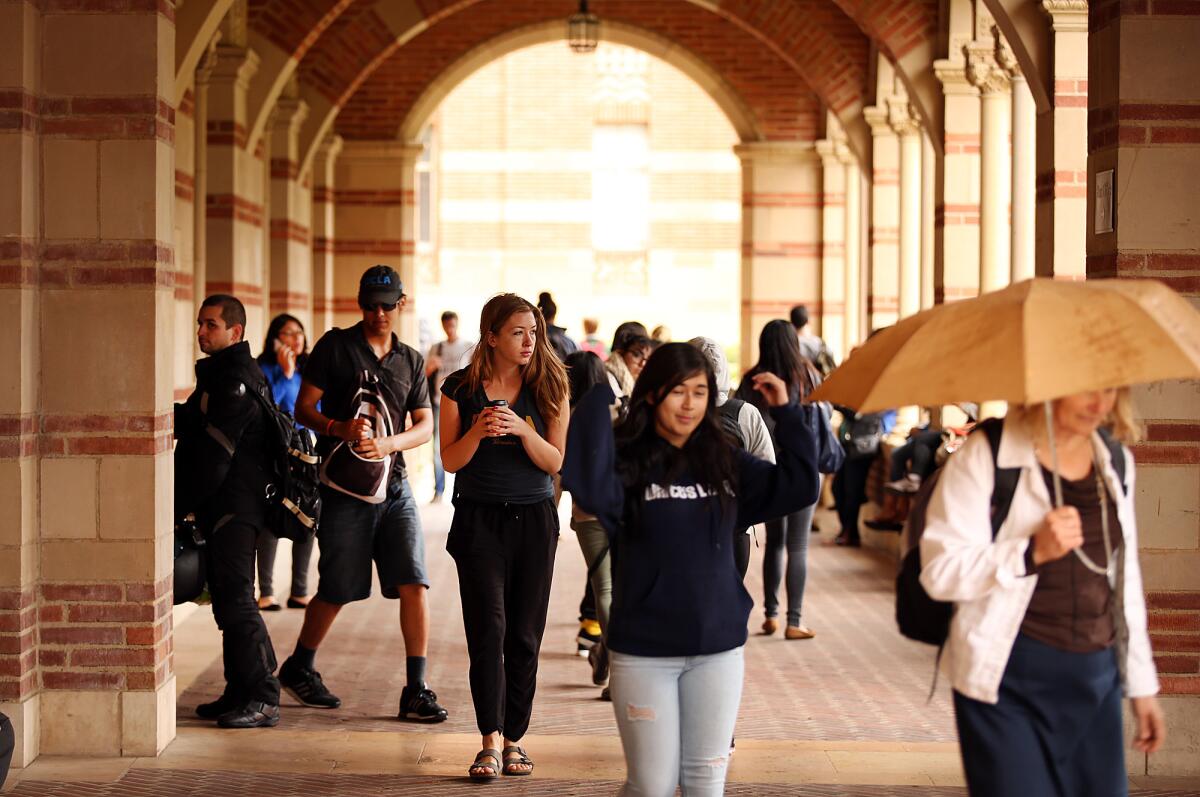 Anyone concerned about America's future generations has to be dismayed at the condition of public higher education.
Few institutions garner more admiration-by-lip-service from business leaders and politicians; few are more relentlessly shortchanged by budget-writers and tax-cutters in both camps. Few are consistently the target of ferocious political attack.
The most widely reported recent attacks on public universities have occurred in red states, especially those where steep tax cuts have produced budget crises -- Arizona, Louisiana and Wisconsin among them. But higher ed spending has been a victim of budget politics nationwide since the recession or before. In only three states -- oil producers Alaska, Wyoming and North Dakota -- is per-student public university funding higher now than in 2008. (The figures are from the Center on Budget and Policy Priorities.) Some states, including California, have begun reinvesting in their university systems as their revenues recover, but a lot of ground must be made up.
More commonly, tuition and fees take up the slack; the CBPP finds that tuition has increased in every state since the recession. In some places, the differential between in-state and out-of-state tuition has widened, but that can be something of a mixed curse: It encourages the universities to fill their classrooms with non-residents or foreign students, reducing access to the children of their own taxpayers. The trend has been so bad at UC's elite campuses that the Regents voted this year to cap the undergraduate figure at last year's level at Berkeley (23%) and UCLA (20%).
One factor underlying the drain of higher education resources is that for many politicians, the value of higher education is an abstraction. They understand -- enough to mouth the words, at least -- that an educated and well-trained population is a plus for a competitive state. But they don't have any idea how much that effort can or should cost or how to measure the benefits of a process that unfolds over years, or decades, or a lifetime.
So they hack away at the state university budget and raise tuition, which eats into the effectiveness of the institution and places it more out of the reach of middle- and low-income residents, which makes it look more like an institution for the elite, which leads to more budget cutting...you get the drift.
Given how difficult it is to measure the specific gains from public higher ed, it's unsurprising that so many other budget demands look to be more urgent. California displayed this process vividly. In 1980-81, according to the California Budget Project, corrections accounted for 2.9% of the state budget and the University of California and California State University systems a combined 9.6%. By 2014-2015, the proportions were reversed -- corrections ate up 9% and the universities 5.1%. Well, there was a crime wave, wasn't there? Wonder what the diminished access to college had to do with it. (The state's three-strikes law, which helped to fill up all those prison cells while classroom slots disappeared, was passed in 1994.)
In some states, budget-cutting has gone hand in hand with hostility from political incumbents. Nowhere is this as evident as in Wisconsin, where GOP Gov. Scott Walker may be shoring up his conservative bona fides in advance of his planned run for president. Most recently, Walker proposed diluting the University of Wisconsin's rock-solid tenure guarantees for experienced faculty members by moving the guarantee out of state law and placing tenure decisions in the hands of the Board of Regents. The plan has sparked an uproar.
Walker and his defenders say he's merely giving the regents more flexibility to make budget adjustments in a time of stringency, and that the proposed change would make Wisconsin look more like other states by removing the tenure guarantee from state law.
This defense looks like sugarcoating what is in reality a flagrant attack on academic freedom. The proposed policy places tenure decisions in the hands of the 18 university regents, 16 of whom are the governor's appointees. The proposal would allow layoffs of tenured faculty in the wake of a regents' decision "regarding program discontinuance, curtailment, modification, or redirection, instead of when a financial emergency exists as under current law." Those terms are so nebulous (what is program "redirection"?) they would allow the firing of a tenured professor almost at will.
The backdrop is important too. Walker this year proposed cutting the state's higher education budget by 13%, or $300 million over two years. He proposed changing the university's official mission statement from the mandate to "search for truth" and "improve the human condition" to one aimed at meeting "the state's workforce needs." (That proposal, which sounded like converting one of the world's premier research institutions into a vocational school, failed.) And the larger context is Walker's years-long attack on the working conditions of public employees, including the repeal of their right to collective bargaining.
But partisan politics aren't necessary to cut state university funding; budget politics often are enough. California's public support of UC and CSU has declined for nearly 40 years, falling at UC from an inflation-adjusted $24,045 per student in 1980 to about $10,900 in 2014. At Cal State, per-student funding has fallen from $11,240 to $6,417 over the same span. Under Gov. Jerry Brown, the trend has reversed -- but not nearly by enough to undo decades of damage.
The consequence is that public universities increasingly resemble their private brethren as finishing schools for the children of the wealthy. Government disinvestment in public universities is producing "a dystopia of inequality in which community and state colleges are starved, and flagships serve up vacation resorts for the rich who can afford to attend," economist Mike Konczal of the Roosevelt Institute wrote recently. "This is a problem, because public colleges and universities educate around 70% of all students."
Progressives have started to talk about remedies -- President Obama and candidate Hillary Clinton both favor two years of free community college, and candidate Bernie Sanders backs free public education for all, financed by a transaction tax on Wall Street. But a more fundamental change is needed -- a re-embrace of the notion, alive in this country as recently as the 1960s and '70s, that higher education is more than a privilege or even a right -- it's a necessity.
The starving of public colleges and universities is destined to rank up there with the failure to invest in public infrastructure in the list of glaring blunders of American government in the early 21st century. But they're two sides of the same coin: In the name of saving money in the present, we're guaranteeing ourselves a bleak future.
Keep up to date with the Economy Hub. Follow @hiltzikm on Twitter, see our Facebook page, or email michael.hiltzik@latimes.com.